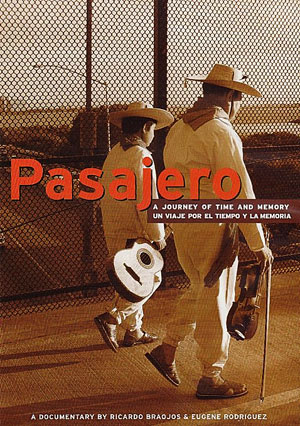 KVPT-TV PBS Fresno presents the premiere broadcast of Pasajero, A Journey of Time and Memory on Thursday, September 16, 2004 at 8 PM Pacific Time on Valley Public Television, KVPT-TV 18 PBS.
Pasajero, A Journey of Time and Memory, a feature length documentary by Ricardo Braojos and Eugene Rodriguez, is the uplifting story of a group of young Mexican-American musicians, Los Cenzontles, who accompany their mariachi maestro Julian Gonzalez on his homecoming to Mexico. Together they perform a forgotten style of roots mariachi music and dance and meet people who embody the spirit of old Mexico. Los Cenzontles performs traditional mariachi throughout Jalisco Mexico and California's Central Valley. Also featured in Pasajero are mariachis from Bakersfield Benjamin Torres, Baldemar Hernández, Juan Morales and Nati Cano as well as students of the Kern County Mariachi Youth Foundation, Mariachi Juvenil Azteca and Mariachi Mestizo.
Pasajero, A Journey of Time and Memory was funded by the James Irvine Foundation and Cultural Contact with additional support provided by the
California Arts Council, Radio Bilingue, the Lef Foundation and the Alliance for California Traditional Arts.
Pasajero was produced by Los Cenzontles Mexican Arts Center, an award-winning non-profit organization located in San Pablo, California. LCMAC, founded in
1994, provides traditional arts training to youth as a means to strengthening individuals, families and community.
Author:
World Music Central News Department
World music news from the editors at World Music Central