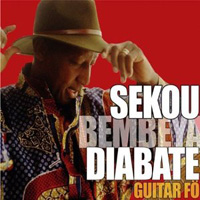 Sekou Bembeya Diabate
Guitar Fo (Discorama WVF 497016 [distributed in the U.S. by World
Village/Harmonia Mundi])
As lead guitarist and point man for longtime Guinean band Bembeya Jazz, Sekou Diabate has balanced African tradition and modern music making as skillfully as Djelimady Tounkara of Mali's Super Rail Band or Barthelemy Attisso of Senegal's Orchestra Baobab. Like those players, Diabate has long been receptive to elements of many musical idioms (jazz, rock, Latin, blues, etc.) which he unfailingly utilizes in the service of solid grooves and the sort of great songs that result from such. As for the songs here, a few of them are reconfigured pieces from the Bembeya Jazz repertoire, with a good number of players from that outfit on hand to help play them.
What sets this apart from a Bembeya Jazz disc are the facts that it's mostly instrumental, there's no horns involved and Diabate (who's lived up to the nickname "Diamond Fingers" for quite some time) is even more the focus. He does give occasional prominence to such crack participants as singer Safiata Conde and percussionist Papa Kouyate, but this is very much a guitar album in which the star player can command his axe with remarkable fluidity, fire or restrained passion as need be.
Diabate is spot-on from the start, skipping merrily atop the chugging rhythm of the leadoff track, "Biduman," with tasty, sparse bursts of high notes that fill the space like the musical equivalent of sunshine. He then goes on to give swing to slower movers like "Dabia Baba" and "Dianamo" (which features some perfectly suited Hawaiian slide), while cinching up faster pieces like the title track in ever-tighter melodic flights that keep the supporting players locked in.
Along the way are flamenco-like sparks, sounds suggestive of acoustic African instruments like the kora and the prevailing feel of a master musician more interested in spreading joy than showing off. This is
a top notch disc that cuts deep and satisfying, strongly recommended for African music lovers and fans of great guitar playing.
Author:
Tom Orr
Tom Orr is a California-based writer whose talent and mental stability are of an equally questionable nature. His hobbies include ignoring trends, striking dramatic poses in front of his ever-tolerant wife and watching helplessly as his kids surpass him in all desirable traits.