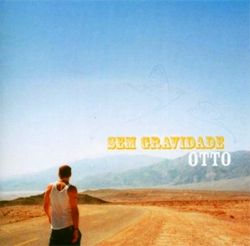 Otto
Sem Gravidade (Trama T004/762-2)
Great singer songwriters are usually guitarists or piano players. But in Brazil they are also percussionists. Airto Moreira, Naná Vasconcelos and Carlinhos Brown are all well established international names. And on the strength of this CD, Otto is likely to join them. It is rare to find a well-integrated album which improves on listening. This is one of them. It is as mature and well thought through as a Nitin Sawhney, and has almost as many voices and atmospheres.
Otto's haunting vocals drift across a druggy sea of mingled keyboards, tightly syncopated percussion, guitars and assorted samples, paying reference to traditions past and present; like MPB and mangue beat, trip hop and drum 'n bass. At times he is contemplative. At others he floats wistfully like a Brazilian Jason Pierce, postures angrily, or laments poetically…Only the first track, 'Lavanda' is weak. It is as if Otto didn't know how to begin the CD. But after this unprepossessing start he runs through a string of dense and carefully wrought drugged up gems from the spacey 'Tento Entender' and the trip hoppy 'Pra Quem Tá Quente' to the psychedlic funk rap of 'Amarelo Manga' and the haunting percussion counterpoint and multi-layered drifting keyboards of 'Imaginar a Vida'.
Like other Brazilian percussionists, Otto has an impressive pedigree; playing with or alongside the likes of Mundo Livre, Chico Science, Tom Ze and Bebel Gilberto. In 1998 his first recording was awarded the best album of the year by São Paulo's prestigious Associação Paulista de Críticos de Arte. Sem Gravidade deserves firmly to consolidate his reputation.
Top of the world potential: Imaginar a Vida, Pra Quem Tá Quente or Dedo de Deus.