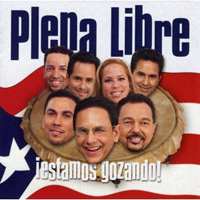 New York, USA – Puerto Rican group
Plena Libre will celebrate its 10th anniversary with a 10th record, Estamos Gozando!, slated for June 8th on Times Square Records.
"Even after five centuries of colonial rule, the Puerto Rican personality is clearly defined regardless of our relationship to the US," says Plena Libre bassist-bandleader Gary Núñez. "It is impossible to dilute the character of Puerto Rican people, because we have strong roots. And plena is an important part of it."
Estamos Gozando! brings the story of plena full circle, paying homage to the greatest plena and bomba (another Afro-Rican genre) composers.
Represented here is music by Ángel Torruellas, one of the most prolific plena composers; Los Pleneros de Quinto Olivo, an important plena band of the '70's who first popularized the folkloric song Canario Blanco; César Concepción, a trumpeter who adapted plena to big band "salon" scores in the '60's; Rafael Cortijo, master percussionist who with singer Ismael Rivera popularized many Afro-Rican genres in the '60's and '70's; Mon Rivera, creator of a humorous delivery style and introducer of four trombones to Afro-Rican music; Rafael Cepeda, known as the 'Patriarch of Bomba and Plena'; Toñin Romero, who wrote many hits in the '50's and '60's; and Manuel Jimenez "Canario", the first plenero to be commercially recorded (RCA) and one of the greatest plena innovators of the '20's and '30's.
Plena emerged in the late 19th century when the repertoire of Barbados immigrants mixed with local genres, and along with the bomba, has been the mainstay of Afro-rooted music of Puerto Rico. But paradoxically, today many Puerto Rican artists are known for salsa and merengue, genres that originated in Cuba and the Dominican Republic. "By the early '70s, the Puerto Rican music
industry came down," explains Nuñez. "Our rhythms took a back seat to other nations'." Playing plena takes on a complex form of pride, affirming Puerto Rican identity within the dominance of genres that originate elsewhere."
Núñez asserted Puerto Rican identity in the '70s with his band Moliendo Vidrio, in line with the Nuevo Canción movements of Latin America, which rallied folk music against colonialism. After 18 years of putting the cuatro (Puerto Rican guitar) on the map, he was ready for a new challenge. "Three things kept the plena alive from the '60s to the '90s," says Nuñez. "First, when people gather for parties, the plena rhythm is always there. Second, plena took center stage during labor strikes. And third, folklore groups kept the roots of plena alive." When Núñez picked up the torch by forming Plena Libre in 1994, he sought to reinvent the genre, taking it from folkloric status—which relegated its performance to holidays and folk revivals—and turning it into a living and breathing, popular, evolving form.
Traditionally, plena uses three different-sized hand drums of Spanish origin called panderos that are pitched low-to-high and play interlocking rhythms. The seguidor is the bass drum, laying the rhythmic foundation; the mid-pitched punteador plays a complementary pattern to the seguidor. The higher pitched requinto alternates between playing yet another complementary pattern and improvising solos that respond to the sung lyrics. The güiro (scraper) and the vocalists – with leader and chorus in call-and-response style – complete the basic ensemble. Over time, the plena took on different forms – from the simple addition of the accordion or cuatro to full orchestral variations. For migrant workers who followed the harvest of different crops, the plena was their orally transmitted newspaper, informing people of the latest news, and accompanying every celebration.
To the pandero ensemble, Núñez added bass, keyboards, timbales, congas, four trombones, and some of the best plena singers (soneros) found in Puerto Rico. With a style that draws on both the traditional and the modern, and arrangements that mix in other Caribbean rhythms and sizzling dance-floor charts, Plena Libre topped the charts with one hit after another on commercial radio stations in Puerto Rico, returning plena to the center stage.
In support ofEstamos Gozando!, Plena Libre will be touring North America in July and August. Confirmed dates so far include:
Wednesday, June 30th, Kimmell Center, Philadelphia, PA
Wednesday, July 7th, Montreal Jazz festival, Montreal, Quebec,
Thursday, July 8th, Sun Fest Festival, London, Ontario
Friday, July 9th, Sun Fest Festival, London, Ontario
Saturday, July 10th, Winnipeg, Canada
Thursday, July 15th, Chicago World Music Festival, IL
Friday, July 16th, Halifax Jazz Festival, Nova Scotia
Saturday, July 17th, Ritmo Y Color Festival, Toronto, Ontario
Sunday, July 18th, Puerto Rican Festival of Holyoke, MA
Friday, July 23rd, Stockton Performing Arts Center, Atlantic City, NJ
Saturday, July 31st, Celebrate Brooklyn, Brooklyn, NY
Saturday, Aug. 7th, Puerto Rican Festival at Franklin Park, Boston, MA
Tuesday, Aug. 10th, Scullers Jazz Club, Boston, MA
Friday, Aug. 13th, Lincoln Center Out of Doors, New York, NY
Saturday, Aug.14th, Musikfest – Plaza Tropical, Bethlehem, PA
Sunday, Aug. 15th, Schenectady (Albany), NY
Buy Estamos Gozando!
Author:
Angel Romero
Angel Romero y Ruiz has been writing about world music and progressive music for many years. He founded the websites worldmusiccentral.org and musicasdelmundo.com. Angel produced several specials for Metropolis (TVE) and co-produced "Musica NA", a music show for Televisión Española (TVE) in Spain that featured an eclectic mix of world music, fusion, electronica, new age and contemporary classical music. Angel also produced and remastered world music and electronic music albums, compilations and boxed sets for Alula Records, Ellipsis Arts, Music of the World, Lektronic Soundscapes, and Mindchild Records. Angel is currently based in Durham, North Carolina.