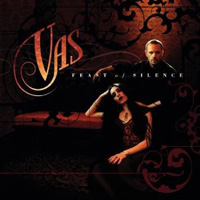 Vas – Feast of SilenceFeast of Silence (Narada 70876-18497-2-1, 2004)
Vocalist Azam Ali and percussionist Greg Ellis began making music as Vas in 1995, both bringing to the table a desire to go beyond expectations and the bounds of tradition.
Among their many strengths were Ali's earthy but out-there singing, mostly in conjured-up languages all her own, and Ellis' knack for creating percussion backdrops that were not merely rhythmic but had something to offer in the way of melody as well.
Feast of Silence is their fourth album on Narada (though they've each done a solo disc for the label since last teaming up as Vas), and the way their sound has expanded defies description as much as the sound itself. From their first release (1997's Sunyata) they've melded the feel and ambiance of Persia, Arabia, North Africa, the Balkans and India into a seamless whole, as though they'd taken numerous musical journeys between the Straits of Gibraltar and the far end of the Silk Road and absorbed something new each time. The sonic adventure they're on remains fresh, having added on this latest excursion some vocals in English and percussion from locales ever further flung.
Guest players on additional stringed and keyboard instruments (and some well-placed Indian bansuri flute) enhance the tunes, all Vas originals apart from one traditional Bulgarian song. The opening "Amitra" is classic Vas, with a majestic, sweeping arrangement that's solid and shimmering. Things stay heavenly after that as Ali's singing enchants and soothes in ways that could lure even the most attentive sailor onto the rocks and Ellis sends forth unlooped, unsequenced percussion cascades where everything from Peruvian box drums to metallic Indonesian textures fill expanses of bliss. Above all, the album illustrates that though the duo's respective talents are considerable, it's their unbeatable teamwork that continues to make Vas such an engaging listen.
Buy Feast of Silence
Author:
Tom Orr
Tom Orr is a California-based writer whose talent and mental stability are of an equally questionable nature. His hobbies include ignoring trends, striking dramatic poses in front of his ever-tolerant wife and watching helplessly as his kids surpass him in all desirable traits.