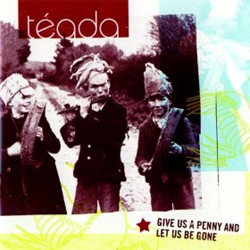 Téada – Give Us a Penny and Let Us Be Gone (Green Linnet GLCD 1228, 2004)
Oisín Mac Diarmada – Irish Fiddle Music From Sligo (Green Linnet GL 1227, 2004)
Back in my college years, I had the good fortune of gleaning the knowledge of Celtic music from a dear friend. Although she wasn't Irish in this life, it didn't take much to provoke a jig out of her. I knew very little about Irish culture prior to meeting this friend and I still know little about Irish music now, but I have gained an appreciation. Years later, I recorded with two Irish
fiddlers on a couple of demo projects. Since I couldn't read or write musical notation, I was pleased to work with musicians that could improvise at the spur of the moment. It didn't matter that those musicians weren't of Irish blood because the Celtic spirit charms anyone willing to be swept away by its musical magic.
Many years later I find myself reviewing two recordings that marry mastership of elder musicians with the bombastic enthusiasm of youth. The young Celtic quintet, Téada could no doubt get everyone in an Irish pub dancing in the time that it would take them to tear through a jig. And forget swallowing down that pint of ale because you won't be needing it. After a few measure of the first track, I thought, these musicians are incredible and by the third track, I was dancing around my apartment. The passion on this CD, Give Us A Penny And Let Us Be Gone is contagious and even those Joe Cools that stand in a corner with their arms across their chest won't be able to resist the urge to at least fake a jig. Let them try.
Group founder, fiddler and vocalist Oisín Mac Diarmada plays his fiddle at full throttle, but he can also slow it down for a love song. An example of this can be heard on the song Bríd Thomáis Mhurchadha. London-born guitarist/flautist John Blake also chips in some primal energy, heard throughout the CD. Paul Finn (accordion/concertina) struts his stuff, especially on the set dance, The Ace and the Duece of Piping. Bodhran player, Tristan Rosenstock keeps those Celtic tribal beats going and banjo/bouzouki player Seàn McElwain alternates between joining the rhythm section and performing duets with the fiddler.
It's impossible to pick favorites to discuss here since in time all the tracks could become favorites. There isn't one bum track to dismiss and I haven't the time to describe each tune in detail. The musicians play every tune as if it were their personal favorite, paying close attention to phrasing and the chemistry between the various instruments. While I wouldn't say that vocals is this quintet's strength, you will find Oisín singing on the three songs, Bríd Thomáis Mhurchadha, Thíos I dTeach an Tóraimh and Piopa Ainde Mhóir, most of the songs are lively instrumentals. The barndances, John Egan's/Saunder's Fort presents a wonderful musical conversation with the bodhran and the fiddle.
Unexpected twists and turns can be found on the set of reels, Humours of Lissadell/Maude Miller/The Jolly Tinker and the air, The Trip We Took over the Mountain offers a nice respite from the up tempo fare that appears on this CD.
Fiddler Oisín Mac Diarmada's solo recording, Irish Fiddle Music From Sligo was released at the same time as theTéada CD. The fiddler who resembles a gangly teen, appears on the cover wearing a track suit and trainers (sneakers) and one would never guess his fiddling mastership from that photograph. The press release cites a collection of impressive kudos from those in the know and Oisín lives up to every adjective used in those glowing citations.
Oisìn appears to be having a wonderful time pulling out his favorite mix of reels, jigs, hornpipes and Leitrim style polkas. Each tune comes with descriptive notes of the tune's origins. Again it's difficult to single out tunes to review. The press release cites, two standouts Séamus Ennis version of The Lark in the Morning and The Morning Thrush by Séamus's father, James Ennis.
Oisìn is joined on a few of the tracks by his bandmates and also the London-born fiddler John Carty. However, disregard the musician credits at the end of the liner notes since they do not correspond with the proper tracks. It's the equivalent of taking the wrong map on a road trip, the listings after each track will give you the right information. However, who's going to care about that faux pas after listening to this CD? The stunning final track, Aughamore/Hughie's cap will leave its listeners breathless anyway.
I find both Téada's Give Us a Penny and Let Us Be Gone and Oisín Mac Diarmada's solo release magical. And so what if the enchantment took me on a side trip down memory lane. It might do the same to all of its listeners. And it's a good idea to slip into your dancing shoes before listening to Téada's CD otherwise you'll wear out the soles of your feet.
Buy Give Us A Penny And Let Us Be Gone and Téada's first CD, Téada; and Oisin Mac Diarmada's Irish Fiddle Music From Sligo.

This review can also be found on Cranky Crow World Music.