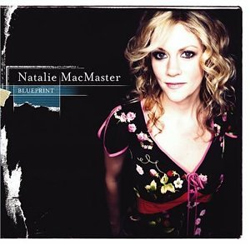 Natalie MacMaster
Blueprint (Rounder Records, 2003)>
Two tunes on Cape Breton fiddler Natalie MacMaster's latest recording, Blueprint succinctly describe the power behind the 30-year old musician's feisty gift. They are "Touch of the Master's Hand," based on a poem by Myra Brooks Welch; and the love song, "My Love, Cape Breton and Me," which ends the recording. The first tune cites, "From the room far back a fair-haired girl came forward and took the bow. Then she wiped dust from the old violin and tightened up the strings. She played a tune so pure and sweet you could hear the angels sing." I would bet that Natalie could also transform a tired old instrument into the stuff of angels.
Natalie's cousin Bob Quinn wrote the second tune for MacMaster's marriage to fiddler Donnell Leahy that took place on October 5, 2002. Quinn's 18-year old daughter handled vocal duties at the wedding and on the recording. The song which was recorded in Halifax and produced by Natalie and her husband, speaks of the simple things in life and also about returning to one's roots.
Natalie's roots go deep into the heart of Canada's Cape Breton. She was born into a fiddling community and is related to fiddling royalty, yet she relocated to Ontario after her wedding, giving the song a lasting poignancy.
The remaining 12 tracks were recorded in Nashville, Tennessee with "new acoustic" producer Darol Anger at the helm and embellished by an array of stellar bluegrass talent. MacMaster teams up with Bela Fleck (banjo), Jerry Douglas (dobra), Victor Wooten (bass), Alison Brown (banjo), John Cowen (vocals), Sam Bush (mandolin), Bryan Sutton (guitar), Edgar Meyer (Arco & Pizz bass) and her regular band mates to create a masterful marriage between traditional Cape Breton repertoire and new grass. They even toss in a few bluesy chops and jazzy bits here and there. However, besides this rich line up of musicians, what strikes me the most is being able to hear joy welling up in Natalie's heart when she performs.
Her musicianship boasts both technical brilliance and absolute soul fullness that shouts integrity. If only there were more Natalie MacMaster's in the world, I believe we would live in peace.
The tracks on Blueprint range from the pastoral "Eternal Friendship" to the tricky "Devil and The Dirk" with its alternating fiddle textures (staccato and sweet lyrical) and everything in between. Natalie's fiddle kicks into gear on Gravel Shore then the musicians take turns at solos while building off of each others' creative impulses. I am surprised to find Swedish guitarist Roger Tallroth's (Vasen) "Josefin's Waltz" on this recording, yet a few similarities between Swedish traditional music and fiddle music of the Americas do exist. Bela Fleck chips in Bela's Tune and Natalie pays homage to her parents with the romp, Minnie & Alex's Reel.
The musicianship is extraordinary on this spirited disc. Natalie plays straight from the heart and expertly turns musical phrases. She has toured the world and shared stages with such luminaries as Carlos Santana, Luciano Pavarotti, Alison Krauss and The Chieftains. And now she stars in her own show, accompanied by some of the hottest bluegrass musicians. Certainly her latest recording is a blueprint for success, but it also a CD filled with longing for one's home. Whether or not you make your home in Cape Breton or elsewhere, finding your way home will be less complicated after listening to this heart-felt recording.