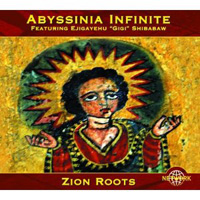 Abyssinia Infinite, featuring Gigi
Zion Roots (Network Medien, 2003)
Ethiopia's 'gift from God,' better known as Gigi has returned with a sensational homage to traditional Ethiopian music, Zion Roots. While the songs here do not derive from the Ethiopian Orthodox Church, they are colored by Gigi's earlier involvement with the church and certainly she delivers a soulful experience on this disc. In fact, these gorgeous songs will stop you in your tracks and you'll want to take a closer listen.
There are a few key ingredients to keep in mind. First, the stunning vocalist has a broad range that never quits. One moment she appears to be crooning a love song and the next moment her soprano vocals take on a variety of syncopation that are absolutely incredible. Second, the recording produced by her long-time collaborator Bill Laswell leaves plenty of space for Gigi's talent to shine. And finally, the fact that these songs have returned after years of exile (political turmoil of the Derg regime) is a miracle in itself.
Ethiopia (Abyssinia) has been around since Biblical times and many legends surrounding the ancient country such as legends revolving around the Queen of Sheba and Solomon still remain today. According to the CD liner notes, "The hope of better things to come and the belief in a benevolent power greater than oneself, have fueled love songs and hymns that have defined Ethiopian popular music for generations." However, Gigi's generation, (she was born in 1974), suffered 20 years under chaotic rule of the Derg regime. Musicians were either thrown in prison or found themselves unemployed. Horns and live bands were replaced with synthesizers and drum machines.
On an ironic note, Gigi's destiny led her to electronica producer Bill Laswell. He produced Gigi's debut album (2001) which was released on Palm Pictures. The recording featured mostly acoustic backing and boasted an array of talented jazz players including, jazz saxophonists Pharoah Sanders and Wayne Shorter. Then Laswell re-mixed the album and released it under the guise, Illuminated Audio. While I enjoyed the debut album, the re-mix left me cold. Zion Roots, however, blows me away with it's beauty, musical integrity and innocence. The music is serene while bringing on a truly sacred experience which can only resonate from acoustic instruments.
The songs might have originated in Ethiopia, yet they take on an international flavor here. They are laced with Senegalese percussion, (Aiyb Dieng), masterful tabla (Karsh Kale), accordion/guitar (Tony Cedras of Paul Simon's Graceland), saxophone (Moges Hable), and keyboards/programming (Bill Laswell and Abegasu Shiota). Laswell even chips in acoustic guitar, a rare occasion indeed. Traditional musician, Melaka Gelaw contributes washint (bamboo flute) and kirar (an African harp, also referred to as King David's harp (Biblical reference). Together these musicians journey over an aural landscape, peppered with polyphonic rhythms and syncopated vocals. Monew Natana recalls Mali's jali tradition. Embe Ashafergne features Karsh Kale's watery tabla beats and enhanced with hand claps.
Gole displays acoustic jungle beats and primal flute that eddies around Gigi's vocals, sung in two languages, Amharic and her father tongue, Agewna. I just hope that Laswell doesn't tamper with perfection and re-mix Gole as a DJ track in the future. Aba Alem Lemenea is special to Gigi because it conveys its spiritual significance to the singer. "That's a spiritual song I wrote about a world that's peaceful and loving, but somehow we always end up harming nature and harming ourselves or somebody else, whether we intend to or not." And if that track doesn't grab your attention, listen to the lullabyesque Ethiopia, a song in which Gigi's voice strokes and caresses every note.
Gigi is a high-caliber talent and not one to miss. You'll want to add this CD to your collection as well as, your best of 2003 list.
Compliments of Cranky Crow World Music.