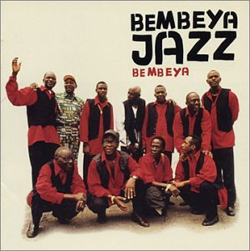 Bembeya Jazz
Bembeya(World Village, 2003)
Released on World Village, sporting three vocalists, four guitarists, a horn trio, drums and percussion, Guinea's Bembeya Jazz has reunited after a 14 year hiatus to commemorate their 40 plus year history. The end result was the group's first European appearance in over a decade at the Musiques Metisses Festival and Bembeya, a CD that acts as an anthology.
The legendary octogenarian Cuban musicians made famous by the recording Buena Vista Social Club comes to mind and it's not too far fetched to draw comparisons between the two groups. Both groups derived from nightclub musicians that reached legendary status in their respective countries and both groups suffered hardships due to politics or economic hardships only to return in their later years more dynamic than ever.
The Bembeya Jazz group first formed in 1961 as part of the new president Sekou Toure's national arts and culture program. When persuaded by his uncle, guitarist Sekou Diabate, "Diamond Fingers," created the nucleus of Bembeya Jazz. The group continued to evolve and expand through the 1960's and 70's by adding two rhythm guitarists and dancing girls. The group also experienced success within Guinea's nightclub scene. By the 1980's Guinea's economy began to crumble, and while most musical acts suffered from this hardship, Bembeya Jazz was fortified by the arrival of their new young vocalist, Sekou "Bambino" Diabate who also contributed griot traditions to the group. However, this success proved short lived after Bambino left the group to pursue a solo career.
Founding member Sekou Diabate broke out on his own too, recording an album with his wife, Djanke Diabate and a solo album (Diamond Fingers) as well. He was residing in Paris when he was asked to return to the group. This led to Bembeya Jazz's recent festival performance in France as well as, this recording. (For more historical information, see the CD liner notes).
The eight tracks on Bembeya span from 1965 with the group's first song, Bembeya to 1987 with Yelema
Yelemaso, a song about heroes and troubadours. Sanfaran dates to 1974 and speaks of an old and revered woman sorceress. Gbapie written by Diagbe Traore is a love song about a young man that woos a village girl with his musical talents. Sabou, written by Sekouba Diabate brought in a new infusion of the Manding griot tradition and speaks of the cause of something or synchronicity.
Fans of the Ganje Brass band or the numerous orchestras or jazz outfits found throughout the African continent will enjoy Bembeya Jazz. Of course, since the group has been around since 1961, I imagine they have already garnered a sizable international following. If not, this recording should do the trick.
Buy Bembeya
(Compliments of Cranky Crow World Music).