King Sunny Ade – Synchro Series (IndigeDisc 0004, 2003)
King Sunny Ade – The Best of the Classic Years (Shanachie 66034, 2003)
Many U.S listeners can trace the beginning of their interest in global music (and African music in particular) back to the early 1980's, when Island Records began issuing stateside the music of Nigeria's King Sunny Ade. The label had an interest in promoting sounds from Africa in the west: Bob Marley had recently passed away, leaving a void in some shadowland of mainstream acceptance for a musician from the "third world" to fill. King Sunny Ade was a reigning monarch of juju, a Nigerian meld of traditional Yoruba beats with further layers of modern electric instrumentation. It was a dense, complex and highly enjoyable music, with an army of percussion instruments, the chiming of multiple guitars and intoxicating call-and-response vocals carrying on in long, subtly shifting grooves that never quite seemed fast or slow.
Juju went on to become, to global music fans, one of the most familiar genres of African music, with several well-known practitioners. But for many, Ade was where it began. These two releases will fill in a few gaps for fans who haven't had much chance to sample some of the Ade works that have gone largely unreleased outside Africa. The Indigedisc album includes tracks from the early '80s, right about the time Ade was beginning to make a splash in the States. Some of the material, in fact, can be heard in altered versions on his first two Island Records collections. But a rehash is the last thing you should expect. Included also is the entirety (three lengthy tracks) of an album called Gbe Kini Ohun De not previously available in the U.S., and even the familiar stuff here (including a dub version of the popular "Ja Funmi") is likely very different from what you've heard before. Despite the multiple layers of percussion, guitars, voices and effects, the sound has the airy quality that characterized Ade's music at the time- it flows easy but cuts deep. Beautiful stuff.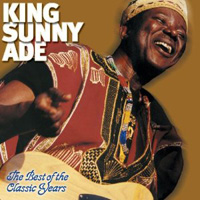 On Shanachie's The Best of the Classic Years, we are blessed with songs from earlier in Ade's career, when he was recording for the African Songs, Ltd. label in the late '60s to early '70s. The richly lengthy grooves, serpentine guitars and percussion and caressing Yoruba vocals are heard in all their emerging glory for over 70 minutes of heavenly juju bliss. Listening without distraction is strongly advised.
Good luck trying to choose one of these discs over the other, because both are absolutely essential. The juju sounds of King Sunny Ade were a primary trailblazer towards the establishment of that vast category we now call world music, and revisiting the roots of those sounds via these two superb offerings will make you feel very, very good.
Author:
Tom Orr
Tom Orr is a California-based writer whose talent and mental stability are of an equally questionable nature. His hobbies include ignoring trends, striking dramatic poses in front of his ever-tolerant wife and watching helplessly as his kids surpass him in all desirable traits.