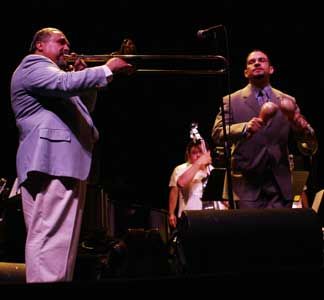 Trombone player, composer and bandleader Willie Colón is one of the pioneers of modern salsa and Latin jazz.
Colón holds fifteen gold and five platinum records, and has collaborated with celebrated artists such as Fania All-Stars, Hector LaVoe, Rubén Blades, David Byrne, Celia Cruz, and Yomo Toro amongst others. His music, which powerfully influenced modern Latin jazz, reflects both rhythmic and traditional lyrics.
His achievements in all his activities are widely recognized. He has created 40 productions, and as musician, composer, arranger, singer, and trombonist, as well as producer and director, Colón still holds the all time record for worldwide sales.
Born William Anthony Colón on April 28, 1950 in the Bronx, New York, and raised by his grandmother, her strong beliefs and personality, powerfully influenced his devotion to his cultural roots. Colón started playing trumpet at the age of 12, and switched to trombone two years later.
Colón's album "El Malo" has become known as one of the first albums to feature the "New York Sound", blending in jazz harmonies and jazz style soloing, Colón along with pianist and bandleader Eddie Palmieri, largely defined the sound of salsa".
As a community leader, he has won both local affection and national recognition. In 1991 he was awarded the Yale University's CHUBB fellowship, a political recognition he shares with the late John F. Kennedy, Jesse Jackson, Moshe Dyane, Ronald Reagan, and George Bush to mention a few.
In November of 1999 he became Dr. William A. Colón through a doctorate he received from Hartford, Connecticut's Trinity College for The Art of Courage, a recognition given to artists who have used their art to make political change.
Through his work and positive message he has developed into a national and internationally respected sociopolitical voice and artist.
Discography
* Guisando (Fania, 1969)
* Asalto Navideño (Fania SLPF399, 1972)
* The Big Break (Fania SLP394, 1976)
* Siembra (Fania, 1978)
* Solo (Fania, 1980)
* Canciones del Solar de los Aburridos (Fania, 1983)
* Top Secrets (Fania, 1989)
* Illegal Aliens (Fania, 1990)
* Color Americano (CBS, 1990)
* Honra y Cultura (CBS, 1991)
* El Malo (Fania, 1991)
* 49 Minutes (Fania JM00525, 1992)
* Altos Secretos (Fania, 1992)
* Corazón Guerrero (Fania, 1992)
* Deja Vu (Fania, 1992)
* El Baquine de Angelitos Negros (Fania JMCD00506, 1992)
* Last Fight (Fania, 1992)
* The Best (Sony, 1992)
* Grandes Éxitos (Fania, 1992)
* Super Éxitos (Fania, 1992)
* Hecho en Puerto Rico (Fania, 1993)
* Willie & Tito (Vaya, 1993)
* Best, Vol. 2 (Sony, 1994)
* Lo Mato (Fania, 1994)
* El Juicio (Fania LPCD00424, 1994)
* Trans la Tornenta (Sony, 1995)
* Brillantes (Sony, 1996)
* Fania All-Stars (Sony, 1997)
* Mi Gran Amor (Madacy, 1999)
* Idilio (Sony Tropical 83999, 2000)
* Best (Fania 689, 2000)
* Demasiado Corazón (Líderes Entertainment Group 950 036, 2000)
* Criollo (BMG Latin 93611, 2002)
* La Experiencia (2004)
* Colección de Oro (2005)
* OG: Original Gangster (2006)
* The Player (2007)
* La Historia: The Hit List (2007)
* El Malo Vol II: Prisioneros del Mambo (2008)
* Asalto Navideño Live/En Vivo (2008)
* La Esencia de la Fania (2008)
* Historia de la Salsa (2010)
* Selecciones Fania (2011)
* Serie Premium: Sólo Éxitos (2013)