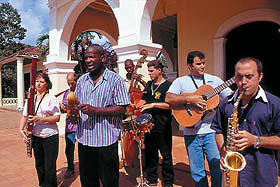 Valle Son is a 7 piece group from the rural village of Viñales in the lush tobacco-growing highlands of Pinar del Rio, the westernmost province of Cuba, where most of them have been playing together for more than a decade.
In July 2000, Valle Son traveled to the Yukon (Canada) for a month-long tour. There they recorded their CD Son de Cuba at Old Crow Studio in Whitehorse, released on their imprint, Caribou Records- home to the Undertakin' Daddies, Kim Barlow, and Anne Louise Genest.
Son de Cuba is rooted in the traditional son style, yet embodies a contemporary, hybrid sound. Driven by the clave rhythm, the music integrates elements of jazz and mambo to create a propulsive, vibrant groove.
Valle Son would have returned to Canada sooner, but a 2002 North American tour crumbled, with visa delays in the wake of 9/11.
In 2003, Valle Son returned to Canada for an extensive summer tour.