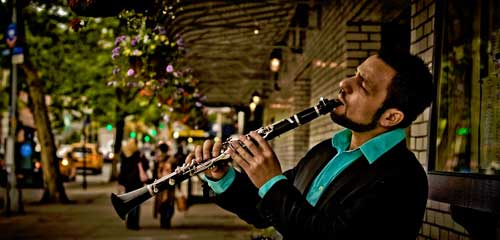 Ismail Lumanovski, well-known for his lively virtuosity, was born in Bitola, Macedonia and started playing the clarinet at age eight. He has performed throughout the United States, Europe, the Middle East, and China to critical acclaim. Lumanovski participated in the New York début of the Carter Clarinet Concerto with musicians from the New Juilliard Ensemble and the Lucerne Festival Academy with composer Pierre Boulez.
Throughout the years, Lumanovski has performed with many significant musicians and orchestras, including Die Deutsche Kammerphilharmonie, the Berklee Middle Eastern Fusion Ensemble, the World Youth Symphony Orchestra, the Palestine Youth Orchestra, the Macedonian Philharmonic Orchestra, Marcel Khalife, Al Di Meola, and Husnu Senlendirici.
A skilled improviser and performer of Macedonian, Turkish and Gypsy music, he has toured with the New York Gypsy All-Stars and is also one of the founders of The Secret Trio.
Ismail Lumanovski is the winner of numerous competitions, including the 23rd, 24th and 25th Clarinet Competition of Macedonia, the Juilliard Clarinet Concerto Competition, the International Young Artist Competition in Bulgaria, the National Folk Music Competition in Macedonia and the Andreas Makris Clarinet Competition in Colorado.
Furthermore, Lumanovski received the "Fine Arts Award" twice at the Interlochen Arts Academy, and 1st prize at the Arriaga Chamber Music Competition. He holds a Bachelor of Music degree and Master of Music degree from the Juilliard School of Music. He studied with Charles Neidich and Ayako Oshima.
Discography:
Soundscapes, with The Secret Trio (Traditional Crossroads, 2012)
Dromomania, with New York Gypsy All Stars (New York Gypsy All-Stars, 2015)
Three of Us, with The Secret Trio (Traditional Crossroads, 2015).
Website: www.ismaillumanovski.com