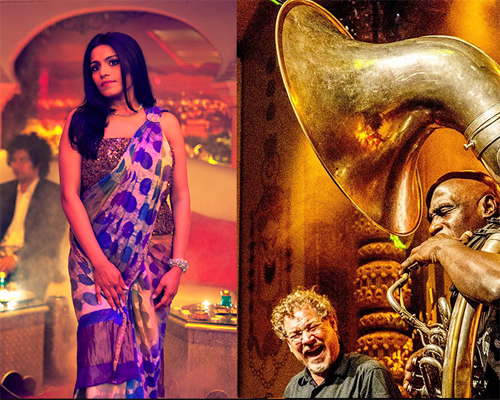 Five concerts this spring 2019 will pair music and dance by groups from excitedly different backgrounds for a night of cross-cultural fun. The concerts will take place March 9, March 23, April 6, April 20 and May 4.
The New York City borough of Queens is described as the world in microcosm, with around 138 languages spoken in the borough. Yet "everyone tends to stay in their own community," notes Ellen Kodadek, Flushing Town Hall's Executive and Artistic Director.
To break down some of these walls, to see what happens when neighbors meet, mingle, and dance together, the Queens art hub came up with a novel approach: Global Mashups, when two bands from radically different places and styles share a bill, then jam together, often for the first time, during a third set. This is the fifth edition of these mashups.
"Our mission is to bring people together, so this idea to pair unexpected artists across community lines really evolved organically," says Kodadek. "We wanted to bring people together from diverse backgrounds in a fun way through music and dance. We do a lot of cross-cultural programing in our gallery and the theater, and this felt like the perfect approach for our music programs."
Each performance is preceded by quick but fun dance lessons, to give concert goers all the basic moves they need to get out of their seat and make the most of the music. "It's been a wildly successful set of programs," Kodadek reflects.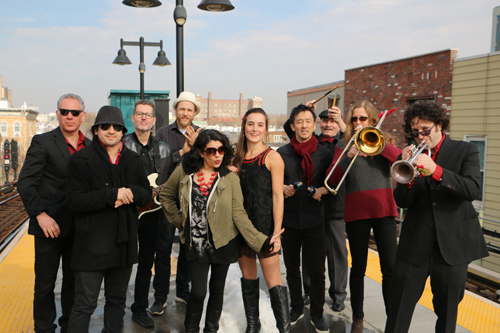 This year's lineup includes:
March 9: Bollywood Meets Global Roots Blues (the polychrome glamor of singer Falu + maverick bluesmen Hazmat Modine).
March 23: Western Swing Meets Balkan Brass (the old-school American roots of The Brain Cloud + pan-Slavic fireworks of Romashka).
April 6: Latin Boogaloo Meets Klezmer (the vintage-inspired Latin grooves of Spanglish Fly + wild inventiveness of Frank London).
April 20: Bluegrass Meets Cuba (Buddy Merriam and Backroads + Cuban dynamos Conjunto Guantánamo).
May 4: Balkan Punk Meets West Africa (Toronto's Balkanic rebels Lemon Bucket Orkestra + high-energy Kakande)
"One of the coolest aspects of these evenings is when we get married couples who come because one spouse is from one culture, and the other from another," Kodadek recounts. "People bring their kids, and the show demonstrates that cultural combinations are totally normal and fun. It's really wonderful to see."
All shows start at 7 PM (dance lessons), 8 PM (concert and jam) at Flushing Town Hall, 137-35 Northern Blvd., Flushing NY 11354. Ticket and other information can be found at www.flushingtownhall.org or by calling (718) 463-7700 x 222.