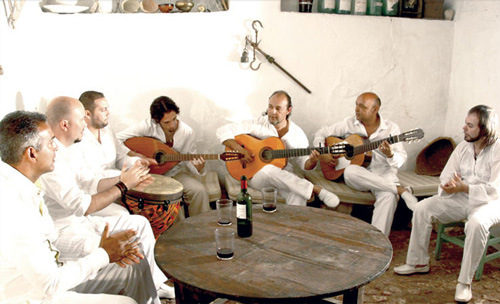 SonAires de la Frontera was the reincarnation of the critically acclaimed Andalusian band Son de la Frontera. Flamenco guitarist Paco de Amparo's new musical project continued his combination of flamenco genres with world music elements.
Based in one of the cradles of flamenco, Moron de la Frontera (Spain), SonAires de la Frontera included young musicians who were deeply influenced by the legacy of the legendary guitarist Diego del Gastor. The debut album was titled Moroneando.
The band included three guitarists: Paco de Amparo, Ignacio de Amparo and Shimun Murk. The mandola played by Keko Baldomero wass added to the mix; it is an unconventional instrument in the world of flamenco and added an exotic element to the group's sound.
David el Galli and Jesus Santiago provided the vocals. Isidro was on percussion. Luis Torres added palmas (handclap percussion) and vocals; and J. Gregorio Lovera played violin. The band included a dancer, Mercedes de Moron.
Discography:
Moroneando (Bujio, 2010)