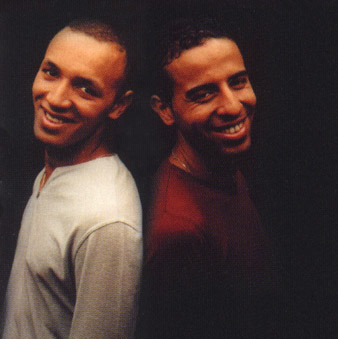 Sawt El Atlas (Voices of the Atlas) was fronted by the warm voices of singers Kamel and Mounir. The ten-piece band combined Middle Eastern, rai, reggae, funk and Latin beats. The musicians were genuine party animals and had a gift for sweeping audiences off their feet.
Sawt El Atlas' album Donia drew increasingly deeply on their multicultural inspiration. As Sawt El Atlas liked to say: "In Morocco, they look on us as French people, and in France, as Moroccans. Although we have two cultures, we don't belong to either country specifically."
The original line-up of Sawt El Atlas consisted of three brothers from each of two families, the Mirghanis (originally from Southern Morocco) and the El Habchis (from Casablanca). They were later joined by four other musicians. Lead singers Kamel and Mounir and their brothers grew up in the suburbs of Blois in the center of France.
Sawt El Atlas started to hit the road in the 1990s when they were just 12, and played at many festivals in France, Holland and Germany and supported a number of major artists on tour. In 1996, after more than 200 gigs, they released their first CD, titled Généraliser (Generalising), produced by Daniel Jamet former member of Mano Negra. It was a lively album swept along by its Arabic-French lyrics, which were deliberately positive even when they attacked the precarious nature of everyday social integration:
Whether you're on the dole, a street sweeper or an engineer,
Whether you're white, black, or Arab,
Remember there's no difference, no preference: here, we dance…
In 1999, Sawt El Atlas signed to Sony's Small label and they released a firmly mature album titled Donia, mainly sung in Arabic, but with some French too. They began to record Donia in Paris, in the studio of Sodi, the producer of Les Negresses Vertes, Femi Kuti and IAM, but it was completed in Cairo, the crossroads of modern Arabic music where a true oriental sound can be obtained using local instruments such as the Kawala flute, ud, qanun, Egyptian percussion and Egypt's legendary string formations.
Donia was mixed by Carmen Rizzo who has worked with Prince, Khaled and Zebda among others. The generous nature of singer-songwriters Kamel and Mounir, combined with their brothers' talent and the background of the other musicians to produce a perfect blend of Middle Eastern roots and modern groove. This time, the album's lyrics focused on the world's most universal theme: love. Donia's twelve songs are a hymn to love, respectively devoted to mothers, couples, people in general, life and God. All were written as original pop songs: the radio-friendly first single Ne Me Jugez-Pas (Don't judge me), the Middle Eastern jungle of Ness featuring Natacha Atlas, a long-time friend of the band, the flamenco leanings of Andalucia, the groove-reggae of Datna and the eponymous track, Donia.
Sawt El Atlas said: "The album is dedicated to people who are short of exoticism and warmth."
Discography:
Generaliser (Rue Bleue, 1996)
Donia (Sony, 1999/Tinder Records, 2001)