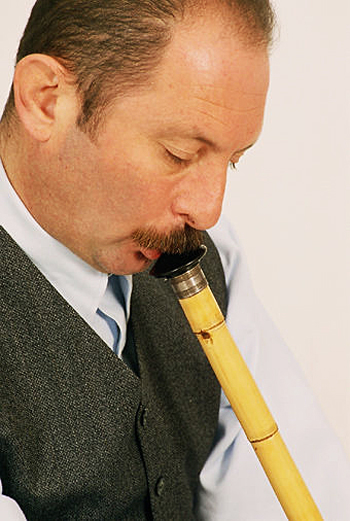 Salih Bilgin is one of the leading ney virtuosos in Turkey today. Bilgin is the primary student of Niyazi Sayin, the greatest living ney player and an expert on Mevlevi Sufimusic with whom he still studies ney making ebru (marbling) and tesbih (prayer beads).
He has performed internationally with the Romeiko Ensemble, the Istanbul Tasavvuf Music and Semah Ensemble and the Istanbul Government Classical Music Chorus.
His extensive recording work brought him into collaboration with Melihat Gulses, Derya Turkan and Huseyin Tuncel. He performs with the Cantemir Ensemble.
Discography:
Neva (Golden Horn Records)
Neva 2 (Kaf Muzik)