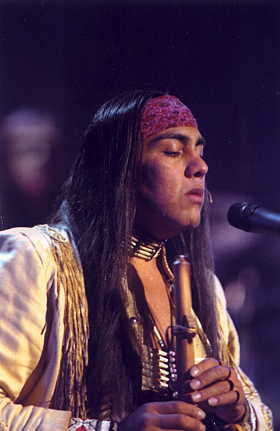 Robert Mirabal was born on October 6, 1966 in Taos Pueblo, New Mexico, USA.
"There's always a flute player in every tribe. I never would have guessed it at the time but I've become that flute player," says Robert Mirabal.
The tribe is the Taos Pueblo. The time was when Robert was 18 and he encountered for the first time the Native American flute. Now his handcrafted flutes are in the Smithsonian National Museum.
From the pow-wow auction where he saw that first flute to Japan, the UK and all the world, Robert plays with the noble purpose of honoring the land his family his ancestors and his tribe, who have occupied the same area of Northern New Mexico for over a thousand years.
While deeply aware of his heritage Robert looks at the responsibility universally: "I offer my work as a healing for the human spirit and a remembrance of why we are all here together."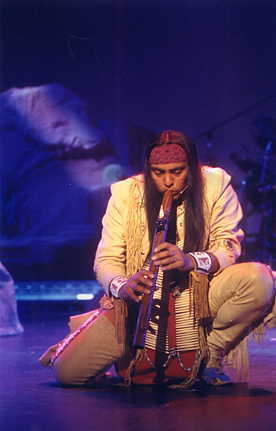 In addition to the music and instruments he creates, Robert is also a celebrated painter, poet and playwright. He is the author of A Skeleton of a Bridge, a book of poetry prose and short stories. He has lent his words and insights to several educational and documentary films, including two narrated by Robert Redford "Silent Witness" and "Sacred Sites." He is the recipient of a National Endowment for the Arts award and the New York Dance and Performer's "Bessie" Award for composition.
Robert's 2001 live album Music from a Painted Cave is also the title of a TV special of the same name that was broadcast by PBS.
Mirabal formed a band called Rare Tribal Mob that featured Robert Mirabal on vocals, flute, ocarina, percussion, didjeridu; Reynaldo Luján on tribal rhythms, vocals; Michael Kott on cello; Stev Castillo on guitars; Kenny Aronoff on drums, percussion; Star Nayea on vocals, percussion; Robin Peffer on bass; and Patrick Mirabal on vocals, flutes, percussion.
Discography:
Nomad, with Nomad and Mor Thiam (1994)
Song Carrier (1995)
Land (1995)
Warrior Magician (Silver Wave Records, 1996)
Native Suite, with Bill Miller (1996)
Mirabal (1997)
Native American Lullabies: Under The Green Corn Moon (1998)
Taos Tales (Silver Wave Records, 1999)
Music from a Painted Cave (Silver Wave Records, 2001)
Indians, Indians (2003)
Sacred Ground: A Tribute to Mother Earth (2005)
Johnny Whitehorse (Silver Wave Records, 2005)
Pueblo Christmas, with Patrick Mirabal (Silver Wave Records, 2007)
In the Blood (2007)
Johnny Whitehorse: Totemic Flute Chants (Silver Wave Records, 2007)
Johnny Whitehorse: Riders of the Healing Road (Silver Wave Records, 2007)
The River (Innova, 2016)