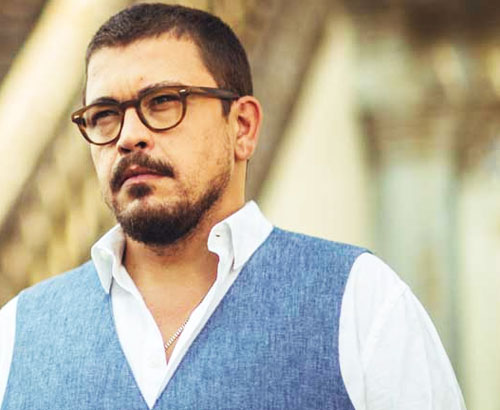 Ricardo Alexandre Paulo Ribeiro was born August 19, 1981 in Lisbon, Portugal. Ricardo Ribeiro discovered fado at an early age, listening to the big names of that time, who would later became his main influences: Fernando Mauricio, Amália Rodrigues, Alfredo Marceneiro, Manuel Fernandes, Adelino dos Santos (guitar) and José Inácio (Spanish guitar). In 2001, Ricardo was invited to take part in various worldwide music festivals, including Alu Casa da Atriz María Casares, Badasom, Vocal Jazz Festival Crest, Córdoba's Guitar Festival, and the Santo Tirso Guitar Festival.
In 2004, his first record Ricardo Ribeiro was released by the CNM – Coleção Antologia label, which brought together guitar players José Manuel Neto, Jorge Fernando and Marino de Freitas. Ricardo also took part in the Tribute to Amália Rodrigues record (2004) on the World Connection label, singing the song "Quando se gosta de Alguém."
Ricardo was awarded the Male Revelation Prize by the Amália Rodrigues Foundation and the Revelation Award by Casa da Imprensa in 2005. In 2011, he was once again awarded with the Best Male singer prize by the Amália Rodrigues Foundation, and performed two sold-out shows at São Luiz Teatro Municipal in Lisbon, dedicated to Lisbon and fado. He was also invited by Macau's Chinese Orchestra to perform at the Luso-Chinese music cycle at the Macau Cultural Center, directed by Maestro Pang Ka Pang.
Ricardo received the Henry the Navigator Award from Portuguese President Aníbal Cavaco Silva in 2015.
He participated in the album "Amália – Voices of Fado," produced by guitarist Javier Limón.
His album, Hoje é assim, amanhã não sei (Today is like this, tomorrow I don't know), was released in April 2016.
In 2018, he performed for the first time at the New York Fado Festival.
Discography:
No Reino do Fado (Metro-Som, 2000)
Ricardo Ribeiro (Companhia Nacional de Música, 2004)
Porta do Coração (EMI Portugal, 2010)
Largo da Memória (Parlophone, 2013)
Hoje é Assim, Amanhã Não Sei (Warner/Parlophone, 2016)