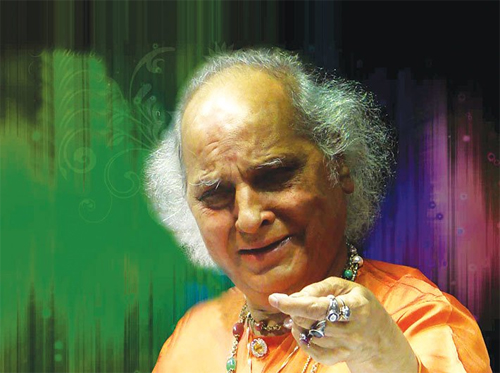 Pandit Jasraj is a leading North Indian Classical vocalist. Born into a family that has given to Indian music four generations of outstanding musicians, the Mewati maestro, Pandit Jasraj has his initial training in music under his father, the late Motiramji. He then underwent intensive tutelage under his elder brother and guru, the late Sangeet Mahamahopadhyaya Pandit Maniramji. Endowed with a rich, soulful and sonorous voice, which traverses effortlessly over all three and a half octaves, Panditji's music projects traditional music as an intense spiritual expression.
He has been guided in this by spiritual guru, late Maharana Shri Jaiwant Singhji of Sanand, another doyen of Mewati gharana. Perfect diction, clarity in sur (pitch) and command over all aspects of laya (rhythm) are other highlights of his music. He pays great attention to the choice of the composition and the words in it and uses them to evoke the desired mood and feeling.
Panditji has numerous LPs, CDs and cassettes to his credit. Working on ancient classical Sanskrit literature, he released 6 cassettes in Sanskrit. He also received several titles and awards. To mention a few: Padma Bhushan Surer Guru, awarded by West Bengal Government Music College Sangeet Martand Sangeet Kala Ratna Swami Shri Haridas Sangeet Ratna Sangeet Natak Academy Award Doctorate in Music by Vishwa Unnayan Samsad, West Bengal Maharashtra Gaurav Puraskar Dinanath Mangeshkar Award Rasraj Award Kala Samrat Award accorded by the public of Varnasi, the ancient Centre of India, through the hands of Pandit Kishan Maharaj. Shiromani Award, Delhi Dr. Bhai Veer Singh International Award Allauddin Sangeet Ratna Award Rajeev Gandhi Award for professional excellence Giants International Award Naad-Brahma Shiromani, Ujjain, Civic reception Hafiz Ali Award, Pune
Panditji has also been honored by the Harvard University Art Museum in the U.S. and has been accorded civic receptions at Oklahoma City (U.S.), Bombay, Valsad, Nagpur and Hissar in India. Panditji's greatest and most original contribution in the field of Indian Music is his conception of an unique and novel jugalbandi based on the ancient system of moorchanas, between a male and female vocalist, each singing in their respective scales and different ragas at the same time. This has been so well acclaimed all over India that connoisseurs of music in Poona of named it "Jasrangi Jugalbandi" after his name.
Panditji has also conducted deep research in Haveli Sangeet, his mentor in this genre being Baba Shyam Manohar Goswami Maharaj. Not content to remain merely a performer, he has composed beautiful bandishes (compositions) and popularized them.
As a guru (teacher), Panditji is successfully imparting his knowledge and love of music to a number of disciples with the care and solicitude of a true teacher in the Indian tradition. Pandit Jasraj School of Music Foundation established in Vancouver and Pandit Jasraj Academy of Music, New Jersey (headed by Tripti Mukherjee) are testimony to Panditji's commitment and dedication as a Guru.
Discography:
The Glory of Dawn – Morning Raagas (2005)
Invocation (1993)
In Concert Vancouver Vols. 1 & 2 (1997), reissued in 2011
Anuraag (2000)
Songs of Krishna Vol. 1 & Vol. 2 (2000)
Shri Krishna Anuraag (2000)
Inspiration (2000)
Haveli Sangeet (2001)
Pride of India (2002)
Maheshwara Mantra (2002)
Darbar (2003)
Tapasya Vol. 1 (Navras, 2005)
Soul Food (2005)
The Spiritual Journey (2005)
Malhar – A Downpour of Music (2005)
Miyan Tansen Vol 1 & Vol 2(2006)
Upasana (2007)
Baiju Bawra Vols. 1 & 2 (2008)
Khazana (2008)
Raga Symphony (2009)
Essence Of The Vedas (Times Music, 2009)
Bhaktimala – Namastotram Volume 2 (Music Today, 2011)
The Very Best Of Pandit Jasraj – Volume 1 (Music Today, 2011)
In Concert, Vol. I (Music Today, 2011)
In Concert, Vol. II (Music Today, 2011)
The Meditative Music of Pandit Jasraj
Parampara – The Mewati Tradition
Multaani & Din-ki-Purya