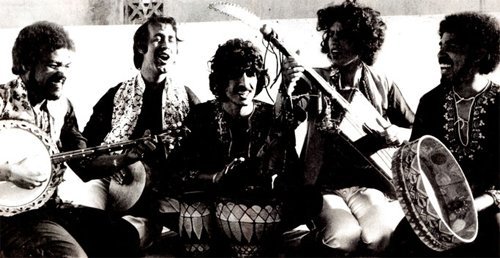 With their roots in traditional Berber music and alternative theater, Nass El Ghiwane concocted an uncompromisingly radical new music with driving beats and a barely concealed political edge in the early 1970s and went onto revolutionize music and attitudes throughout the Arabic world.
Five friends from the same district, Hay Mohammadi, in Casablanca, got together to form one of Morocco's most legendary rock bands. Original members included Omar Sayed, Boujemaa Brahim, Allal Yaala, and Larbi Batma.
Soon the group became popular in Morocco and beyond. Nass El Ghiwane influenced some of the early Rai musicians in Algeria and other bands in Tunisia and Libya. The group suffered several crisis. Boujemaa died in 1974. Then there was the illness and death of Batma in 1997. Abderrahman Kirouj (also spelled Kiruch and Kirouche), alias Paco, left the band and returned to his roots, which is Gnawa music of his hometown Essawira.
The group is still active, but only two original members remain, Omar Sayed and Allal Yaala.
Discography:
Nass El Ghiwane (Polydor, 1973)
Hommage A Boudjemaa (Cléopatre, 1975)
A Paris (Cléopatre, 1975)
Wannadi Ana / Erraghaya (Disques Espérance, 1975)
Nass El Ghiwane (Cléopatre, 1976)
Instrumental (Disques Espérance, 1976)
Narjak Ana La M'Chite / Echams Ettalâa / Daïyne Cléopatre (Plein Soleil, 1977)
Taghounja / Lebtana (Cléopatre, 1979
Zad El Hame Edition Hassania 1981
Transes (Musique Originale Du Film De Ahmed El Maanouni) (Spalax, 1981)
El Maana (Le Sens Du Mot) Azwaw (Edition Hassania, 1983)
El Gharib / Oulad El Aalam / El Oumma / Ya Sayil (Triomphe Musique, 1985)
Salama (Blue Silver, 1997)
Transe Musique Du Maroc (Night & Day, 1998)
Aalli Ou Khalli Aladin (Le Musicien, 2004)
La Légende – Volume 3 (Platinium Music, 2006)
Ghir Khoudouni (AMD, 2006)
Best of: Nass El Ghiwane (EMI France, 2008)
Double Best, remastered (Rue Stendhal, 2013)