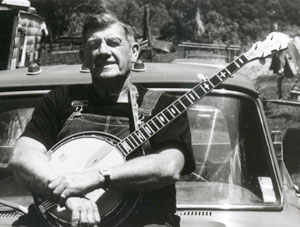 Lee Sexton is one of the most respected and revered traditional musicians in eastern Kentucky. A master of traditional banjo styles both two-finger picking and "drop-thumb" (clawhammer) Sexton has lived his whole life near his birthplace in Letcher County Kentucky.
Born in 1927 he grew up in an intensely musical family and community He worked for a week clearing a field to earn the dollar that bought him his first banjo a homemade wooden fretless model with a groundhog skin head that he acquired when he was eight years old With instruction from his father and uncles (one of whom was the legendary banjo player Morgan Sexton Sexton soon mastered the instrument and the fiddle as well He is also a powerful singer whose repertoire includes such classics as "Cumberland Gap" and "Little Birdie." As a young man he would work all week in the mines and then play music all weekend at house parties, bean stringings and corn shuckings.
In his sixty-five year musical career Lee has been an essential figure in the musical life of his community and one of the foremost tradition bearers of Kentucky's mountain music heritage He has played from front porches and community dances to radio stations national festivals and college campuses.
He is a regular at Appalshop's annual Seedtime on the Cumberland festival and at Hindman Settlement School's Family Folk Week. He was featured in Appalshop's music video, Whoa Mule, shown on Country Music Television and The Nashville Network and garnered a brief scene in the 198 film Coal Miner's Daughter based on the life of Loretta Lynn where he appears playing at a square dance. In 1999 he was presented with the Kentucky Governor's Award for Lifetime Achievement in the Arts.
Discography: