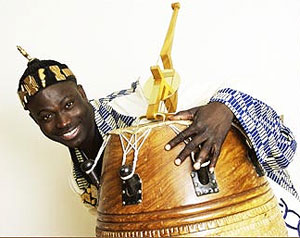 Born in Togo in 1971, King Mensah is an artist with a range of personal and professional experience. An actor, dancer and singer who was immersed in the world of the arts as a young boy under the influence of his parents, today he is one of Togo's leading stars. His music has circled the globe, gleaning success in Europe, the United States and throughout Africa.
Strength, determination and beautiful melodies filled with hope, peace and love: these are the essential qualities of the unique music of the man they call the Golden Voice of Togo.
Philosophical, poetic and socially committed, King Mensah's music and creations are inspired by Togolese music traditions. With a deep love for Togo and its musical legacy, King Mensah charms audiences with the traditional sounds of his country. The main theme of King Mensah's music is hope: hope for street children, hope for the oppressed, but also hope for people of every country and origin.
Discography:
Madjo (1996)
Edidodo (1998)
Mensah Mensah (2000)
Elom (2002)
Yetonam (2008)
Da (2012)
Soke (2014)