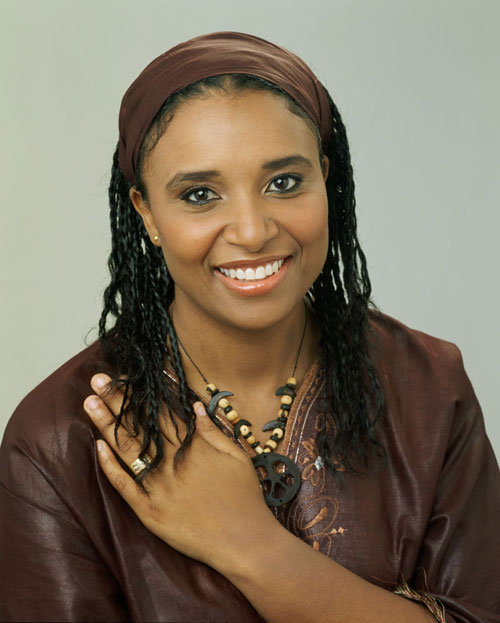 Captivating vocalist Eneida Marta was born in Guinea Bissau. Descending from a family of artists, especially her father, who came from Cape Verde, she started singing as a little child, working on her voice and participating in some children's music contests.
Some years later, after moving to Portugal, she met Juca Delgado, one of the most important African music producers, and started working together, which gave her the chance of taking part in the work of some of the most important African musicians in Portugal, such as Don Kikas, Rui Sangaras, Fernando Santos (Aiaia), Aliu Bari, Punga, Iva and Ichi.
Coinciding with the release of her first album, Nestoria (Maxi Music, 2001), produced by Juca Delgado, Eneida toured Cape Verde, France, Holland, Germany, Guinea Bissau and Portugal.
As the second album became a reality, it revealed a remarkable interest by some international record companies such as Putumayo, Club Star and JPS Production. Finally with Putumayo, and with her track Na Bu Mons, Eneida took part in a compilation dedicated to the music in the former Portuguese African countries, An Afro-Portuguese Odyssey (2002). In 200,2 Eneida Marta released a second album, a maxi-single, where she pays tribute to Guinea Bissau and Cape Verde African sounds and where she also sings in Arabic, showing her multifaceted artistic side.
Eneida Marta participated in other compilations and also appeared in the albums of renowned African artists. artists.
Eneida and Juca explore a great variety of styles, gumbe, morna, singa, with some flamenco, Gospel and jazz nuances.
Discography:
Nestoria (Maxi Music, 2001)
Lopekai (Iris Music, 2006)