In this era of harsh voices speaking know-it-all rhetoric from various political, religious, cultural and elitist viewpoints, the need for musical voices to tame the beasts has never been greater. I've recently been treated to some releases featuring female voices that succeed in temporarily transporting me away from the madness and may prove even more antidotal in the long run.
Bosnian singer Amira Medunjanin immerses the listener in the depths of sevdah, the word used to describe the emotional intimacy of her native traditional music. Sevdah is to Bosnia what blues is to America or fado is to Portugal: an expressing via music of what the heart longs for and the spirit believes in. Damar, (World Village/Harmonia Mundi, 2016), Medunjanin's latest, goes measurably beyond Bosnian tradition, giving her small unplugged ensemble the means to stretch out in a few jazz and pan-Mediterranean subtleties with acoustic guitar and piano most often leading the way.
Medunjanin's beautifully faraway tones flow like lifeblood through love songs, sacred devotions and declarations of the indomitable spirit of Sarajevo and other recently troubled locales in her home region. Music seldom gets more up close and personal -or quietly thrilling- than this.
Her choice of costuming looks rather grandiose on the cover images that adorn her CD Songs of Resilience (Simrit Kaur Music, 2016), but Greek-born, South Carolina-raised singer/songwriter Simrit isn't about to go over the top musically. Her influences range from Orthodox chants to African drumming and the rhythmic mantras of yoga, and while you might fear the results to be some kind of mystical mess, they're not. Electronic textures do figure into the music but take a back seat to the kora, guitar, cello, bass, harmonium, piano and percussion that provide melody, strength and unhurried forward motion to the songs.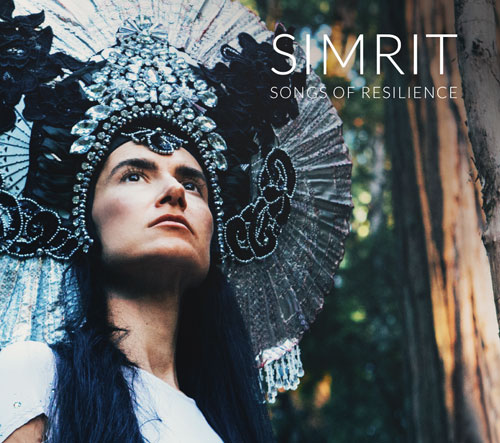 A steadily militant beat propels the opening "Prithvi Hai" as Simrit intones with both the intimacy of a coffeehouse singer and the authority of a shaman, enveloping the instrumental backing and building to a spatial climax that results in bliss the rest of the album sustains.
Simrit's songs take their time; most of the tracks here clock in between 6 and 10 minutes. Still, the musical journey is well worth the investment. Understated rhythms are given just enough production value to skirt the line between ancient and modern, and Simrit's dreamlike vocals (in several languages including English) similarly touch upon the here and now while seeming to reach for something beyond. If such wordiness leads you to believe this music is difficult to categorize, believe it. But rest assured it's also a healing, calming experience and a substantial sonic adventure.
And then there's Peia, a singer whose scholarship to the New England Conservatory of Music was ostensibly for her to study opera. Instead, she found herself enamored with a myriad of global styles and set out to explore numerous connections between music, culture and the forces that have the power to preserve them.
Peia's heritage is Scottish and Irish, and while some degree of that is evident on Beauty Thunders (Peia Song Music, 2016), she goes a good deal further. Moving seamlessly from Hungarian lullaby to Scottish reel, Peruvian proverb and poetic originals, Peia constructs a prayer-like cycle of songs that often permeate with hushed vocals and restrained melodies before adding grooves that edify and further mesmerize.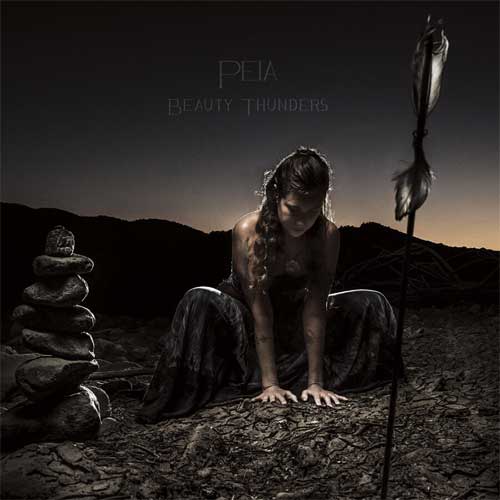 Declare yourself emotionally bankrupt if the singing, particularly the way Peia's playfully angelic reach blends with the harmonies of Luna Marcus and Murray Kyle, doesn't leave you spellbound. But by all means save ample appreciation for the unerringly earthy accompaniment, which includes Peia's own charango and harmonium in addition to guitar, oud, bass, fiddle, Irish whistle, bagpipe and percussion.
Whatever thunders the title may bespeak, this gem of a disc is more about the beauty aspect: a delicate beauty anchored by the sort of hope expressed in the concluding song "We Will Rise Again" and affirmed by sweet, glorious music that leaves no doubt as to the truth of such a statement. (www.peiasong.com)
Headline photo: Peia by Arterium