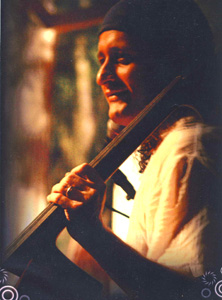 Dudu Lima was born in 1972, in Brazil. He started to study acoustic bass very young, by himself, and later at the Ian Guest Music Center in Rio de Janeiro. Later, he studied electric bass with Charles Banacus in Boston (USA), attended Berklee College of Music (USA) and workshops with Natan East (bassist of Larry Carlton) and Dave Weckel (drummer of Chick Corea ).
In Brazil, Dudu Lima has participated in dozens of albums from great jazz musicians and performed at the most important jazz festivals like Visa Jazz Festival, ProMusica Jazz Festival , Buzios Patio Havana Instrumental , Rio das Ostras Summer Festival, Ibitipoca Jazz Festival, Festival de Jazz de Friburgo, Festival Internacional de Musica Colonial de Juiz de Fora , Jazz and Blues Rio das Ostras Festival, Blue Tree Bras?lia Jazz Festival.
Abroad, Dudu Lima performed at Montreux Jazz Festival, Brienz Jazz Festival and at Jazz Times Convention in New York.
Dudu Lima composed the overture soundtrack for the Luzes da Cidade Film Festival, the soundtrack for TV documentary Museu Mariano Procopio and had one of his music (Regina) in the theatre piece O Baile Verde. He's also performed in the soundtracks of the movies A 3a. Morte de Joaqim Boliver and Maria das Graca.
The first CD was Regina, recorded in 2000 and the second one Nossa Historia released in 2003 with the participation of great Brazilian jazz musicians such as Hermeto Pascoal, Jovino Santos Neto, Juarez Moreira, Ivan Conti (Azimuth), Marcio Bahia, among others.
In 2007, Dudu Lima released his DVD and third CD: Dudu Lima Live – 20 Years of Pure Music (Dudu Lima ao vivo – 20 Anos de Pura Musica). This work counts with the special participation of the great North-American guitarist Stanley Jordan and the virtuoso Canadian saxophonist Jean Pierre Zanella.
Discography:
Regina (2000)
Nossa História ‎(Mantra, 2003)
Ouro de Minas (2009)
Cordas Mineiras (Tratore, 2010)
Ao Vivo No Cine Theatro Central (Blues Time, 2011)
Ouro de Minas 2 – Gran Circo (2015)
Tamarear (Som Livre, 2015)
Um Trem Pra Minas (2016)
Dudu Lima Clássicos (2017)
Som de Minas (Gravatás, 2017)