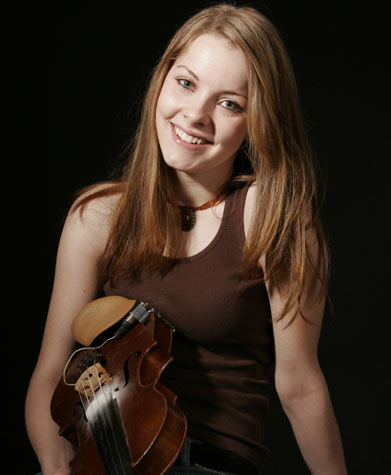 Chrissy Crowley was born in Margaree Forks, Nova Scotia. She is part of thriving Celtic music scene from Cape Breton, Canada. She grew up in the beautiful Margaree area of Nova Scotia, Canada, a place known for its cherished musical culture. The music of the ceilidh resonates in the majestic mountains and peaceful valleys incorporating not only the tunes of the Scottish Gaels but also those of the area's Irish and French-Acadians. Chrissy has been inspired by the traditions of artists who have gone before and has embraced the music of her Celtic roots making it her own.
Chrissy's passion for the music of her Gaelic ancestors is borne of destiny. She is the granddaughter of fiddlers Bill Crowley and Archie Neil Chisholm and her large extended family has always greatly valued the traditions of their Scottish forebears and their Newfoundland/Irish ancestors. It was Chrissy who asked her mother to take her grandfather Bill's violin out of storage. She had decided, with a resolve uncommon for one so young, to become a fiddler and listened intently to her family's home recordings of the vibrant sessions in which legendary musicians participated, including her great uncle Angus Chisholm and cousins Cameron Chisholm and Margaret (Chisholm) MacDonald.
She remains a largely self-taught artist, absorbing the rich musical culture of the Margaree by listening to the local players and learning by observation. Chrissy has on occasion been in a classroom environment, enrolling in courses at the Celtic College in Goderich, Cape Breton's Ceilidh Trail School of Music and the Gaelic College of Arts and Crafts. These institutions extended the gifted player scholarship opportunities and she took advanced fiddle instruction from master artists of Cape Breton, Ireland, Scotland and North America.
Chrissy's determination and natural ability have allowed her to become an exceptional fiddler in an astonishingly short period of time and she remains in demand at the various traditional music venues throughout Nova Scotia. She has also been on stage at festivals in Cape Cod, Maine, Ontario and Prince Edward Island .
Chrissy has been involved herself with the promotion of the area's traditions as a member of the Cape Breton Highlands Celtic Club. She was selected to attend the Encounters with Canada Journalism and Communications program in Ottawa and has written articles about her Celtic heritage and musical roots. Her work has been published in Celtic Heritage Magazine and Fiddler Magazine.
She is an active member of the Cape Breton Fiddlers' Association, her success emblemizing the organization's mandate to encourage and support the players of the young generation. Christine Crowley has released her first CD, following the footsteps of her great uncle Angus who was one of the first fiddlers in Cape Breton to make a recording.
Chrissy is a member of Còig, one of Atlantic Canada's leading traditional groups. Còig's debut album titled Five won the 2014 Canadian Folk Music Award for Traditional Album of the Year, the Music Nova Scotia Award for Traditional/Roots Recording of the Year, and most recently, the 2015 East Coast Music Award for Roots/Traditional Group Recording of the Year.
Discography:
The Departure (Offshore Gael Music, 2010)
Last Night's Fun (2013)
Five, with Còig (2014)