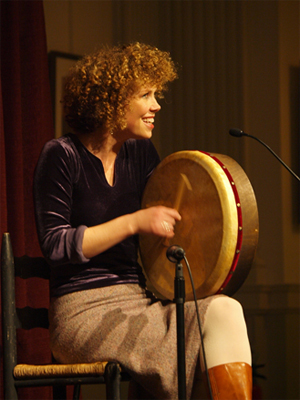 Aoife Clancy had little idea of the extent other father and uncles' international stardom as The Clancy Brothers while she was growing up in the small Irish town of Carrick-on-Suir in County Tipperary. Sure, she was taught to play banjo and guitar by her father Bobby by the time she was ten and started singing in pubs with him by age 12. "He was and still is a great inspiration and always encouraged me to continue singing…I owe him a lot," she says. And, yes, after a year of studying drama in Dublin at the Gaiety School of Acting, she was invited to tour Australia, singing at festivals and concerts that featured some of Ireland's greatest musicians, including Christy Moore and The Furey Brothers.
And then there was the Caribbean cruise performing with The Clancy Brothers, Aoife's first appearance at the Milwaukee Irish Festival (the world's largest gathering for Celtic music) and a seven-week tour of the United States with the renowned Paddy Noonan Show. But it wasn't until Aoife moved to the United States in 1992 that she understood the full measure of her family's widespread popularity. "In Ireland, they were well known but didn't tour there much," she says. "But after coming to the States, I realized just how famous they actually are."
Even if The Clancy Brothers' renown came as a surprise, Aoife's career choice was environmentally, and perhaps genetically, predetermined. "There was always plenty of music around when I was growing up," she told the Boston Globe. "I suppose I have it in me; I can't help it." Other family members felt the musical pull as well.
Her brother Finbarr toured with The Clancy Brothers, her cousin Donal Clancy played with Solas, cousin Robbie O'Connell has his own solo career as well as playing with Clancy O'Connell Clancy and many other groups, and cousin Colm Power is also a professional musician and songwriter. After Aoife's relocation to the United States of America, she recorded her first solo album, It's About Time, for Rego Records in 1994, and embarked on a promising solo career.
She was soon invited to fill the lead vocalist's role in the unique, all-female Irish-American sextet Cherish the Ladies, with whom she toured and recorded between August 1995 and April 2000. Aside from singing on five Cherish the Ladies albums released by RCA, Green Linnet, and their own Bigmama Records, Aoife and the group also contributed to the Boston Pops Orchestra's 1998 Grammy-nominated The Celtic Album.
Early in her stay with Cherish, Aoife found the time to record a second solo record. Soldiers and Dreams. When Aoife left Cherish the Ladies to renew her solo career, she retained that guiding musical vision, amply displayed on her Silvery Moon CD. Whether the songs she sings originate in the United Kingdom, Australia or Appalachia, Aoife's seemingly effortless blend of warm, natural vocals, genre-defying instrumentation, and repertoire of classic and modem material deserves to make this Clancy Daughter a worthy inheritor of an iconic family name and an even broader following. Ireland Europe
Discography"
It's About Time (Rego Records, 1994)
Soldiers and Dreams (Rego Records, 2002)
Silvery Moon (Appleseed Recordings, 2002)