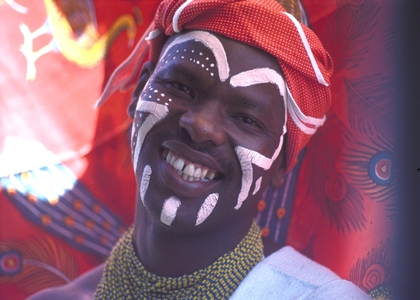 The son of an African herbalist, vocalist, percussionist and dancer Dizu Zungulu Plaatjies was born on 5 February 1957. His parents called him Zungulu, 'the Hunter', mainly because of the shape of his eyes, which they considered to be searching for something. "When I was young my father, as a traditional doctor, used to take me to celebrations where they used to dance, play the drums and sing and I grew up in that kind of environment."
This background gave Zungulu a fierce determination to protect the traditions of indigenous music and African culture. "Music," says Dizu Plaatjies, "is a part of African life. By preserving music, we will preserve the traditions and keep alive the memories of our ancestors that today are so easily forgotten." His first drum was made by stretching a skin over an oil can and as a member of Langa's church choir, he met the other members of what became Amampondo.
As well as their work with Amampondo, Dizu Plaatjies &Mzwandile Qotoyi collaborate on what are called DZM Projects, dedicated to recording and advancing the cause of indigenous South African music. The pair are featured on the Ethno Trance Live and the Madosini Project – Power to the Women.
Dizu also collaborated with trance/techno outfit Juno Reactor, having toured internationally with them in 97/98, and toured to launch Juno's album Shango.
Discography:
With Amampondo:
Uyandibiza (Claremont Records, 1983)
Searching for the missing link ‎(Teal Trutone Music, 1986)
State Of Emergency ‎(Assembly Records, 1988)
Feel The Pulse Of Africa (Claremont Records, 1989)
State Of Emergency ‎(ProJazz, 1990)
An Image Of Africa (EWM Records, 1992)
Drums For Tomorrow (M.E.L.T. 2000, 1997)
Inyama ‎(Mountain Records, 1997)
Vuyani ‎(M.E.L.T. 2000, 2000)
Raw And Undiluted ‎(M.E.L.T. 2000, 2005)
IntSholo ‎(Mountain Records, 2008)
Solo and collaborations:
Ethno Trance Live, with Mzwandile Qotoyi (1996)
Ibuyambo ‎(Mountain Records, 2003)
Fidel Pondo ‎(M.E.L.T. 2000, 2005)
Ubuntu – The Common String ‎(Mountain Records, 2015)