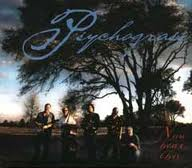 Adventure Music announced recently the launch of a new imprint emphasizing the full spectrum of acoustic music. the first project from Adventure Music America will be Psychograss' Now Hear This.
Adventure Music, the three year old independent record label that is home to a host of acclaimed Brazilian and South American artists, with fourteen releases to date from such as Antonio Carlos Jobim, Ricardo Silveira, Moacir Santos, Tom Lellis, Nelson Angelo, Claudia Villela, Ricardo Peixoto, Gui Mallon, Weber Iago and Maria Marquez, as well as the upcoming release of the 2004 Latin Grammy
Award winning recording of Symphonic Jobim, has announced the launch of Adventure Music America, a new imprint that will focus on a wide expanse of acoustic music, from Americana to folk to bluegrass to jazz. Adventure Music America will be helmed by the same three principals who head Adventure Music: Richard Zirinsky, Robert Corroon and Mike Marshall, the superb mandolin and string player whose musical career has spanned over two decades.
The label will launch with the May 10 release of Now Hear This the first recording in seven years from Marshall's acoustic supergroup, Psychograss, which also features fiddler Darol Anger, Todd Phillips (bass), Tony Trischka (banjo), and David Grier (guitar.)
"We decided to establish Adventure Music America for several reasons," explained Zirinsky. "We wanted to expose audiences to the great music that has come our way, but we didn't want to confuse the Brazilian music audience, who has showered the Adventure Music roster with incredible commercial and critical acclaim, including our first Grammy nomination for Ricardo Silveira's Noite Clara this past year. Bob Corroon is himself a mandolin player and acoustic music fanatic, and of course, Mike has been so deeply rooted in the American string music movement for so long, that we have access to not only the key figures in acoustic music like Mike and Darol Anger, but to some amazing new young talent."
Mike Marshall adds, "I have many friends who come from the American roots styles of music who have music they'd like to record, but no particular home for it at this time. The music industry as we have known it is undergoing an amazing restructuring, which has created an opportunity for Adventure Music America to assist in the birth of some really incredible projects."
Next among those projects will be an ambitious collaboration between Marshall and Darol Anger, which features the Duo multi-tracking dozens of instruments performing, in Marshall's words, "a kind of folk-orchestral project." The release of Duo will coincide with Marshall and Anger's participation in the Windham Hill Winter Solstice Tour. "In some ways, our new CD will reference a recording we did 20 years ago entitled Chiaroscuro. But the new project is made current by the many things we've learned about composition and recording technology, and enhanced by the cornucopia of styles of music from around the globe that we've been studying since then," says Marshall.
Over the course of a career that spans over two decades, Mike Marshall – one of the world's most accomplished and versatile musicians – has proved capable of switching effortlessly between jazz, bluegrass, classical, and Latin genres. From his career beginnings in the late 70's and into the early 80's as a member of the David Grisman Quintet, Mike has gone on to perform and record with some of the top acoustic string instrumentalists in the world, including jazz violinist Stephane Grappelli, fiddle virtuoso Mark O'Connor, five-string banjo phenom Bela Fleck, bassist and MacArthur Fellowship winner Edgar Meyer, and classical violinist Joshua Bell. As a founding member (with Darol Anger) of the
band Montreaux, as well as of the classical ensemble The Modern Mandolin Quartet, Mike was one of the signature artists on Windham Hill Records.
His ongoing passion for Brazilian music resulted in two releases, Serenata (2003) and Mike Marshall & Choro Famoso (2004 – a tribute to his love for the choro style in particular) on Adventure Music, which he co-founded in 2003.
He has also continued to push the boundaries of acoustic instrumental music with collaborative releases on the Sony Classical label, including "A Short Trip Home" and "Uncommon Ritual," the latter of which spent over three months on Billboard's classical music chart. Another collaborative effort, with fellow
mandolinist, Nickel Creek's Chris Thile, was 2003's Into the Cauldron on Sugar Hill Records.
"Adventure Music America is a natural progression for us, an extension of what we've been doing with our Brazilian and South American work," concludes Marshall. "From samba and choro, to folk and bluegrass, a singular sound is emerging that connects the music of string band musicians from around the Americas. We're harnessing the beauty of that sound and giving it to the world."
Adventure Music America will operate out of the Adventure Music offices in New York City and Oakland, California, and will be exclusively distributed in the U.S. by the Burnside Distribution Corporation.