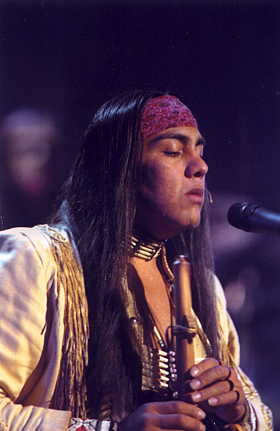 Albuquerque, New Mexico, USA – Robert Mirabal was named Artist of the Year at the The Sixth Annual Native American Music Awards. The event was held Saturday, November 15th, 2003 at the Isleta Casino Resort Showroom in Albuquerque, New Mexico.
Over 145 national music recordings were submitted for nomination consideration for the Sixth Annual Native American Music Awards making this year's tally a new record high for the organization's six-year history. Nominee submissions were made by the Native American Music Awards (NAMA)
Advisory/Industry membership.
Eligible recordings were commercially released from April 1, 2002 thru March 31, 2003 and with national distribution by a domestic record company and/or an authorized distributor. Winners of the Sixth Annual Native American Music Awards were determined through national membership mail-in ballots and a national voting campaign that was open to the general public at www.nammys.com.
List of winners:
Artist of the Year
Robert Mirabal
Indians Indians
Label: Silverwave
Best Blues/Jazz Recording
Derek Miller
Music Is The Medicine
Label: Warrior/SOAR
Best Compilation Recording – Various Artists
Joanne Shenandoah
Peace & Power: The Best of
Label: SW
Debut Artist/Group of the Year
Marlena Begaye
Marlena
Label: CPR
Best Female Artist
Jana
Found A Love
Label: Radikal
Best Folk/Country Recording
Pima Express
Voice Upon The Wind
Label: Canyon
Flutist of the Year
Douglas Blue Feather
Ride The Lightening
Label: S Hawk
Gospel/Christian Recording
Cherokee National Youth Choir
Building One Fire
Label: CN
Duo/Group of the Year
Burning Sky
Spirits In The Wind
Label: Canyon
Best Historical Recording
Warfield Moose Jr.
Ben Black Elk Speaks
Label: YS)
Best Independent Recording
Michael Jacobs
Sacred Nation
Label: MJ
Best Instrumental Recording
Nicole
Night Tree
Label: Soar/Buffalo Moon
Best Male Artist
Litefoot
The Messenger
Label: Red Vinyl
Best New Age Recording
R. Carlos Nakai
Fourth World
Label: Canyon
Best Pop/Rock Recording
Jim Boyd
Live
Label: Thunder Wolf
Best Pow Wow Recording
Black Eagle
Flying Free
Label: Soar
Best Producer
Keith Secola
Socie
Label: Akina
Best Rap/Hip Hop Recording
Tribal Live
True II Life: the 10 Letter Theory
Label: Living Proof
Record of the Year
Pamyua
Caught In The Act
Label: Arctic Voice
Song/Single of the Year
Felipe Rose
We're Still Here
Label: Tomahawk
Songwriter of the Year
Joseph Fire Crow
Legend of Warrior
Label: Makoche'
Best Short or Long Form Video
Annie Humphrey
Spirit Horses
Label: Makoche'
Best Spoken Word Recording
Joseph M. Marshall III
The Lakota Way: Native American Wisdom on Ethics & Character
Label: Makoche
Best World Music Recording
Red Earth
Zia Soul
Label: Tribalstew/Bluestone
Native Heart
Richard Oliver & W Scott Newton
Tribe: All Native Project
Label: K
The Native American Music organization has also presented special annual
music festivals, established the nation's largest Native American music archive,
helped create a Native Music category in the Grammys, and provided local Native
youth with professional training and educational scholarships.
 
National Average of National Native American Music Recordings
Released Per Year:

 

YEAR
# of National Recordings
% Increase From Previous Year
1994 – 96
55
 
1997
64
Increase of 11.5%
1998*
144
Increase of 116%
1999
97
Decrease of 33% from previous year, Increase of 32% from 1997
2000
130
Increase of 32%
2001
140
Increase of 8%
Annual Average:
105 Releases per year
Annual Average since 1998:
127 Releases per year
* Note: In May 1998, The First Native American Music Awards was launched and
the national average for Native American music recordings more than doubled
reaching a record-breaking total that year. (Source: Native American Music
Awards, Inc.