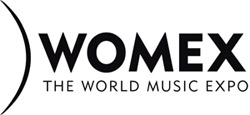 Berlin, Germany – The 2003 WOMEX Award goes to the human rights organization FREEMUSE for its fight against music censorship.
For the fifth time the WOMEX Award is honoring outstanding contributions in the field of world music. Freemuse was founded in 1998 and is dedicated to uphold the United Nations Universal Charter of Human Rights by funding reports, creating a database of information and taking up the causes of individual musicians in trouble with their governments or other groups. For more information about their work go to www.freemuse.org.
When organizing yourtravel schedule, don't miss out the WOMEX Award Celebration on Sunday at 14:00 h with the final showcases Amal Murkus and Marcel Khalife. Check the WOMEX website at Awards for more information on the WOMEX Award including last years' winners.