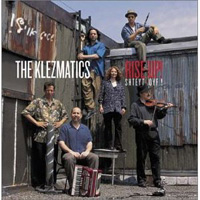 The Klezmatics
Rise Up! Shteyt Oyf! (Rounder Records 11661-3197-2, 2003)
The venerable Jewish roots music called klezmer has seen peaks and valleys of popularity, and much of its recent visibility can be attributed to a combination of general interest in world music and good old fashioned resiliency. A good klezmer band knows how to strike the right balance of serious tradition, innovation and a bit of meshugge. That said, The Klezmatics remain arguably the best practitioners of klezmer around.
Rise Up! Shteyt Oyf! contains songs of both simple beauty and wild abandon, tossing in touches borrowed from Celtic, Balkan, Latin and other musical realms. The result is very much an album for our times, a post-9/11 longing for unity through celebratory and introspective music in a world very much in need of it. Pieces like "Davenen (Prayer)," achieve maximum impact through wordless instrumental surges, but such others as "Yo Riboyn Olam (God Master of This Universe)" and "Hevl Iz Havolim (Vanity is Vanities)" draw lyrics and music straight from tradition to spell out the way to spiritual wisdom or plain common sense. Though a few moments of pure sonic nuttiness save the proceedings from approaching a tone that's completely serious, this is mostly a food-for-thought album.
A cover of Holly Near's "I Ain't Afraid" asserts that we all have a lot more to fear from religious zealots than from God, while "Barikadn (Barricades)" laments mankind's need to fight in the streets. Throughout it all, the band's rich tapestry of brass, reeds, strings, accordion, keyboards and percussion does a superb job of taking it to the max or taking it easy. This is a very fine disc, full of good times, great sounds and hope in the face of uncertainty.