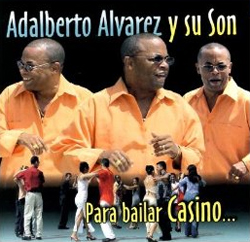 (Prensa Latina) Camagüey, Cuba – Adalberto Alvarez Zayas received the title of Illustrious Son of Camagüey Province, where he started the career that has turned him into a symbol of popular Cuban dance music. The distinction was granted by the People's Power Provincial Assembly, on the 30th anniversary of his professional career as a composer, author, arranger, singer and pianist.
Creator of the orchestras Son 14, in 1978, and Adalberto y su Son, in 1983, he has performed in dozens of countries and has authored more than 200 songs including, "A Bayamo en Coche," "Dale Como Es," "¿Y Qué Tu Quieres que te Den?", "Si No Fuera Por las Mujeres," and "A Bailar el Toca Toca."
The current director of Adalberto y Su Son, Alvarez has participated in the recording of more than 50 discs and the latest, Para Bailar Casino, (To Dance Casino) will be released in 2003.