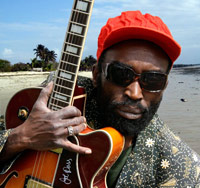 Ras Nas a.k.a. Nasibu Mwanukuzi, a musician and poet from Tanzania, is one of the artists at this year's Oslo World Music Festival. The Festival, one of the biggest in Scandinavia in the World Music genre, takes place in Oslo, Norway from 30th October – 4th November.
This year's Oslo World Music Festival theme is "Strong Women Voices" and female artists from different corners of the world are well represented. The Spanish flamenco star Estrella Morente has the honor of opening the festival.
Among other artists are Cesaria Evora, Seun Kuti & the Fela Egypt 80, Rachid Taha and the fast rising South African jazz singer, Simphiwe Dana. "It feels good to be part of Oslo World Music Festival this year", says Ras Nas, whose real name is Nasibu Mwanukuzi. Ras Nas will also be releasing his long awaited follow up CD "Dar-Es-Salaam". The CD contains nine tracks with a mix of reggae, afro and dub poetry.
Other African artists who have taken part in Oslo World Music Festival earlier include Salif Keita, Tiken Jah Fakoly, Oumou Sangare, the late Ali Farka Toure and Toumani Diabate.
Ras Nas with an eight piece band plays at Belleville in Oslo, Saturday 3rd November.
More information