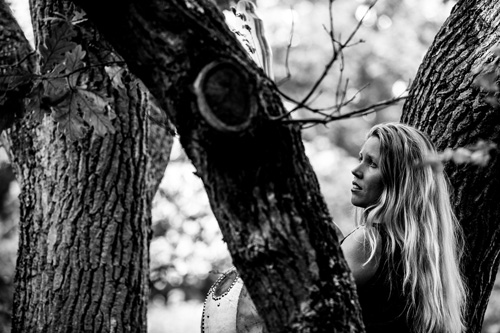 Dymphi Peeters started out life in Afferden, Limburg, a small town in the Netherlands of about 2000 people. As a child, she never imagined becoming a professional musician. She first learnt wooden flute then moved onto silver flute. She taught herself the ngoni, an African stringed instrument. Later, she worked to master the kora, a multi-stringed African instrument.
Dymphi has performed with several groups, including the Ecstatic Dance Band and Mehmet Polat's Trio. Mehmet describes her as, "a talented and open minded musician."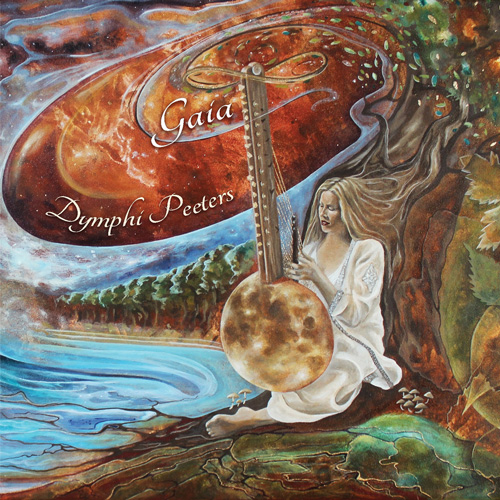 On her recent album, "Gaia" she steps out more on her own.  This CD is a collaboration with Andre Schoorlemmer.  He plays guitar, bass guitar, and also engineers. Dymphi's songs invent a new world: her powerful voice soars over electronica with the steady pulse of the kora.  Dymphi describes her music as, "inner world music with a meditative atmosphere." She has a hippy spirit and sunny demeanor. Yet do not be misled by her gentleness.  Her music mesmerizes.
DJL: Were your parents musical? What was your early musical experience?
DP: My parents were somewhat musical. My mother was a schoolteacher. She played the flute and later learned the djembe in her fifties. My father played guitar. They always supported my desire to learn to play music. When I was younger, I performed flute in a small folk music group. We toured small villages in the Netherlands and abroad in countries like Slovenia and, Croatia. As a teenager, I loved rock music, the Cranberries Alannis Morrisette and the musical Hair.
DJL: What is your musical background?
DP: I spent one year learning classical flute at a conservatory. I played for several years with folk bands, learning Balkan and other folk music, and with a flamenco band. Once, in a music lesson, there was a woman whose African boyfriend had died. She had his ngoni. I felt drawn to this instrument. It then took me a year to find my own ngoni to play.
I always had a deep longing to sing. I met Dobrinka Yankova, who is a Bulgarian opera singer, and took singing lessons from her. She said I had talent. Later, I learned about freeing the voice in a creative way through voice healing from Marius Engelbrecht.
DJL: What is voice healing?
DP: It helps people sing with the different parts of their body as a way of healing. I now teach it. They are welcome to sing their pain and their stories. They may connect with the core of the earth or with their ancestors.
DJL: Why do you choose to help others through voice healing?
DP: Voice healing has allowed me to heal myself and to follow my dreams. I used to work as an educational designer, then became a professional musician. Through work in voice healing, I want people to connect more to their intuition and to all the support which surrounds them. I want them to be their free authentic selves and to stand in their power, in a balance between the divine masculine and feminine energies. I encourage them to create from their inner qualities.
DJL: You have also described the birth of your daughter as being a part of your musical transformation.
DP: I quit my job to take care of my daughter. I always carried her close to me in a baby sling . It was because of her birth that I was guided back to the heart and to love. As a result of her birth and my longing for music, I started to host concerts in the Netherlands, where ten musicians would come together and play intuitively. These concerts were a true adventure in music. Playing intuitively was freeing for me. When I was in Amsterdam to give an intuitive concert with a friend, I first heard Mehmet Polat. Hey played after us.
DJL: What was it like hearing Mehmet play?
DP: When I heard Mehmet play oud for the first time, I immediately connected with his music. It felt like home. I even felt a bit sad that I was not playing this kind of music. It touched something deep in me.
Luckily we connected afterwards. He asked me, "Do you play the kora?" And I said, "No, I play the ngoni." Mehmet said, "There's an album I want to create. I have a particular sound in mind. Can you learn to play the kora in six months? I know you have inside you what I need for my trio."
Mehmet saw a musical quality in me that I did not know existed. I'm very grateful for his courage to give me an opportunity to play with him. When I'm on stage, I always feel supported by a bigger field of love. I feel connected to his music. I love the music we create from the heart.
DJL: What was it like to learn the kora?
DP: When Mehmet talked to me about learning the kora, I had to learn it very fast. It was March and in October we would tour Mexico, Austria, Germany and The Netherlands. He was planning to do a CD. When he asked me to learn, I had to sleep on the decision overnight, and then I said "yes." I felt it was a life-changing opportunity. And so it was!
At times when I was learning the kora, I would say to myself, "What am I doing?" At first, I was terrible and nervous. Then I would continue to practice and say to myself, "You can do this." It was hard, but I had spent a year studying opera, and that experience made me realize I could do it. You can learn so fast if you invest time, and only practice from a place of love for the instrument and for the music.
I learned to play the kora from Mehmet's sheet music compositions. I watched some Youtube videos and listened to kora music. I taught myself and also took a couple of lessons with Zoumana Diarra. Zoumana was the former kora player in Mehmet's trio before I joined. I play on a kora built by him. My kora has 24 strings instead of the normal 21.  It also has tuning clips so that I can play in different tonalities.
DJL: The kora plays a central role in your new album. Is "Gaia" the first CD that you have initiated?
DP: Yes, "Gaia" is the first serious CD I have created with Andre Schoorlemmer. I did not want to make beautiful music alone. I wanted to create something from a deep place. The album feels very true to me. I could not have completed it without Andre's help.
DJL: Who is Andre Schoorlemmer?
DP:   I have known Andre for years. He is a dear friend. I played with him in flamenco concerts and in the intuitive dream concerts I organized. Andre is a brilliant musician. He owns a recording studio. He also creates film music. In 2017, I was asked by DJ Esta Polyesta from the Ecstatic Dance scene to record some kora and vocals so she could create a dance track from them.  I recorded these in Andre's studio. He started playing with the recordings afterwards just for fun, and created a track called Trance Dance that is also on the latest CD. When I listened to this track, it made me so happy.  Then we decided to make a CD together. The creative process was fun and easy. I so loved Andre's input and ideas. He challenged me every time. The result of our creative process is "Gaia!"
DJL: Why "Gaia"?
DP: I chose "Gaia" as the name, because I feel the feminine power of being rooted in and connected to the earth. The kora has an earthy quality. It is like a pumpkin. One story goes that the instrument was invented by a woman.
DJL: Your voice is powerful. On the title track, "Gaia," there is the regular pulse of the kora, your vocal is percussive at times, sounding as the steady tick-tock of a clock, and at times has a deep, grounded vocal. Can you talk about this song?
DP:   In the song, I want us to remember our nature—that we are part of the earth. Gaia is in us all. The song is also about sisterhood, about supporting and loving each other.  It is about being natural, authentic, deep, and intuitive.
DJL: Speaking of sisterhood, there are tracks on the album that address different aspects of being a woman: "Woman Goddess," and "Sirens of the Ocean." Sirens is a gentle, easy song with a lullaby feel. Your fingers carefully caress the ngoni as you sing alongside it. You create a soft breeze. You call the listener in.
DP:   Yes, that's true. I want women to come out from the shadows and stand in the light.  And with "Sirens of the Ocean," I love water and swimming. It energizes me. We are 85% water.  Sound makes the water vibrate. Water has an old wisdom. It is older than we are.
DJL: Your singing is this album's highlight. Has your voice become stronger over the years?
DP: When I was young, I was scared to use my voice. I talked very softly. My voice became much stronger once I practiced voice healing and took classical singing lessons. Voice healing is like a cleansing of energy. I worked through the energy blockages in my body over the years. That's how I could get more conscious of my body, and how my voice got stronger.
DJL: Are there female singers that have inspired you?
DP:   I was always drawn to female voices.  I'm inspired by Dobet Gnahore from Côte d'Ivoire. Her music has a homecoming feeling in it for me. I enjoy Ane Brun from Norway and Gjallarhorn who are a Finnish folk band. I love Loreena Mckennitt's music and Nynke Laverman, who performs Dutch fado.
My main theme in life is to dare to take my own space, to be my authentic self, and to stand in my power. The more you are present in your body, the more you can sing from your body—the freer your voice gets. My voice is a metaphor for all the aspects of my life. The more I liberate my voice, the more free and powerful I can become in my life.
From a hidden place, she unfurls her long wings, spreads them wide and sings. She soars as the kora accompanies her. Now sure of herself, she flies.
More information about Dymphi
Author:
Dorothy Johnson-Laird
Dorothy Johnson-Laird comes from a long line of musicians, including a music teacher in the 1820s in England. As a child she trained in both classical and jazz piano. Dorothy has a Master's Degree in Creative Writing from Sarah Lawrence College. At New School University, she was the Research Assistant for a course taught on gender issues and women in blues music. Dorothy's passion is African music. She was formerly a regular contributor to worldmusic.about.com.