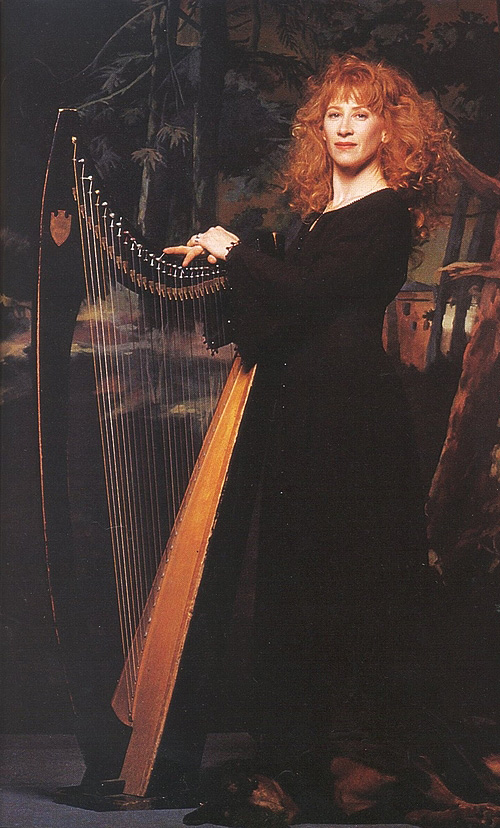 Loreena McKennitt was born and raised in Morden, Manitoba, a town of Irish, Scottish, German, and Icelandic inhabitants in the middle of the Canadian prairies. The most vigorous Highland dancer in her rural community, she was raised by her mother, a nurse, and her livestock-trader father. "It was a very modest community. People came from immigrant stock. Survival was the order of the day and in some ways broad cultural exposure was limited. Although my family's ancestors on the most part came from Ireland, there was very little overt 'Celticness' to my upbringing in the sense of music or storytelling."
After an adolescence spent in Morden, McKennitt was eager to move into a wider world. She was first exposed to the Celtic folk boom in a Winnipeg folk club. "The first step for me was Celtic music. The whole sound drew me in an almost instinctive way and it became this vehicle to pursue history in a way I could never have imagined," she recalls.
In more cosmopolitan Winnipeg, she briefly studied to be a veterinarian, before moving on to finally settle in Stratford, Ontario, where her composing and performing skills were soon appreciated in the lively scene around the city's internationally renowned Shakespearean Festival. McKennitt still makes her home there, living in a rural farmhouse.
Already in love with Yeats and the music of Breton harpist Alan Stivell, Planxty and the Bothy Band, McKennitt could sense the lyricism of Irish folk music. When she made her first journey to Ireland in 1982 she was to find a similar lyricism in the contours of the land and the spirit of the people.
Back home, she put her newly stirred Celtic fervor into an interpretation of Yeats's "The Stolen Child." Inspired by a D.I.Y book called How to Make and Sell Your Own Recording, by Diane Sward Rappaport, she set up her own record company, Quinlan Road, in 1985, and recorded Elemental, a nine-song cassette. She ran off copies and began selling them from her car while meeting the public on the most immediate level, as a busker.
As McKennitt's mailing list grew, word of mouth in cafés and bookshops built her a significant audience. Her growing audience empathized while McKennitt explored the traditional canon, always seeking the reverberation that would make an ancient voice harmonize with her own. She's particularly proud of tracking down "Bonny Portmore," included on The Visit. An obscure ballad mourning the loss of ancient British stands of oak, once worshipped by pre-Christian tribes, it has a contemporary relevance to today's fight to save old-growth forests.
McKennitt followed Elemental by cutting a seasonal perennial in the Christmas carols of To Drive the Cold Winter Away (1987), and made her first steps towards cross-cultural fertilization in the subsequent Parallel Dreams(1989). It was at this time she was commissioned to score music for the National Film Board of Canada's acclaimed film series "Women and Spirituality."
A pivotal moment for McKennitt's evolution occurred in 1991 in Venice, Italy, at the largest ever exhibition and collection of international Celtic artifacts. "Until I went to that exhibition, I thought that Celts were people who came from Ireland, Scotland, Wales, and Brittany," recalls McKennitt.
Seeing the unimagined riches and variety in the centuries of Celtic art gathered from as far afield as Hungary, Ukraine, Spain and Asia Minor, she recalls, "I felt exhilarated. It was like thinking that all there is to your family are your parents, brothers and sisters, and then you realize there's a whole stretch of history that is an extension of who you are." That epiphany transformed McKennitt's music.
The primeval sounding tambura drone that introduced her next album, The Visit (1992), announced a new direction with its bold, cinematic interpretations of Shakespeare and Tennyson, and an unusually edgy take on the Henry VIII-penned ballad, "Greensleeves." This process reached a dramatic flowering on 1994's The Mask and Mirror. McKennitt's new staging post on the voyage was in Galicia, the Celtic corner of Spain, and then on into 15th-century Spain itself when the cultures of Islam, Christianity and Judaism merged to produce what is still remembered as the Golden Age, a time of profound cultural influence on the evolution of Western civilization.
The distinctiveness of McKennitt's musical vision is matched by the independence with which she has approached the music business. "I think coming from a farming and rural background gave me the insight into being self-sufficient. You become familiar with creative problem solving. If you want something badly enough, you will roll up your sleeves and start chipping away."
When McKennitt decided the time was ripe to move toward the industry establishment, she signed a unique deal with the Warner Group for the world. It is a deal which has been very fruitful indeed as her recordings have gone on to sell in the millions in over 40 countries. Beginning with The Visit, Warner distributed her work, while she controlled every aspect of creation and promotion.
Her album The Book of Secrets was conceived over several journeys, including one taken via the legendary Trans Siberian Express, in which the self-managed singer and record company head found the quiet she needed to reflect and prepare the album.. Finally, she had the time to read Dante's The Divine Comedy, echoes of which appear in the album's closing track, Dante's Prayer. "As with the last three recordings, this one is also a document of my own path of exploration through the vehicle of music and history. There are a lot of mechanisms within our contemporary society that seem to dilute and diminish our sense of identity. As a result, I think there is a heightened need to understand who you are, what your roots are, and where they are connected."
Her seventh full-length studio album, An Ancient Muse, was released on Quinlan Road in November 2006. An Ancient Muse was produced by Loreena McKennitt and co-produced by Brian Hughes, and was recorded at Real World Studios in England. Its nine tracks continue her exploration of Celtic themes on a journey that sweeps across time and musical genres, from the British Isles to ancient Greece and Byzantine- and Ottoman-era Turkey.
Musical collaborators include Brian Hughes, Donald Quan, Hugh Marsh, Caroline Lavelle, Stefen Hannigan, Rick Lazar, Hossam Ramzy, Annbjorg Lien, Nigel Eaton, Manu Katche, Charlie Jones, Ben Grossman, Jason Hann, Tal Bergman, Tim Landers, Clive Deamer, Ed Henley, Haig Yazdjian, Panos Dimitrakopoulos, Sokratis Sinopoulos and Georgios Kontogiannis and percussion ensemble Krotala.
In celebration of the 2008 holiday season, Quinlan Road released Loreena McKennitt's A Midwinter Night's Dream. The holiday themed album features eight new songs alongside five tracks from McKennitt's 1995 EP, A Winter Garden: Five Songs For The Season, that were completely re-mastered for the new release. This holiday collection features an array of influences ranging from Celtic to classical to Middle Eastern. McKennitt's eclecticism shines through in the mysticism of "The Holly and the Ivy," the exotic Eastern arrangements of "God Rest Ye Merry, Gentlemen," the Latin-sung "Emmanuel" and "Noël Nouvelet!" sung in Old French.
McKennitt recorded A Midwinter Night's Dream at Peter Gabriel's Real World recording studio near Bath, England following a highly successful European tour. With McKennitt providing vocals as well as accompaniment on the piano, accordion and harp, the record features a diverse instrumentation that includes oud, fiddle, cello, viola, percussion, hurdy gurdy, Greek lyra and Greek lute.
"Not only did I want to recapture some of the frankincense and myrrh in this music," McKennitt explains, "but the process was a fresh reminder of the diversity of so many traditions when it comes to music of the winter season. The songs are rich with abundant references to the natural world and connections to our spiritual and religious bearings; it is clear that people have used winter as a time of reflection."
In 2009 she released A Mediterranean Odyssey, a two-disc collection that commemorated Loreena's 2009 Mediterranean tour and combined newly recorded live performances of audience favorites with previously released studio recordings, all inspired by the tones, textures and rich cultural heritage of the Mediterranean.
The first disc, From Istanbul to Athens, features 56 minutes of concert highlights from the tour, including several songs that have never before been recorded live. It also includes a 24-page booklet with lavish illustrations and photos from the tour.
The second CD, The Olive and the Cedar, consists of 11 conceptualized studio versions of songs personally selected by Loreena from her catalog. The disc focuses on her musical travel writing approach to the studio recording process and her inspiration in relation to the history of the Celts around the Aegean, the Mediterranean, North Africa and the near East.
As a composer, McKennitt has written music for productions at the Stratford Shakespeare Festival in Ontario and the National Film Board of Canada. She has three feature length film scores to her credit and has contributed to several soundtracks for both film and television, the most recent being Disney's fall 2008 DVD release Tinker Bell.
In 2007, McKennitt was nominated for a Grammy Award and was the recipient of a North American Folk Alliance Award. She has also won two Junos, Canada's premier music award, in addition to a Billboard International Achievement Award.
As founder of The Cook-Rees Memorial Fund for Water Search and Safety, she has been recognized for her civic and community service, raising nearly four million dollars through the sale of Live in Paris and Toronto to advance water safety education and research. McKennitt has also established The Three Oaks Foundation, a fund which supports cultural, environmental, historical and family groups.
Discography
* Elemental (Quinlan Road Productions, 1985)
* To Drive the Cold Winter Away (Quinlan Road Productions, 1987)
* Parallel Dreams (Quinland Road Productions, 1989)
* The Visit (WEA, 1991)
* The Mask and Mirror (Quinlan Road, 1994)
* A Winter Garden: Five Songs For The Season (Quinlan Road, 1995)
* Live in San Francisco at the Palace of Fine Arts (Quinlan Road, 1995)
* The Book of Secrets (Quinlan Road, 1997)
* Live In Paris & Toronto (Quinlan Road, 1999)
* An Ancient Muse (Quinlan Road, 2006)
Nights from the Alhambra (Quinlan Road, 2007)
* A Midwinter Night's Dream (Quinlan Road, 2008)
* A Mediterranean Odyssey (Quinlan Road, 2009)
* The Wind That Shakes the Barley (Quinlan Road,2010)
* Troubadours On the Rhine (Quinlan Road, 2012)
* Lost Souls (Quinlan Road, 2018)
* Live At The Royal Albert Hall (Quinlan Road, 2019)
Videos
* No Journey's End (Verve, 2006)
* Nights from the Alhambra (Verve/Quinlan Road, 2007)
Author:
Angel Romero
Angel Romero y Ruiz has been writing about world music music for many years. He founded the websites worldmusiccentral.org and
musicasdelmundo.com
. Angel is also co-founder of the
Transglobal World Music Chart
. Angel has also produced and remastered world music studio albums and compilations for labels such as Alula Records, Ellipsis Arts, and Music of the World.