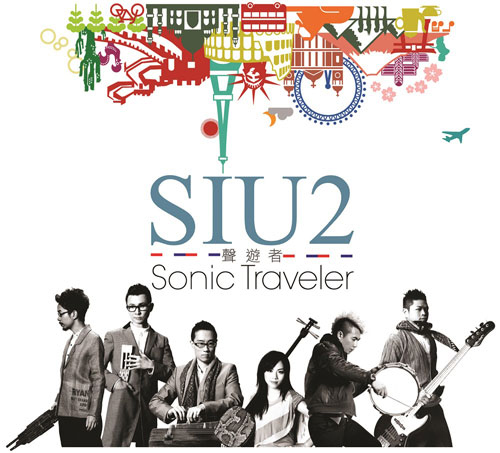 SIU2 – Sonic Traveler (Flower Music, 2008)
One of the thrills of my CD review stack is that I often don't know what musical adventure I'm about to take. This week's thrill would have to be the wild ride of SIU2's Sonic Traveler out on the Flower Music label. Based in Hong Kong SIU2 is one of those creative inventions that proves potent not just for their inventiveness but through their own musical skills.
On the surface, Sonic Traveler might come across as quirky, playful and flirty, but a skillfully crafted musical meld of East and West emerges and the smart, savvy musicals skills make the journey worth while. Need a little quirky, need some international getaway music for your ride into work or just want to take a musical tumble into a dramatic, jazzy, rocking slice of fusion? Then look no further than Sonic Traveler.
From the jump, Sonic Traveler defies any preconceived expectations. Crafting a fusion sound by way of composer, sheng player and electric organist Ng Cheuk Yin, zheng player Jason Lau, sanxian player Cass Lam, pianist Peter Fan, bass guitarist Siuming Chan and drummer Lawrence Tsui, Sonic Traveler propels listeners on a raucous roller coast of a ride that's part high octane jazz, part quirky movie chase music, part hard driving rock all threaded through with Asian sensibilities. With two previous recordings, Open Door (2008) and KonFusion (2010), including a part of Open Door as part of a movie soundtrack, under their belts, SIU2 determinedly puts their own stamp on East/West musical fusion.
SIU2 launches the journey with the frenetic title track "Sonic Traveler," a bold, jazzy melange of piano, crashing drums, organ and bass with flashes of zheng, sheng and sanxian. Sonic Traveler is a clever walk on the wild side of East meets West with the addition of the zippy zany turns of "Lights Up" and the hard rocking edged "Haunted House."
"Gondola" proves to be a lovely respite in the frenetic groove, with its elegant piano and sanxian lines, as does the extraordinarily dreamy solo piano piece "Icy Night."
"Drifting Ice" is just as exotically drawn as if possessed by a kind of musical anticipation threaded through with some wonderful chunky bass and the occasional rhythm driven outburst.
Sonic Traveler closes with "Gliding" that rides high on a "Mission Impossible" theme that runs through the track. It's quirky and fun.
Buy the digital download version of Sonic Traveler from amazon or the CD from Flower Music
Author:
TJ Nelson
TJ Nelson is a regular CD reviewer and editor at World Music Central. She is also a fiction writer. Check out her latest book,
Chasing Athena's Shadow
. Set in Pineboro, North Carolina,
Chasing Athena's Shadow
follows the adventures of Grace, an adult literacy teacher, as she seeks to solve a long forgotten family mystery. Her charmingly dysfunctional family is of little help in her quest. Along with her best friends, an attractive Mexican teacher and an amiable gay chef, Grace must find the one fading memory that holds the key to why Grace's great-grandmother, Athena, shot her husband on the courthouse steps in 1931. Traversing the line between the Old South and New South, Grace will have to dig into the past to uncover Athena's true crime.