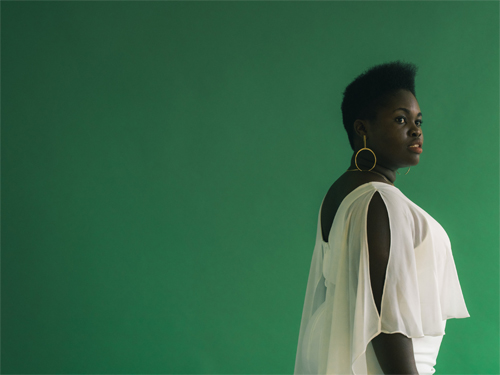 There's a revolution happening on the music front in Cuba led by a visionary group of millennials that's banging down post-Buena Vista Social Club doors with an intoxicating mix of Santeria/Afro-Cuban roots, jazz, hip-hop, soul and funk.
In the vanguard of this new movement, alongside such as Roberto Fonseca, Danay Suarez and the project Havana Cultura, is Daymé Arocena.
In her mid-20s, this smoky voiced young songstress follows a 60-year conga line of Cuban musicians influenced by Caribbean Yoruba traditions. As she explains: "We have had limited information about musical activities internationally, so we've had to research our roots to create something new."
Now, she declares, her generation is looking for a link with the world: "We wanna make Cuban music universal again by mixing the traditional with our young spirits. This new era is mixed and fresh."
Arocena is both saddened and perplexed by the fact that international audiences and reviewers seem to expect all Cuban musicians to be in the old school mould.
"The Buena Vista Social Club represents the music of the pre-revolution period, but it's crazy to think that we haven't done anything else since 1959. We're a little island full of music, because Cuba is a country with a mix of races, languages, religion and culture. People can't just talk about Cuban music being in Spanish with one clave."
The fast-rising diva – a disciple of Nina Simone and Marta Valdés — is on a mission to change preconceived ideas about Cuban music, but insists she's not alone in that aim. "I just got the opportunity to do it with an international response, but there are a lot of us fighting."
While Arocena's acclaimed albums, Nueva Era and Cubafonía, contain a range of styles, she says her master plan is simply to make "Cuban jazz music for everyone".
Her self-composed songs are imbued with the spirituality of Santeria: "It's really the national religion of Cuba because it's the only one that was born here. It's the result of the mixing of Yoruba and other West African roots and Catholicism with other Cuban native, Asian and European influences. I'm crowned Yemeya — the saint of the sea — so I'm a practitioner and my music and my life are connected with it."
Arocena proudly wears the traditional dress of Santeria and is bare-footed on stage: "It's my way of keeping protected," she informs."
The singer, arranger and composer regards English producer Gilles Peterson, the man behind Havana Cultura that helped launch her international career, as part of the family. She says that Peterson and the Havana Cultura project gave her the freedom to be herself.
Music has been Arocena's calling since the tender age of four, when she performed on dusty street blocks across Cuba.
At age 9 she was accepted into one of the country's most prestigious music schools, where she studied choir directing rooted in Western classical tradition. By 14, she was the principal singer in the prestigious Cuban big band Los Primos, impressing the likes of jazz heavyweight Wynton Marsalis.
Arocena ascribes her love of jazz and hip-hop to the southern US, where rappers and musicians alike have affiliations to the Afro-Christian Church. She describes hip-hop as the urban spirit of the street. "As a creator and performer you have to be plugged into it; it's the best way to understand the worries of the people."
Daymé Arocena namechecks Herbie Hancock and Kendrick Lamar as musicians she'd one day like to work with. If her international profile continues to grow at its current rate, she may soon be able to cherry-pick her collaborators.
• The above interview first appeared in Rhythms, Australia's only dedicated roots music magazine.
Author:
Tony Hillier
Tony Hillier is based in Cairns in far north Queensland, from where he has been actively involved in all areas of the music industry in Australia for the past 25 years, primarily as a journalist, writing for national publications such as the Weekend Australian and Rhythms magazine (for which he is World Music & Folk correspondent), and performing locally, nationally and internationally with the bands Kamerunga and Snake Gully. He has also presented and produced World Music and Folk music programs for ABC Far North, Port Douglas Radio and 4CCR-FM, netting a CBAA Best Specialist Music Program Award with the last-named for a documentary on flamenco. Before coming to Australia, he was a racing journalist of some repute in the UK, where he wrote a column for the London Evening Standard under the nom-de-plume of Ajax.