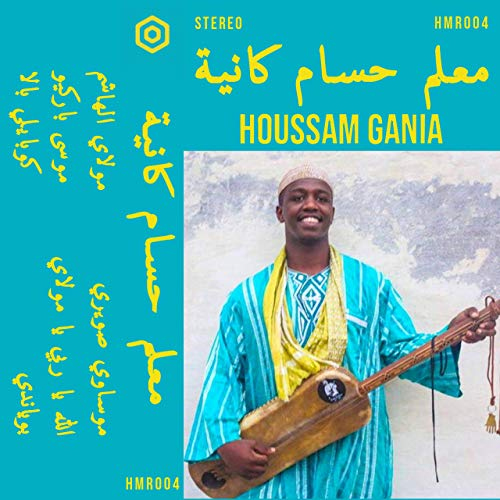 Houssam Gania – Mosawi Swiri (Hive Mind Records, 2019)
Sometimes the best music is the result of misery. Think about it, a good number of rock songs revolve around the miserable cuss with anger issues going out to kick some ass and break the law. Gospel songs are all about being a miserable sinner seeking salvation or the miserable rejoicing after getting salvation. Folk songs are rife with a litany of the miseries of the average Joe and the need to stand together to fight The Man. Blues, well, the blues dole out miseries left and right, anything from your woman left, your man left, your dog don't want you and Santa ain't giving you anything for Christmas.
Country music is equally steeped in miseries. But interestingly enough music makes it possible for those miseries to heal. In essence, music becomes a balm. No matter the misery, the affliction, the landscape or even the weather there's a piece of music with your misery written all over it, ready to cauterize the wound.
This has been the way since we humans started gathering in fire-lit circles armed with drums and flutes. Of course, Western musical traditions used to heal are downright puny in comparison to the deep well world music traditions have on tap for putting the sick and suffering to rights. From the healing vibrations of the classical Indian raga to the sacred business of Native American drum circles to the potent rhythms of African shamanic drumming and all the magical songs, chants and rites across the globe, humans have bent the will of voice and instrument as response to miseries real and imagined. We still do this.
One of those following that path is Houssam Gania, the Moroccan guimbri player and singer, who also happens to be the youngest son to the late Maalem Mahmoud Gania. Delving into the rich musical ceremony of the Gnawa, Mr. Gania's recording Mosawi Swiri, available on the Hive Mind Records, dazzles listeners with songs from the Musawiyin Suite, part of the trance ritual music invoking master of sky and sea spirits Sidi Musa.
Joined by brother Hamza Gania and fellow qraqabs (cast iron castanets) players and singers Mohamed Benzaid, Khalid Charbadou and Amine Bassi, Mr. Gania takes lead on vocals and the guimbri, the three-stringed sintir of the Gnawa people on Mosawi Swiri.
Opening with the lush "Moulay Lhacham," listeners are treated to guest musicians on guitar, keyboards and drums from the Atlantic fishing port city Essaouira region. This track is marvelously meaty with call and response vocals and the persistent rhythms of qraqabs edged with sleek jazzy guitar lines. Stripped bare of guitar, keyboards and drums, Mosawi Swiri takes on a respectful traditional feel as it moves through "Moussa Barkiy," "Mosawi Swiri" and "Lah Lahrbi Ya Molay."
For newbies to Gnawa music, the rhythmic clatter of qraqabs might come across as a little startling, but falling into its revolving rhythm enhances the trance ritual effects of the music. Vocals led by Mr. Gania and responses from backing singers along with the intricate thrumming of guimbri easily become voices from the earth, sea and sky.
Hypnotic, Mosawi Swiri encourages the Gnawa trance ritual effortlessly. I don't know if I personally had a djinn (genie) problem, but I enjoyed the journey of Mosawi Swiri as I'm sure other world music fans seeking a musical ritual to ease their miseries will as well. I'm guessing if you're a smirking little shit in a Maga hat you might want to steer clear.
Author:
TJ Nelson
TJ Nelson is a regular CD reviewer and editor at World Music Central. She is also a fiction writer. Check out her latest book,
Chasing Athena's Shadow
. Set in Pineboro, North Carolina,
Chasing Athena's Shadow
follows the adventures of Grace, an adult literacy teacher, as she seeks to solve a long forgotten family mystery. Her charmingly dysfunctional family is of little help in her quest. Along with her best friends, an attractive Mexican teacher and an amiable gay chef, Grace must find the one fading memory that holds the key to why Grace's great-grandmother, Athena, shot her husband on the courthouse steps in 1931. Traversing the line between the Old South and New South, Grace will have to dig into the past to uncover Athena's true crime.