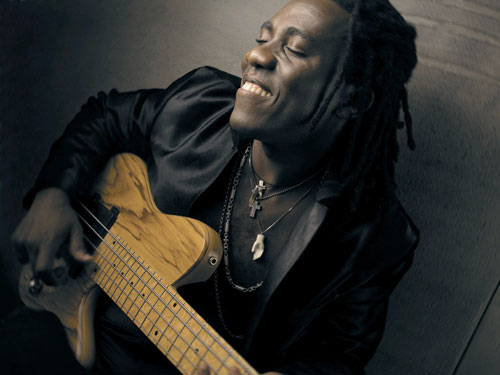 Bona Pinder Yayumayalolo, better known as Richard Bona, was born October 28, 1967 in Minta, a village in central Cameroon. From the moment of Richard Bona's birth, music has been the center of his world. He is the grandson of a famous percussionist and singer.
Beginning with the music his mother and four sisters sang in church every Sunday, Bona gained an early passion for sounds and harmony. He joined the choir at age 5, and soon Bona's family realized they had a musical prodigy among them. Richard has a highly unusual gift — he only has to look intently at someone playing, and he can learn the instrument.
Not blessed with traditional instruments, Bona found creative ways of making instruments for himself, including reed flutes, a large balafon, wooden percussion instruments and a 12-string guitar. "I hung around the workshops where they repaired bicycles," Bona recalls, "and as soon as the guys turned their backs, I'd put brake-cables in my pocket for my prototype."
Rehearsing for eight to 12 hours per day, Bona honed his skills. He performed as a singer and a multi-instrumentalist in a range of religious ceremonies, and soon he became known beyond his village for his musical virtuosity. At age 11, Bona went with his father to Duala, sea-port city with nearly 2 million residents. Bona quickly found his first job, as a guitarist with a dance group.
In 1980, the French owner of a local club gave him the task of setting up a small, jazz-inspired group (with soul-jazz and jazz-rock leanings). Meanwhile, he entrusted Bona with a collection of some 500 vinyl albums. Through these albums, Bona discovered the essence of jazz -the freedom, complexity and virtuosity of the music invented by the American descendants of his forebears. "That's how I came across the Jaco Pastorius album, the first one, the one with his name on it (Jaco Pastorius, Columbia, 1976), and I never looked back," Bona says. "When I started listening to it, I wondered for a moment if I'd got the speed wrong – I thought I was playing it at 45 rpm instead, and I even took a look. Before Jaco, I'd never thought of playing bass."
Cleary, the influence was strong enough to hold. In 1989, when Bona was 22, he left Africa for Paris, where he quickly built a solid reputation. He played with Didier Lockwood, Marc Fosset and Andre Ceccarelli, and took part in studio sessions with leading musicians such as Manu Dibango, Salif Keita and Joe Zawinul (My People, 1992.)
In 1995, Bona followed the footsteps of singer Angelique Kidjo, whom he also accompanied, by crossing the ocean and settling in New York. He quickly hooked up with Zawinul again, and he was invited to accompany Zawinul on a world tour. Bona's talents continue to gain notice in the world music community. The list of musicians who have played with Bona looks like the roster from the musicians' hall of fame.
Bona also joined forces with Zawinul again in 1998, when he sang and played bass and percussion on Zawinul's world tour; and when Bona played the same role on Zawinul's album, Faces & Places. In addition, Branford Marsalis recommended Bona to play on the first compact disc by Frank McComb, the singer from the Buckshot Le Fonque group (the funk side of the elder of the Marsalis Brothers). The album was produced by Columbia, and a few months later, the label gave Richard the chance to create his first album as the leader.
Bona's first three albums – Scenes from My Life, Reverence and Munia – allowed listeners to discover a great storyteller and musician. His style blends a horde of influences, including jazz, bossa nova, pop, afro-beat, traditional song and funk. Munia (The Tale) features Malian star Salif Keita as a guest. Keita cowrote the track "Kalabankoro."
This unique combination has given Bona's music a new dimension, one that is unexplored yet genuinely universal. As Bona says, "I play the bass, but I am not just a jazz bass player." Bona's fans around the world have their own moniker derived from his unique style, referring to him as "The African 'Sting.' "
On Tiki (2006), recorded in Rio de Janeiro, Bona surrounded himself with old friends and special guests, including ATN Stadwijk, Vinnie Colauita, Susheela Raman, Djavan, Mike Stern and Gil Goldstein.
The collaboration Toto Bona Lokua features Richard Bona along with Gerald Toto and Lokua Kanza. They have released two albums.
Discography
Scenes from My Life (Columbia Jazz, 1999)
Reverence (Columbia Jazz, 2001)
Munia (Universal Music France, 2003)
Toto Bona Lokua, with Gerald Toto and Lokua Kanza (No Format!, 2004)
Tiki (Universal Music France, 2005)
The Ten Shades of Blues (Universal Jazz France, 2009)
Bonafied (Universal Jazz France, 2013)
Heritage, with Mandekan Cubano (Qwest Records, 2016)
Bona Makes You Sweat (Universal Jazz France, 2008)
Bondeko, with Gerald Toto and Lokua Kanza (No Format!, 2017)
Author:
Angel Romero
Angel Romero y Ruiz has been writing about world music music for many years. He founded the websites worldmusiccentral.org and musicasdelmundo.com. Angel is also co-founder of the Transglobal World Music Chart.
Angel has also produced and remastered world music studio albums and compilations for labels such as Alula Records, Ellipsis Arts, and Music of the World.