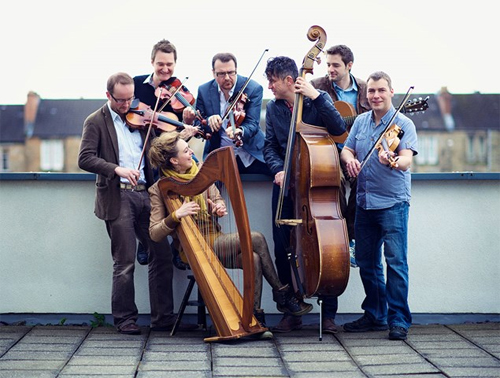 The Celtic Connections festival will celebrate its 25th anniversary in 2018 with an ambitious and eclectic line-up of musicians from all corners of the world.
The festival will run from Thursday, January 18th to Sunday, February 4th, 2018. The 18 days of concerts will include a series of one-off musical collaborations together with talks, workshops, film screenings, ceilidhs, art exhibitions, free events and late night sessions.
Celtic Connections 2018 will incorporate music from the past to music of the present and will look ahead to the future of an increasingly experimental and stimulating music scene, with ever increasing musical styles and cross genre fusions of jazz, classical, folk, world music and electronica.
Donald Shaw, Artistic Director of Celtic Connections, said: "Since the inception of Celtic Connections in 1994 the Scottish music scene has developed and diversified hugely. When the festival began there was still significant compartmentalization of genres, which although has its place at times, has become less prevalent over the years. The influence and inspiration that the traditional music scene has had across the whole musical landscape in Scotland and worldwide has helped to make the journey of Celtic Connections all the more adventurous and exciting.
"As an internationally renowned festival we continually strive for better and the 25th edition is no exception. Audiences will be treated to performances from some of the best artists from across the world and an array of unique collaborations and an eclectic mix of world music."
Celtic Connections 2018 Program
 Celtic Connections 25th Anniversary Concert
Thursday 18 January
7.30pm
Tickets from £22
Glasgow Royal Concert Hall, Main Auditorium
Broken Records and Special Guests
Thursday 18 January
8pm
Tickets from £11
Hug & Pint
Merchant City Trad Trail
Friday 19 January
11am, 2pm
Tickets from £17
Scottish Music Centre, Candleriggs
Danny Kyle Open Stage
Friday 19 January
5pm
FREE
Glasgow Royal Concert Hall, Exhibition Hall
Chris Stout & Catriona McKay with King Creosote, Scottish Ensemble and special guests
Friday 19 January
7.30pm
Tickets from £21
Glasgow Royal Concert Hall, Main Auditorium
This is the Kit with Last Horizons
Friday 19 January
7.30pm
Tickets from £16
O2 ABC
To Kill A King
Friday 19 January
7.30pm
Tickets from £12.50
Drygate
Ricky Ross and Roseanne Reid
Friday 19 January
7.30pm
Tickets from £25
Mackintosh Church
Saltfishforty and Red Tail Ring
Friday 19 January
7.30pm
Tickets from £15
Mitchell Theatre
Iain MacFarlane Trio and Kim Carnie
Friday 19 January
7.30pm
Tickets from £14
St Andrews in the Square
The One Ensemble and support
Friday 19 January
7.30pm
Tickets from £13
The Glad Café
David Ramirez
Friday 19 January
7.30pm
Tickets from £11
Broadcast
The Secret North and Navá
Friday 19 January
8pm
Tickets from £14
Glasgow Royal Concert Hall, Strathclyde Suite
Jim Malcolm and Avocet
Friday 19 January
8pm
Tickets from £14
Tron Theatre
Drever McCusker Woomble and Emily Baker
Friday 19 January
9.30pm
Tickets from £16
Old Fruitmarket
Celtic Connections Festival Club
Friday 19 January
10:30pm
Tickets from £10
The Art School
Late Night Sessions
Friday 19 January
11pm
Tickets from £7.50
Drygate
House of Song
Friday 19 January
11pm
FREE
Holiday Inn Glasgow Theatreland
Corelo's Interactive Workshop for the Under 5's
Saturday 20 January
9.30am
Tickets from £4
Glasgow Royal Concert Hall, City of Music Studio
Come&Try Irish Sean-nós with Aneta Dortová
Saturday 20 January
10.30am
Tickets from £7
Caledonian University
Come&Try Ukelele with Finlay Allison
Saturday 20 January
10.30am
Tickets from £7
Glasgow Royal Concert Hall, Exhibition Hall
Come&Try Accordion with John Somerville
Saturday 20 January
10.30am
Tickets from £7
Glasgow Royal Concert Hall, City of Music Studio
Come&Try Bodhran with Cormac Byrne
Saturday 20 January
10.30am
Tickets from £7
Glasgow Royal Concert Hall, Clyde Foyer
Singin' on yer Mammy's Knee with Christina Stewart
Saturday 20 January
10.30am
Tickets from £7
Glasgow Royal Concert Hall, Lomond Foyer
Merchant City Trad Trail
Saturday 20 January
11am, 2pm
Tickets from £17
The Scottish Music Centre
The National Whisky Festival
Saturday 20 January
12pm/4.15pm
Tickets from £41
SWG3
Johnstone Pipe Band & Special Guests
Saturday 20 January
12.30pm
Tickets from £15
Glasgow Royal Concert Hall, Main Auditorium
Come&Try Step Dance with Sophie Stephenson
Saturday 20 January
1.30pm
Tickets from £7
Caledonian University
Big Slow Session with Nigel Gatherer
Saturday 20 January
1.30pm
Tickets from £7
Glasgow Royal Concert Hall, Exhibition Hall
Beginners Accordion with John Somerville
Saturday 20 January
1.30pm
Glasgow Royal Concert Hall, City of Music Studio
Bodhran for Improvers/Players with Cormac Byrne
Saturday 20 January
1.30pm
Glasgow Royal Concert Hall, Clyde Foyer
Playsongs for Bigger Bairns with Christina Stewart
Saturday 20 January
1.30pm
Glasgow Royal Concert Hall, Lomond Foyer
Royal Conservatoire of Scotland
Saturday 20 January
2pm
Tickets from £12.50
Glasgow Royal Concert Hall, Strathclyde Suite
musicALL: The Fridays
Saturday 20 January
3pm
Tickets from £5
City Halls, Recital Room
Dove Tales, the Association of Scottish Artists for Peace, presents a discussion about The Human Cost of War
Saturday 20 January
4.30pm
Tickets from £5
Glasgow Royal Concert Hall, City of Music Studio
Danny Kyle's Open Stage
Saturday 20 January
5pm
FREE
Glasgow Royal Concert Hall, Exhibition Centre
String Sisters and 'Scotland's Wild Heart'
Saturday 20 January
7:30pm
Tickets from £20
Glasgow Royal Concert Hall, Main Auditorium
The Lone Bellow with Deer Tick
Saturday 20 January
7.30pm
Tickets from £17
O2 ABC
Ross Ainslie & The Sanctuary Band and Brighde Chaimbeul
Saturday 20 January
7.30pm
Tickets from £15
Mitchell Theatre
Skerryvore and We Banjo 3
Saturday 20 January
7.30pm
Tickets from £22
Barrowland Ballroom
The Friel Sisters & Special Guests
Saturday 20 January
7.30pm
Tickets from £14
St Andrews in the Square
Alasdair Roberts in collaboration with Joashino
Saturday 20 January
7.30pm
Tickets from £12.50
Platform
Croft No. 5 and Dosca
Saturday 20 January
7.30pm
Tickets from £16
Saint Luke's
Jupiter & Okwess and Les Triaboliques
Saturday 20 January
7.30pm
Tickets from £16
Drygate
Gaels Le Chèile @ Ceòl's Craic
Saturday 20 January
7.30pm
Tickets from £14.50
CCA
Lankum with Stick in the Wheel
Saturday 20 January
7.30pm
Tickets from £14
Oran Mor
Findlay Napier's Glasgow
Saturday 20 January
7.30pm
Tickets from £15
Mackintosh Church
Brian Ó hEadhra & Fiona Mackenzie with Hecla
Saturday 20 January
7.30pm
Tickets from £13
The National Piping Centre
Brownbear
Saturday 20 January
7.30pm
Tickets from £8
Broadcast
The Glad Café Community Choir and friends
Saturday 20 Janaury
7.30pm
Tickets from £13
The Glad Café
The Tannahill Weavers – Golden Anniversary
Saturday 20 January
8pm
Tickets from £15
Glasgow Royal Concert Hall, Strathclyde Suite
Julie Fowlis and Muireann Nic Amhlaoibh
Saturday 20 January
8pm
Tickets from £18
City Halls
The Music of Laura Nyro featuring Diane Garisto & Guests
Saturday 20 January
Tickets from £18
Old Fruitmarket
Swarb! It Suits Him Well featuring The Jason Wilson Band, Martin Carthy, John Kirkpatrick & Simon Swarbrick
Saturday 20 January
8pm
Tickets from £16
Tron Theatre
Trembling Bells and Special Guests
Saturday 20 January
8pm
Tickets from £13
Hug & Pint
Celtic Connections Ceilidh Dances: Ceòlas/Beinn Lee Ceilidh Band
Saturday 20 January
8pm
Tickets from £12
Partick Burgh Halls
25th Anniversary Ceilidh featuring The Occassionals & Guests
Saturday 20 January
10.30pm
Tickets from £13
Glasgow Royal Concert Hall, Main Auditorium
Celtic Connections Festival Club
Saturday 20 January
10:30pm
Tickets from £10
The Art School
Late Night Sessions
Saturday 20 January
11pm
Tickets from £7.50
Drygate
Sean Nós dancing for Beginners with Aneta Dortová
Sunday 21 January
10.30am
Tickets from £7
Caledonian University
Come&Try Fiddle with Daniel Thorpe
Sunday 21 January
10.30am
Tickets from £7
Glasgow Royal Concert Hall, Exhibition Hall
Rock that Uke with Finlay Allison
Sunday 21 January
10.30am
Tickets from £7
Glasgow Royal Concert Hall, City of Music Studio
Come&Try Mandolin with Lanarkshire Guitar & Mandolin Association
Sunday 21 January
10.30am
Tickets from £7
Glasgow Royal Concert Hall, Clyde Foyer
Come&Try Whistle with Steven Blake
Sunday 21 January
10.30am
Tickets from £7
Glasgow Royal Concert Hall, Lomond Foyer
Women's Samba with Big Groove
Sunday 21 January
11am
Tickets from £7
City Halls Studio 1
Bodhran for Ensemble with Cormac Byrne
Sunday 21 January
11am
Tickets from £7
City Halls Studio 2
Come&Try Clarsach with Heather Yule
Sunday 21 January
11am
Tickets from £7
City Halls Recital Room
New Voices: Innes White
Sunday 21 January
1pm
Tickets from £12
Glasgow Royal Concert Hall, Strathclyde Suite
Step Dance for Beginners with Sophie Stephenson
Sunday 21 January
1.30pm
Tickets from £7
Caledonian University
Fiddle for Beginners with Daniel Thorpe
Sunday 21 January
1.30pm
Tickets from £7
Glasgow Royal Concert Hall, Exhibition Hall
Song Arranging on Ukulele (Tips & Tricks) with Finlay Allison
Sunday 21 January
1.30pm
Tickets from £7
Glasgow Royal Concert Hall, City of Music Studio
Come&Try Mandolin with Lanarkshire Guitar & Mandolin Association
Sunday 21 January
1.30pm
Tickets from £7
Glasgow Royal Concert Hall, Clyde Foyer
Whistle for Beginners with Steven Blake
Sunday 21 January
1.30pm
Tickets from £7
Glasgow Royal Concert Hall, Lomond Foyer
Spoons for All with Cormac Byrne
Sunday 21 January
1.30pm
Tickets from £7
City Halls Studio 2
Clarsach for Beginners with Heather Yule
Sunday 21 January
1.30pm
Tickets from £7
City Halls Recital Room
Come&Try Djembe with Allan Hughes
Sunday 21 January
1.30pm
Tickets from £7
City Halls Club Room
Kids Come&Try Samba Drumming (4-7 years) with Big Groove
Sunday 21 January
1.30pm
Tickets from £4
City Halls Studio 1
Merchant City Trad Trail
Sunday 21 January
2pm
Tickets from £17
Scottish Music Centre
Hazy Recollections
Sunday 21 January
2.30pm
Tickets from £12.50
O2 ABC2
Kids Come&Try Samba Drumming (8-12 years) with Big Groove
Sunday 21 January
2.30pm
Tickets from £4
City Halls Studio 1
All Age Samba Band (ages 8-adult) with Big Groove
Sunday 21 January
3.30pm
Tickets from £7
City Halls Studio 1
Innovation & Tradition: The Future of Piping
Sunday 21 January
4.30pm
Tickets from £5
Glasgow Royal Concert Hall, City of Music Studio
Danny Kyle's Open Stage
Sunday 21 January
5pm
Tickets from £15
Glasgow Royal Concert Hall, Exhibition Hall
Shawn Colvin and Her Band – A Few Small Repairs 20th Anniversary Tour with special guests Larry Campbell & Teresa Williams
Sunday 21 January
7.30pm
Tickets from £28
Glasgow Royal Concert Hall, Main Auditorium
Ladies of Soul
Sunday 21 January
7.30pm
Tickets from £15
Oran Mor
KGB (Keenan Gavin Byrne) and Lahira
Sunday 21 January
7.30pm
Tickets from £20
City Halls
Jean-Michel Veillon & Yvon Riou and The LIT Trio
Sunday 21 January
7.30pm
Tickets from £14
St Andrews in the Square
Tommy Smith & Brian Kellock and Fergus McCreadie Trio
Sunday 21 January
8pm
Tickets from £16
Glasgow Royal Concert Hall, New Auditorium
Boo Hewerdine and Marianne McGregor
Sunday 21 January
8pm
Tickets from £16
Tron Theatre
Brian Kennedy and support
Sunday 21 January
8pm
Tickets from £18
Old Fruitmarket
Accordionesse
Sunday 21 January
8pm
Tickets from £14
Glasgow Royal Concert Hall, Strathclyde Suite
SOUNDING: Modern Studies & Lomond Campbell with The Pumpkinseeds Chamber Orchestra
Sunday 21 January
8pm
Tickets from £14
Saint Luke's
Doghouse Roses, John Alexander and Mandula & Hephziba
Sunday 21 January
8pm
Tickets from £11
Hug & Pint
Celtic Connections Festival Club
Sunday 21 January
10:30pm
Tickets from £5
The Art School
Late Night Sessions
Sunday 21 January
11pm
Tickets from £7.50
Drygate
Celtic Connections on Campus
Monday 22 January
12.30pm
FREE
Glasgow Caledonian University
Danny Kyle's Open Stage
Monday 22 January
5pm
FREE
Glasgow Royal Concert Hall, Exhibition Hall
Juan de Marcos Afro-Cuban All Stars and support
Monday 22 January
7.30pm
Tickets from £23
Glasgow Royal Concert Hall, Main Auditorium
Start to End: Joni Mitchell – Court and Spark
Monday 22 January
8.30pm
Tickets from £11
Oran Mor
Celtic Connections on Campus
Tuesday 23 January
12.30pm
FREE
Glasgow Caledonian University
Danny Kyle's Open Stage
Tuesday 23 January
5pm
Glasgow Royal Concert Hall, Exhibition Hall
Lee Fields & the Expressions and Lights Out by Nine
Tuesday 23 January
7.30pm
Tickets from £16.50
Oran Mor
Max Richter Ensemble: Woolf Works
Tuesday 23 January
7.30pm
Tickets from £24
Glasgow Royal Concert Hall, Main Auditorium
The Youth and Young
Tuesday 23 January
7.30pm
Tickets from £6
Broadcast
Liz Carroll with Séan Óg Graham & Trevor Hutchinson and Niamh Dunne
Tuesday 23 January
8pm
Tickets from £14
Glasgow Royal Concert Hall, Strathclyde Suite
Frank Turner and support
Tuesday 23 January
8pm
Tickets from £26
Old Fruitmarket
Start to End: John Martyn – Solid Air
Tuesday 23 January
6pm, 8.30pm
Tickets from £11
Oran Mor
Celtic Connections on Campus
Wednesday 24 January
12.30pm
FREE
Glasgow Caledonian University
Danny Kyle Open Stage
Wednesday 24 January
5pm
FREE
Glasgow Royal Concert Hall, Exhibition Hall
Dougie MacLean and Yvonne Lyon
Wednesday 24 January
7.30pm
Tickets from £22
Glasgow Royal Concert Hall, Main Auditorium
Le Vent du Nord with Apiary
Wednesday 24 January
7.30pm
Tickets from £18
O2 ABC
The Deslondes with Underhill Rose
Wednesday 24 January
7.30pm
Tickets from £15
Oran Mor
Mandolin Orange and support
Wednesday 24 January
7.30pm
Tickets from £15
Mackintosh Church
Bright Phoebus Revisited
Wednesday 24 January
7.30pm
Tickets from £20
Mitchell Theatre
Scott Matthews and Gwyneth Glyn
Wednesday 24 January
7.30pm
Tickets from £15
St Andrews in the Square
BEMIS celebrates Burns
Wednesday 24 January
8pm
Tickets from £22
Old Fruitmarket
Cathal McConnell and Hannah Rarity
Wednesday 24 January
8pm
Tickets from £14
Glasgow Royal Concert Hall, Strathclyde Suite
Alessi's Ark and Special Guest
Wednesday 24 January
8pm
Tickets from £11
Hug & Pint
Greater Belfast
Wednesday 24 January
8pm
Tickets from £18
Tron Theatre
Celtic Connections on Campus
Thursday 25 January
12.30pm
FREE
Glasgow Caledonian University
Merchant City Trad Trail
Thursday 25 January
2pm
Tickets from £17
Scottish Music Centre, Candleriggs
Danny Kyle's Open Stage
Thursday 25 January
5pm
FREE
Glasgow Royal Concert Hall, Exhibition Centre
Fiddler's Bid with Frigg
Thursday 25 January
7.30pm
Tickets from £20
Glasgow Royal Concert Hall, Main Auditorium
James Grant and Yola Carter
Thursday 25 January
7.30pm
Tickets from £20
O2 ABC
The Fretless with Ewan Robertson
Thursday 25 January
7.30pm
Tickets from £14
St Andrew's in the Square
John Smith & Friends and support
Thursday 25 January
7.30pm
Tickets from £15
Mitchell Theatre
Teddy Thompson with Lera Lynn
Thursday 25 January
7.30pm
Tickets from £18
The Mackintosh Church
Bridget Marsden Leif Ottosson with Alastair Savage
Thursday 25 January
7.30pm
Tickets from £13
The National Piping Centre
An Evening with LAU
Thursday 25 January
8pm
Tickets from £18
City Halls
Band of Burns
Thursday 25 January
8pm
Tickets from £16
Old Fruitmarket
Binneas nam Ban
Thursday 25 January
8pm
Tickets from £14
Glasgow Royal Concert Hall, Strathclyde Suite
Last Night from Glasgow: Carla Easton, The Gracious Losers and The Miss's
Thursday 25 January
8pm
Tickets from £11
Hug & Pint
Greater Belfast
Thursday 25 January
8pm
Tickets from £18
Tron Theatre
Celtic Connections Festival Club
Thursday 25 January
10:30pm
Tickets from £10
The Art School
Late Night Sessions
Thursday 25 January
11pm
Tickets from £7.50
Drygate
Merchant City Trad Trail
Friday 26 January
11am, 2pm
Tickets from £17
Scottish Music Centre, Candleriggs
Celtic Connections on Campus
Friday 26 January
12.30pm
FREE
Glasgow Caledonian University
Danny Kyle Open Stage
Friday 26 January
5pm
FREE
Glasgow Royal Concert Hall, Exhibition Hall
Òrain nan Gàidheal: Songs of the Gael featuring the BBC SSO & Special Guests
Friday 26 January
7.30pm
Tickets from £22
Glasgow Royal Concert Hall, Main Auditorium
Session A9 and Paul McKenna Band
Friday 26 January
7.30pm
Tickets from
Glasgow Royal Concert Hall, New Auditorium
Tickets from £15
Sierra Hull with Jarlath Henderson
Friday 26 January
7.30pm
Tickets from £15
Mitchell Theatre
Väsen and Aizle
Friday 26 January
7.30pm
Tickets from £16
Mackintosh Church
Lúnasa & Special Guests
Friday 26 January
7.30pm
Tickets from £18
City Halls
Big Country 25th Anniversary and support
Friday 26 January
7.30pm
Tickets from £21
O2 ABC
Hayes Carll and Corb Lund
Friday 26 January
7.30pm
Tickets from £15
Saint Luke's
Martin Harley & Daniel Kimbro and support
Friday 26 January
7.30pm
Tickets from £15
Drygate
John Coletta & The HUMPFF FAMILY Revival and support
Friday 26 January
7.30pm
Tickets from £15
Oran Mor
The Glad Community Choir and Friends
Friday 26 January
7.30pm
Tickets from £13
The Glad Café
Phamie Gow with The Routes Quartet
Friday 26 January
7.30pm
Tickets from £15
St Andrews in the Square
Matthew Tighe and An Dhá
Friday 26 January
7.30pm
Tickets from £13
The National Piping Centre
Greater Belfast
Friday 26 January
8pm
Tickets from £18
Tron Theatre
Peatbog Faeries with special guest Vieux Farka Touré
Friday 26 January
8pm
Tickets from £18
Old Fruitmarket
Finlay MacDonald & Torupilli Jussi Trio with James Duncan MacKenzie
Friday 26 January
8pm
Tickets from £14
Glasgow Royal Concert Hall, Strathclyde Suite
Charlie Straw & special guests
Friday 26 January
8pm
Tickets from £11
Hug & Pint
Celtic Connections Festival Club
Friday 26 January
10:30pm
Tickets from £10
The Art School
Late Night Sessions
Friday 26 January
11pm
Tickets from £7.50
Drygate
Corelo's Interactive Workshop for the Under 5's
Saturday 27 January
9.30am
Tickets from £4
Glasgow Royal Concert Hall, City of Music Studio
Fiddle Village with Alasdair Fraser and Natalie Haas
Saturday 27 and Sunday 28 January
Start at 10am
Tickets from £60 (for 2 day workshop)
Glasgow Royal Concert Hall, Exhibition Hall
Ukulele School with Finlay Allison
Saturday 27 January and Sunday 28 January
Start at 10am
Tickets from £60 (for 2 day workshop)
Glasgow Royal Concert Hall, City of Music Studio
Come&Try Stepdance with Kae Sakurai
Saturday 27 January
10.30am
Tickets from £7
Glasgow Caledonian University
Merchant City Trad Trail
Saturday 27 January
11am, 2pm
Tickets from £17
Scottish Music Centre, Candleriggs
Stepdance, Jigs and Slipjigs for Beginners with Kae Sakurai
Saturday 27 January
1.30pm
Tickets from £7
Caledonian University
Feis Rois Ceilidh Trail with KIN and the Community
Saturday 27 January
2pm
Tickets from £12.50
Glasgow Royal Concert Hall, Strathclyde Suite
Greater Belfast
Saturday 27 January
2pm
Tickets from £18
Tron Theatre
Danny Kyle Open Stage
Saturday 27 January
5pm
FREE
Glasgow Royal Concert Hall, Exhibition Centre
Roaming Roots Revue: The Wild One, Forever – A Tribute To Tom Petty
Saturday 27 January
7.30pm
Tickets from £18
Glasgow Royal Concert Hall, Auditorium
Shelby Lynne & Allison Moorer and Teddy Thompson
Saturday 27 January
7.30pm
Tickets from £23
City Halls, Grand Hall
Lord Huron and The Weather Station and Flyte
Saturday 27 January
7.30pm
Tickets from £16
O2 ABC
The 4 of Us and Lizabett Russo
Saturday 27 January
7.30pm
Tickets from £15
Oran Mor
Sean McKeown & Liam O'Connor with Smok
Saturday 27 January
7.30pm
Tickets from £13
The National Piping Centre
A New International
Saturday 27 January
7.30pm
Tickets from £13
The Glad Café
Cara Dillon and The Fretless
Saturday 27 January
7.30pm
Tickets from £20
Glasgow Royal Concert Hall, New Auditorium
Chris Wood and Me for Queen
Saturday 27 January
7.30pm
Tickets from £14.50
St Andrew's in the Square
Bothy Culture & Beyond and Niteworks
Saturday 27 January
7.30pm
Tickets from £39.75
The SSE Hydro
Molly Tuttle and support
Saturday 27 January
7.30pm
Tickets from £15
Mitchell Theatre
Fuaigh
Saturday 27 January
7.30pm
Tickets from £14
Saint Luke's
Louise Jordan – No Petticoats Here
Saturday 27 January
7.30pm
Tickets from £13
City Halls, Recital Room
Hannah Peel – Mary Casio: Journey to Cassiopeia & Tubular Brass – Tubular Bells
Saturday 27 January
8pm
Tickets from £16
Old Fruitmarket
Molsky's Mountain Drifters with Salt House
Saturday 27 January
8pm
Tickets from £14
Glasgow Royal Concert Hall, Strathclyde Suite
Marnie and Special Guests
Saturday 27 January
8pm
Tickets from £11
Hug & Pint
Greater Belfast
Saturday 27 January
8pm
Tickets from £18
Tron Theatre
Celtic Connections Ceilidh Dances: Scott Harvey Ceilidh Band
Saturday 27 January
8pm
Tickets from £12
Partick Burgh Hall
Celtic Connections Festival Club
Saturday 27 January
10:30pm
Tickets from £10
The Art School
Late Night Sessions
Saturday 27 January
11pm
Tickets from £7.50
Drygate
Stepdance for All with Kae Sakurai and Sophie Stephenson
Sunday 28 January
10.30am
Tickets from £7
Caledonian University
New Voices: Sarah-Jane Summers
Sunday 28 January
1pm
Tickets from £12
Glasgow Royal Concert Hall, Strathclyde Suite
Stepdance for All with Kae Sakurai and Sophie Stephenson
Sunday 28 January
1.30pm
Tickets from £7
Caledonian University
Merchant City Trad Trail
Sunday 28 January
2pm
Tickets from £17
Scottish Music Centre, Candleriggs
Hazy Recollections
Sunday 28 January
2.30pm
Tickets from £12.50
O2 ABC2
The Groove is Not Trivial with Q&A (screening)
Sunday 28 January
3.45pm
Tickets from £9.50
GFT
BBC Radio Scotland Young Traditional Musician of the Year Final 2018
Sunday 28 January
5pm
Tickets from £15
City Halls
Danny Kyle Open Stage
Sunday 28 January
5pm
FREE
Glasgow Royal Concert Hall, Exhibition Hall
Northern Star – Scotland Sings Canada
Sunday 28 January
7.30pm
Tickets from £20
Glasgow Royal Concert Hall, Main Auditorium
I'm With Her and Rory Butler
Sunday 28 January
7.30pm
Tickets from £20
Glasgow Royal Concert Hall, New Auditorium
Isle of Eigg 20th Anniversary Celebration
Sunday 28 January
7.30pm
Tickets from £15
Drygate
Alela Diane and Mick Flannery
Sunday 28 January
7.30pm
Tickets from £16
Mackintosh Church
The Barr Brothers with The Oh Hellos
Sunday 28 January
7.30pm
Tickets from £16
Saint Luke's
Maid of the Loch 'The Heart of Loch Lomond'
Sunday 28 January
7.30pm
Tickets from £16
Mitchell Theatre
The Americans and support
Sunday 28 January
7.30pm
Tickets from £15
Oran Mor
Richard Dawson and support
Sunday 28 January
7.30pm
Tickets from £12.50
Platform
Alkinoos Ioannidis and support
Sunday 28 January
7.30pm
Tickets from £20
St Andrew's in the Square
David Foley & Jack Smedley with Heather Downie
Sunday 28 January
7.30pm
Tickets from £13
The National Piping Centre
Songwriters Circle: Mick Hargan, Katee Kross and Panic Anchor
Sunday 28 January
7.30pm
Tickets from £6
Broadcast
Northern Celtic Routes and Estbel
Sunday 28 January
8pm
Tickets from £16
Old Fruitmarket
Adam Sutherland, Mairearad Green, Anna Massie & Hamish Napier with Andreas Tophøj & Rune Barslund
Sunday 28 January
8pm
Tickets from £14
Glasgow Royal Concert Hall, Strathclyde Suite
Last Night from Glasgow: Sister John, Annie Booth and Andrew Nicol
Sunday 28 January
8pm
Tickets from £11
Hug & Pint
Northern Flyway
Sunday 28 January
8pm
Tickets from £16
Tron Theatre
Celtic Connections Festival Club
Sunday 28 January
10:30pm
Tickets from £5
The Art School
Danny Kyle Open Stage
Monday 29 January
5pm
FREE
Glasgow Royal Concert Hall, Exhibition Hall
Dale Watson & His Lone Stars and special guests
Monday 29 January
7.30pm
Tickets from £22
Glasgow Royal Concert Hall, Main Auditorium
Martin Simpson with Tony McManus
Monday 29 January
8pm
Tickets from £14
Glasgow Royal Concert Hall, Strathclyde Suite
Eugene Kelly (The Vaselines) and Special Guests
Monday 29 January
8pm
Tickets from £13
Hug & Pint
Northern Flyway
Monday 29 January
8pm
Tickets from £16
Tron Theatre
Danny Kyle Open Stage
Tuesday 30 January
5pm
FREE
Glasgow Royal Concert Hall, Exhibition Hall
Oumou Sangaré and Solo & Indrė
Tuesday 30 January
7.30pm
Tickets from £20
Glasgow Royal Concert Hall, Main Auditorium
James Yorkston and Sarah Hayes & Sara Kazmi
Tuesday 30 January
7.30pm
Tickets from £13
The Glad Café
Dick Gaughan Benefit Concert with Special Guests
Tuesday 30 January
8pm
Tickets from £20
Old Fruitmarket
The Railsplitters and Iona Fyfe: Away From My Window
Tuesday 30 January
8pm
Tickets from £14
Glasgow Royal Concert
Fiskur and Friends
Tuesday 30 January
8.30pm
Tickets from £13
Hug & Pint
Danny Kyle Open Stage
Wednesday 31 January
5pm
FREE
Glasgow Royal Concert Hall, Exhibition Hall
Kate Rusby & Friends and Aoife Scott
Wednesday 31 January
7.30pm
Tickets from £22
Glasgow Royal Concert Hall, Main Auditorium
Courtney Marie Andrews with Adam Holmes & the Embers
Wednesday 31 January
7.30pm
Tickets from £18
O2 ABC
Shake the Chains
Wednesday 31 January
7.30pm
Tickets from £15
Mitchell Theatre
Words and Music by Willy Vlautin
Wednesday 31 January
7.30pm
Tickets from £15
Mackintosh Church
Michael McGoldrick, John McCusker & John Doyle and Snuffbox
Wednesday 31 January
7.30pm
Tickets from £15
Drygate
A.Savage and Jack Cooper
Wednesday 31 January
7.30pm
Tickets from £10.50
Broadcast
Laura Cortese & The Dance Cards and WHYTE
Wednesday 31 January
7.30pm
Tickets from £14
St Andrew's in the Square
Martin Hayes Quartet and Brothers of the Free Reed
Wednesday 31 January
8pm
Tickets from £20
Glasgow Royal Concert, Main Auditorium
Ímar and Kaia Kater
Wednesday 31 January
8pm
Tickets from £14
Glasgow Royal Concert Hall, Strathclyde Suite
Mary Ann Kennedy and Luar na Lubre
Wednesday 31 January
8pm
Tickets from £16
Old Fruitmarket
Featherwest and special guests
Wednesday 31 January
8pm
Tickets from £11
Hug and Pint
Merchant City Trad Trail
Thursday 1 February
2pm
Tickets from £17
Scottish Music Centre, Candleriggs
Danny Kyle Open Stage
Thursday 1 February
5pm
FREE
Glasgow Royal Concert Hall, Exhibition Hall
Blazin' Fiddles 20th and Laura Cortese & The Dance Cards
Thursday 1 February
7.30pm
Tickets from £20
Glasgow Royal Concert Hall, Main Auditorium
Baltimore Fiddle Fair at Celtic Connections
Thursday 1 February
7.30pm
Tickets from £14
St Andrew's in the Square
Declan O'Rourke and Josie Duncan & Pablo Lafuente
Thursday 1 February
7.30pm
Tickets from £18
Mitchell Theatre
Hayseed Dixie and Emma McGrath
Thursday 1 February
7.30pm
Tickets from £18.50
O2 ABC
Arrest This Moment: Celebrating the Life of Michael Marra in Words and Music
Thursday 1 February
7.30pm
Tickets from £20
Pavilion Theatre
Ryan Young & Jenn Butterworth with Andrew Finn Magill
Thursday 1 February
7.30pm
Tickets from £13
The National Piping Centre
Damien O'Kane with Cúig
Thursday 1 February
7.30pm
Tickets from £14
Drygate
C.Macleod and Wallis Bird
Thursday 1 February
7.30pm
Tickets from £15
Saint Luke's
The Poozies and support
Thursday 1 February
8pm
Tickets from £14
Glasgow Royal Concert Hall, Strathclyde Suite
The Gallant Sixteen and Twine it Weel – Fiona J Mackenzie & Christine Kydd
Thursday 1 February
8pm
Tickets from £15
Tron Theatre
Declan Welsh and Friends
Thursday 1 February
8pm
Tickets from £11
Hug & Pint
Levellers Acoustic and The Brother Brothers
Thursday 1 February
9.30pm
Tickets from £22
Old Fruitmarket
Celtic Connections Festival Club
Thursday 1 February
10:30pm
Tickets from £10
The Art School
Late Night Sessions
Thursday 1 February
11pm
Tickets from £7.50
Drygate
Merchant City Trad Trail
Thursday 1 February
11am, 2pm
Tickets from £17
Scottish Music Centre, Candleriggs
Danny Kyle Open Stage
Thursday 1 February
5pm
FREE
Glasgow Royal Concert Hall, Exhibition Hall
Transatlantic Sessions
Friday 2 February
7.30pm
Tickets from £28
Glasgow Royal Concert Hall, Main Auditorium
Adam Sutherland Band with Sarah-Jane Summers & Juhani Silvola
Friday 2 February
7.30pm
Tickets from £15
Glasgow Royal Concert Hall, New Auditorium
Skipinnish and Special Guests
Friday 2 February
7.30pm
Tickets from £24
Pavilion Theatre
The Bow Brothers and Calum Stewart
Friday 2 February
7.30pm
Tickets from £18
Mitchell Theatre
Joe Henry and Aara Hart
Friday 2 February
7.30pm
Tickets from £16
Mackintosh Theatre
Beth Orton and Blue Rose Code
Friday 2 February
7.30pm
Tickets from £18
O2 ABC
Kathryn Williams & support
Friday 2 February
7.30pm
Tickets from £15
Oran Mor
Low Lilly with Bernadette Morris
Friday 2 February
7.30pm
Tickets from £13
The National Piping Centre
101 Scottish Songs – The Wee Red Book
Friday 2 February
7.30pm
Tickets from £14
St Andrew's in the Square
Dean Owens and Jenny Sturgeon Trio
Friday 2 February
7.30pm
Tickets from £15
Drygate
Sound of Yell, IIk and Aby Vulliamy
Friday 2 February
7.30pm
Tickets from £13
The Glad Café
RURA and Kinnaris Quintet
Friday 2 February
8pm
Tickets from £14
Glasgow Royal Concert Hall, Strathclyde Suite
Peter Broderick and Jamie Sutherland (Broken Records)
Friday 2 February
8pm
Tickets from £13
Hug & Pint
Lorcán Mac Mathúna with Cassie & Maggie
Friday 2 February
8pm
Tickets from £15
Tron Theatre
Elephant Sessions and Notify
Friday 2 February
9.30pm
Tickets from £16
Old Fruitmarket
Celtic Connections Festival Club
Friday 2 February
10:30pm
Tickets from £10
The Art School
Late Night Sessions
Friday 2 February
11pm
Tickets from £7.50
Drygate
Corelo's Interactive Workshop for the Under 5's
Saturday 3 February
9.30am
Tickets from £4
Glasgow Royal Concert Hall, City of Music Studio
Lau-Land: Fiddle Workshop – Aidan O'Rourke
Saturday 3 February
10.30am
Tickets from £10
CCA
Lau-Land: Guitar Workshop – Accompanying Traditional Music – Kris Drever
Saturday 3 February
10.30am
Tickets from £10
CCA
Lau-Land: Workshop – Arranging Trad Tunes (any instrument)
Saturday 3 February
10.30am
Tickets from £10
CCA
Gaelic Waulking Songs with Ainsley Hamill
Saturday 3 February
10.30am
Tickets from £10
Glasgow Royal Concert Hall, Exhibition Hall
Bulgarian Songs (West) with Kate Young
Saturday 3 February
10.30am
Tickets from £10
Glasgow Royal Concert Hall, Lomond Foyer
Songs of the Sea with Gillian Frame
Saturday 3 February
10.30am
Tickets from £10
Glasgow Royal Concert Hall, Clyde Foyer
Big-hearted Songs for Big-hearted Singers with Ali Burns
Saturday 3 February
10.30am
Tickets from £10
Glasgow Royal Concert Hall, City of Music Studio
Merchant City Trad Trail
Saturday 3 February
11am, 2pm
Tickets from £17
Scottish Music Centre, Candleriggs
Lau-Land: Build your own Synth Workshop
Saturday 3 February
12.00
Tickets from £10
CCA
Lau-Land: Karine Polwart "Insight into the Making of Wind Resistance"
Saturday 3 February
12.30
Tickets from £10
CCA
Lau-Land: Fiddle Cormac Begley – Finding Your Own Musical Voice
Saturday 3 February
12.30
Tickets from £10
CCA
Gaelic Puirt with Ainsley Hamill
Saturday 3 February
1.30pm
Tickets from £10
Glasgow Royal Concert Hall, Exhibition Hall
Classic Gospel with Ali Burns
Saturday 3 February
1.30pm
Tickets from £10
Glasgow Royal Concert Hall, City of Music Studio
Night Music with Muldoon's Picnic
Saturday 3 February
1.30pm
Tickets from £10
Glasgow Royal Concert Hall, Clyde Foyer
Bulgarian Songs (East) with Kate Young
Saturday 3 February
1.30pm
Tickets from £10
Glasgow Royal Concert Hall, Lomond Foyer
TMSA Young Trad Tour
Saturday 3 February
2pm
Tickets from £12.50
Glasgow Royal Concert Hall, Strathclyde Suite
Lau-Land: Dialectics – A Celebration of Regional Voices
Saturday 3 February
3pm
Tickets from £10
CCA
Lau-Land: Panel Discussion "Progression in Traditional Music"
Saturday 3 February
4pm
Free but ticketed
CCA
Alistair Moffat: The Hidden Ways
Saturday 3 February
4.30pm
Tickets from £5
Glasgow Royal Concert Hall, City of Music Studio
Danny Kyle Open Stage
Saturday 3 February
5pm
FREE
Glasgow Royal Concert Hall, Exhibition Hall
Lau-Land: Session hosted by Kris Drever
Saturday 3 February
5pm
Free but ticketed
CCA
Michael McGoldrick Band and Talisk
Saturday 3 February
7.30pm
Tickets from £16
O2 ABC
Alex Rex and Ailbhe Nic Oireachtaigh
Saturday 3 February
7.30pm
Tickets from £13
The Glad Café
Fara and Low Lily
Saturday 3 February
7.30pm
Tickets from £14
St Andrew's in the Square
Blasta and Xabi Aburruzaga
Saturday 3 February
7.30pm
Tickets from £15
Mitchell Theatre
Fergie MacDonald: The Ceilidh King
Saturday 3 February
7.30pm
Tickets from £22
Pavilion Theatre
Siobhan Wilson Band with the Demi Octet and Jamie Sutherland
Saturday 3 February
7.30pm
Tickets from £15
Mackintosh Church
TootArd with Trio Tekke
Saturday 3 February
7.30pm
Tickets from £14
Drygate
Old Blind Dogs and Pipes & Ney Anban
Saturday 3 February
7.30pm
Tickets from £15
Glasgow Royal Concert Hall, New Auditorium
Tide Lines and Cassie & Maggie
Saturday 3 February
7.30pm
Tickets from £14
Saint Luke's
Sam Outlaw and support
Saturday 3 February
7.30pm
Tickets from £16
Oran Mor
Patsy Reid and support
Saturday 3 February
7.30pm
Tickets from £13
Recital Room, City Halls
Vair with Fairland
Saturday 3 February
7.30pm
Tickets from £13
The National Piping Centre
Colter Wall and Tyler Childers
Saturday 3 February
8pm
Tickets from £15
Tron Theatre
Daoiri Farrell with Lori Watson
Saturday 3 February
8pm
Tickets from £14
Glasgow Royal Concert Hall, Strathclyde Suite
Jaye Bartell and Special Guests
Saturday 3 February
8pm
Tickets from £11
Hug & Pint
Celtic Connections Ceilidh Dances: RSCDS Ceilidh: The Clappy Doo Ceilidh Band
Saturday 3 February
8pm
Tickets from £12
Partick Burgh Hall
Lau-Land: Lau 10th Birthday Party
Saturday 3 February
9pm
Tickets from £14
CCA
Celtic Connections Festival Club
Saturday 3 February
10:30pm
Tickets from £10
The Art School
Late Night Sessions
Saturday 3 February
11pm
Tickets from £7.50
Drygate
Songs from the Outer Hebrides with Mischa Macpherson
Sunday 4 February
10.30am
Tickets from £10
Glasgow Royal Concert Hall, Exhibition Hall
The Unspoke Song with Corrina Hewat
Sunday 4 February
10.30am
Tickets from £10
Glasgow Royal Concert Hall, City of Music Studio
Spurned Lovers with Gillian Frame
Sunday 4 February
10.30am
Tickets from £10
Glasgow Royal Concert Hall, Clyde Foyer
Folk Songs from Glasgow with Robyn Stapleton
Sunday 4 February
10.30am
Tickets from £10
Glasgow Royal Concert Hall, Lomond Foyer
New Voices: Ailie Robertson
Sunday 4 February
1pm
Tickets from £12
Glasgow Royal Concert Hall, Strathclyde Suite
Gaelic Lullabies & Laments with Mischa Macpherson
Sunday 4 February
1.30pm
Tickets from £10
Glasgow Royal Concert Hall, Exhibition Hall
The Unspoke Song with Corrina Hewat
Sunday 4 February
1.30pm
Tickets from £10
Glasgow Royal Concert Hall, City of Music Studio
Day Dreams with Muldoon's Picnic
Sunday 4 February
1.30pm
Tickets from £10
Glasgow Royal Concert Hall, Clyde Foyer
Love and Friendship Songs with Robyn Stapleton
Sunday 4 February
1.30pm
Tickets from £10
Glasgow Royal Concert Hall, Lomond Foyer
Merchant City Trad Trail
Sunday 4 February
2pm
Tickets from £17
Scottish Music Centre, Candleriggs
Hazy Recollections
Sunday 4 February
2.30pm
Tickets from £12.50
O2 ABC2
Celtic Connections: The Next 25 Years
Sunday 4 February
4.30pm
Tickets from £5
Glasgow Royal Concert Hall, City of Music Studio
Danny Kyle Open Stage: 2018 Finalists
Sunday 4 February
5pm
FREE
Glasgow Royal Concert Hall, Exhibition Hall
Duncan Chisholm presents Sandwood and support
Sunday 4 February
7.30pm
Tickets from £20
Glasgow Royal Concert Hall, New Auditorium
Celtic Connections Closing Party – Mànran & special guests and The Young Folk
Sunday 4 February
7.30pm
Tickets from £18
O2 ABC
Transatlantic Sessions
Sunday 4 February
7.30pm
Tickets from £28
Glasgow Royal Concert Hall, Main Auditorium
Sam Baker and support
Sunday 4 February
7.30pm
Tickets from £16
Mackintosh Church
Out Lines and Hamish Hawk
Sunday 4 February
7.30pm
Tickets from £15
Saint Luke's
Matthew Logan Vasquez (The Delta Spirit) and Special Guests
Sunday 4 February
8pm
Tickets from £11
Hug & Pint
Sultans of String and Maeve Mackinnon
Sunday 4 February
8pm
Tickets from £14
Glasgow Royal Concert Hall, Strathclyde Suite
The Mavericks and support
Sunday 4 February
8pm
Tickets from £26
Old Fruitmarket
Celtic Connections Festival Club
Sunday 4 February
10:30pm
Tickets from £5
The Art School
Author:
World Music Central News Department
World music news from the editors at World Music Central