Ukulele virtuoso Daniel Ho talks to World Music Central about his newly released album Between the Sky & Prairie, a collaboration with Mongolian musicians The Grasslands Ensemble. The Sky & Prairie is a beautifully-crafted album produced by Wu Chin-tai "Judy Wu" (Wind Music) and Daniel Ho.
Your latest album, Between the Sky & Prairie is a collaboration with The Grasslands Ensemble. How did you come in contact with the musicians?
I had been working on world music projects with Wind Music, a Taiwanese record company, for around five years. We recorded three Taiwanese aboriginal albums and a project with Wu Man (the pipa player for the Silk Road Ensemble) and Cuban percussionist Luis Conte. Our goal was to present traditional music, untouched, in a contemporary framing. We were lucky to receive two Grammy nominations and four Golden Melody Awards (Taiwan's Grammy Award) for these collaborations and were invited to produce an album of Mongolian music. We visited Mongolia a few times and met many wonderful musicians, which became The Grasslands Ensemble.
Tell us about the recording process in terms of location, rehearsing, communication and so forth.
My co-producer, Judy Wu, helped to select the music with executive producer Li Dong. I don't speak Chinese so she also communicated my arrangement ideas to the musicians as well as scheduled the recordings.
How did this experience affect you?
I had never been to Mongolia and I am grateful that music brought me half-way around the world to experience its rich culture and breathtaking grasslands. I treasure my new friends who have been so generous with their music.
Between the Sky & Prairie is released by Wind Records, a Taiwanese record label. How was the experience?
Wind Music is a wonderful record label. I admire their dedication to preserving culture and the entire staff is so kind and thoughtful. I always look forward to doing projects with them because it is more like having fun with friends than working!
The physical version of the album is gorgeous, with a beautifully- designed hard cover book. Is this the first time you release a project like this?
Actually, all of the albums we've released with Wind Music look like this. We put everything we can into all aspects of our projects – the music, recording quality, graphic design, music videos and documentaries.
Will you be doing more collaborations with musicians from other musical traditions?
I don't have any specific plans right now, but I look forward to what's around the corner. I've found the greatest joy in learning about the origins of music – how sound is used to convey emotion in ways that don't conform to our Western framework of melodic development, harmonic structure, rhythm, and form.
What do you consider as the essential elements of your music?
Composition is at the core of my music. I'm always trying to open my mind melodically (traditional world music is great for this because its melodies are independent of Western rules and restrictions), expand my harmonic vocabulary, and develop my ability to function in advanced rhythmic settings like odd meters and polyrhythms. African, Indian and Latin music are wonderfully rhythmic.
Who can you cite as your main musical influences?
I love Bach's voice leading and counterpoint and use his techniques for all of my writing. Harmonically, Dave Grusin is the strongest influence on my music, and rhythmically, I draw from world music influences as well as great drummers like Jeff Porcaro and Steve Gadd.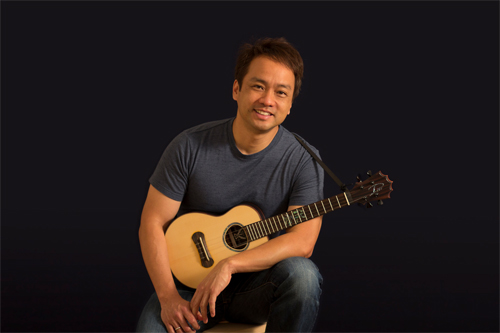 Tell us about your first recordings and your musical evolution.
I first started recording in high school with my friend David Ho on a Tascam four-track cassette tape recorder. In the early 90's, my first professional recordings were on 24-track, 2-inch tape recorders in studios in Los Angeles.
Around the mid-1990's the Alesis ADAT began the revolution of affordable studio-quality home recording. From there it went to Mac-based fully editable digital recording in the mid to late 90's. Technology quickly changed how we capture sound.
I started my record company, Daniel Ho Creations, in the mid-90's and have recorded over 100 albums in my home studio. Without the pressure of paying for studio time, it is incredibly liberating.
Aside from Mongolian music, are there any other musical traditions that interest you?
I love all kinds of world music, though some of them would require me to be more skilled before I'd be able to collaborate effectively.
For example, I love Cuban music, but I would first need to develop my sense of rhythm before I could play with Cuban musicians.
What ukulele models are you playing now? Who builds them?
I play a Romero Creations Tiny Tenor. Pepe Romero, Jr. is a world- class luthier and the son of classical guitar legend Pepe Romero.
Four years ago, I had the opportunity to design this instrument with him. We looked at all the qualities we love about the 'ukulele, like its portability and sound, and tried to expand on them. We came up with the Tiny Tenor, which is a full tenor scale 'ukulele that fits in a concert 'ukulele gig bag.
The instrument caught on over the past few years and Romero Creations is now distributed by YAMAHA in Japan. For me, this experience was like writing a song with wood. It is exciting to see people all over the world making music with an instrument we created! You can find more information about our instruments at RomeroCreations.com.
Have you even played a Portuguese cavaquinho or a Spanish timple?
No I haven't. I'd like to though.
If you could gather any musicians or musical groups to collaborate with, whom would that be?
I would love to do a project with Yo Yo Ma. Working with Dave Grusin would be amazing, too. Or maybe a mandolin and 'ukulele project with Chris Thile.
What music are you currently listening to?
I really enjoy listening to James Taylor. I love the sincerity of his songwriting and voice. But I don't do a lot of listening. As a writer, I try to avoid getting melodies stuck in my head which could end up in something I'm composing.
What new projects are you working on?
Presently, I'm working on a comprehensive 'ukulele program with YAMAHA music school. I've been a student of music all my life and I'm excited to share what I've learned so far. The project will launch in April 2018.
Author:
Angel Romero
Angel Romero y Ruiz has been writing about world music music for many years. He founded the websites worldmusiccentral.org and musicasdelmundo.com. Angel is also co-founder of the Transglobal World Music Chart.
Angel has also produced and remastered world music studio albums and compilations for labels such as Alula Records, Ellipsis Arts, and Music of the World.