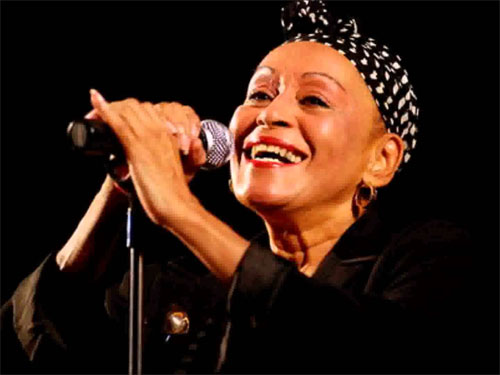 Omara Portuondo is one of Cuba's greatest vocalists and has been very popular from the day she started singing professionally in the late forties. From 1950 through the late 1960s, she was Cuba's top performer of songs in the filin style (the word is taken from the English word feeling, and describes music inspired by the performances of Frank Sinatra, Mel Torme, and Glenn Miller, among others). At the height of her popularity, Portuondo sang with a number of different groups, always with great success.
Omara Portuondo Pelaez was born in Cayo Hueso (Havana) in 1930. Omara's mother came from a rich Spanish family and was expected to marry into another society family. Instead she ran off with the man she loved, a tall, handsome baseball player from the Cuban national team. Moreover he was black and in those days mixed race marriages were still frowned upon in Cuba. "My mother always hid the fact that she had married a black man. If they bumped into each other in the street they had to ignore each other. But at home they recreated what society denied them – a haven of peace and harmony. They loved each other very much," Omara recalls.
They had three daughters and as in any Cuban household there was music. There wasn't a gramophone – they didn't have the money. Even as a small child, Omara showed a natural aptitude for singing, picking up both melody and harmony lines from listening to her parents singing together. Her father was a good aficionado singer. He had gone to school with the songwriter Eliseo Grenet, and they remained friends, so that music was a constant in Omara's childhood home. Omara remembers her parent's favorite music, which included songs by Ernesto Grenet and Sindo Garay's "La Bayamesa". They were her first informal singing lessons and the songs remain in her repertoire to this day.
During her schooldays, she sang in choirs and studied music. When her older sister Aidee became a dancer at the famous cabaret Tropicana, Omara soon followed her – by accident. One day in 1945, the ballet troupe found itself short when a dancer dropped out two days before an important premiere. Omara had watched her sister rehearse so often that she knew all the steps and was asked to stand in. "It was a very chic cabaret but I said it was out of the question," Omara recalls. "I was very shy and I was ashamed to show my legs." Her mother told her that she couldn't let them down and thus began a career as a dancer, forming a famous partnership with the dancer Rolando Espinosa. Today she still performs at the Tropicana as one of its star singers.
On weekends Omara and Aidee would sing American jazz standards with a bunch of friends which included César Portillo de la Luz, José Antonio Méndez and the blind pianist Frank Emilio Flynn. They became known as Loquibambla Swing and the style they played – a Cubanized version of the bossa nova with American jazz influences – became known as "feeling" or "filin" as it was often written in Spanish. On their radio debut Omara was announced as "Miss Omara Brown, the fiancé of filin." The Anglicized name was soon forgotten, but she is still known by many Cubans as "la novia del filin".
Omara, her sister Aidee, and Elena Burke (who got Omara her first real gig) decided to form a quartet with three female and one male voices, but after meeting with Aida Diestro, they approached Moraima Secada, and formed the Cuarteto d'Aida, with Diestro directing and playing piano, and four female voices harmonizing. "We toured America and Aida's vocal arrangements were very innovative. We were acclaimed everywhere and when Nat King Cole played the Tropicana we sang on stage with him," Omara remembers. The group was an immediate success.
Her debut solo album, Magia Negra, appeared in 1959. It was an adventurous project straddling Cuban music and American jazz, and included versions of 'That Old Black Magic' and Duke Ellington's 'Caravan'. Yet she remained with the group and two years later was with Las D'Aida singing in a Miami hotel when the Cuban missile crisis caused the rupture in relations with America and began Cuba's long period of isolation. Omara immediately returned home while her sister Aidee stayed in the United States of America. She continued with a revamped Las D'Aida until 1967 when she left to pursue her solo career. "So many singers had gone into exile that there was a gap to be filled," she says.
Representing Cuba at the Sopot Festival in Poland – a communist version of the Eurovision Song Contest – she sang 'Como un Milagro.' It was written by Juanito Márquez, with whom she also made the album Esta es Omara Portuondo. Eventually Márquez also went into exile in Miami and a quarter of a century later was the man Gloria Estefan turned to when she needed some traditional Cuban-style arrangements for her 1993 Spanish-language album 'Mi Tierra.'
The early years after the revolution were difficult ones in Cuba's history, cut-off from the west as Castro pursued his socialist vision. In 1967 Omara remembers almost the entire Cuban people being conscripted in an attempt to break the sugar cane harvest record. "People from the cities were sent to cut cane in the fields and as artists we were sent into the fields to sing and entertain them while they worked," she recalls.
The late 1960s saw the end of popularity for the filin style of singing, and the beginning of what is known as nueva trova. The 1970s found Omara singing with the top charanga ensemble Orquesta Aragon and she traveled widely, often to other Communist countries, although she also sang in France and Japan. One of her best albums from that era was the one she recorded with Adalberto Alvarez in 1984.
Omara returned to the international spotlight when producer Manuel Domínguez, the owner of Spain's Nubenegra label, flew Omara to Spain to record a new album, Palabras, in 1995. The album's artistic producers were Cuban nueva trova duo Gema y Pavel, who had settled in Madrid. On Palabras, Omara was backed by Cuban and Spanish musicians. She gave her unique vocal styling to songs coming from several different eras, the vieja trova of the '1920's and '1930's, the dance music of the '1940's, filin from the '1950's and '1960's, and finally nueva trova from the '1960's and '1970's. She even recorded an old favorite, a Spanish song she had heard in a movie when she was a young girl.
Her 1998 album, Desafios, also on the Nubenegra label, was a collaboration with Chucho Valdés, Cuba's best pianist.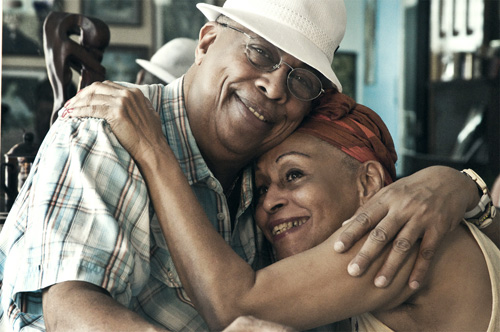 American musician Ry Cooder had first come across Omara when he was in Cuba in 1995 recording with The Chieftains. The following year, when Cooder returned to Havana with World Circuit's Nick Gold for the Buena Vista sessions, Omara was by coincidence in the Egrem studios at the same time. Cooder immediately invited her to sing the bolero 'Veinte Años' with Compay Segundo, and it became one of the highlights of the album.
Omara went on to become part of the legendary Buena Vista performances in Amsterdam and at New York's Carnegie Hall, and appeared on the follow-up album, Buena Vista Social Club Presents Ibrahim Ferrer. Her own Buena Vista Social Club Presents Omara Portuondo, was the third release in the series.
Flor de Amor, released in 2004, is a collection of musical love letters and was recorded in Havana's legendary EGREM studios with a stellar cast of Cuban and Brazilian musicians as well as producers Nick Gold and Jerry Boys, renowned Cuban arranger Demetrio Muniz (Ibrahim Ferrer), and the Brazilian producer Ale Siqueira. The record's varied set culminates in the tender Portuguese ballad "Casa Calor," specially written for her by the Brazilian musician Carlinhos Brown.
Guitarists featured on the album include Papi Oviedo on tres (traditional Cuban guitar), Manuel Galban on rhythm, Brazil's Swami Jr. on seven-string, and Irakere's Carlos Emilio and Jorge Chicoy on acoustic and electric. Portuondo's rhythm section features Cachaito Lopez on bass, Roberto Fonseca on piano, and the Cuban maestros Miguel "Anga" Diaz and Ramses Gonzales on congas and drums.
Portuondo won a Billboard Latin Music Award in 2005. In 2008 she won the "Prémio Música Brasileira" Brazilian Music Award for her duets album with Maria Bethania, Maria Bethania & Omara Portuondo.
In November of 2009 Omara Portuondo won the the Best Contemporary Tropical Album or "Mejor Álbum Tropical Contemporáneo" at the 10th Annual Latin GRAMMY Awards for Gracias (World Village, released December 9, 2008). Gracias was also awarded the Cubadisco 2009 Grand Prix in May of that year. Gracias was produced by Alê Siqueira, with musical direction from Swami Jr., and it features such guest artists as Jorge Drexler, Richard Bona, Cachaíto López, Chico Buarque and Chucho Valdés.
In 2010 Omara participated in the Spanish-language version of Disney's animated film, 'The Princess and the frog' (Tiana y el sapo). Omara play's Mama Odie, a good blind witch who lives in the Louisiana swamps. Omara performs the song 'Dig a Little Deeper' together with singer Chila Lynn, who gives her voice to Tiana.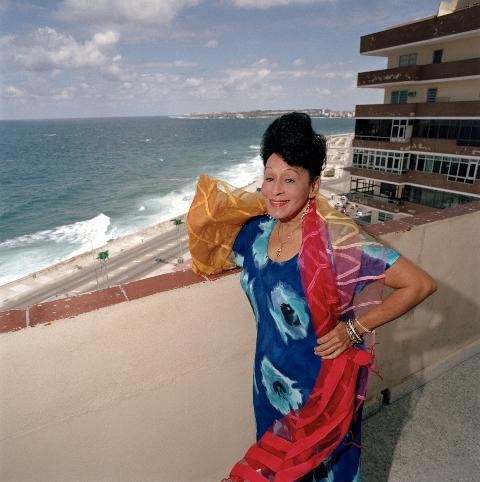 Today Omara lives in a high-rise apartment just off the Malecón in Havana with magnificent views over the sea. She remains a flamboyant fixture on the music scene, singing regularly at the Tropicana, the Delirio Habanen and the Cafe Cantante – one of the world's great divas who is only now emerging from Cuba's long isolation to achieve the international acclaim she so richly deserves.
Discography
* Magia Negra (Velvet, 1959. Reissued by Kubaney 190 and Kristal 1124)
* Seis Voces y un Sentimiento (Egrem 3123, 1960)
* Omara Portuondo (Areito 3358, 1967)
* Esta es Omara Portuondo (Areito 1071)
* ¡Omara! (Areito 1071)
* ¡Omara Portuondo… con Adalberto y su Son! (Areito 1071, 1987)
* Palabras (Intuition/Nubenegra 1011, 1995)
* Buena Vista Social Club (World Circuit, 1997)
* Desafios, with Chucho Valdés (Intuition/Nubenegra 1025, 1998)
* Oro Musical (Max Music, 1999)
* Buena Vista Social Club Presents Omara Portuondo (World Circuit/Nonesuch, 2000)
* Dos Gardenias (Tumi Records, 2001)
* Pensamiento (Bis Music, 2001)
* 18 Joyas Ineditas (Egrem, 2002)
* La Coleccion Cubana (Nascente, 2003)
* Flor de Amor (World Circuit/Nonesuch, 2004)
* Sentimiento (La Escondida, 2005)
* Omara Portuondo & Martin Rojas (2005)
* Lagrimas Negras Canciones y Boleros (Yemaya, 2005)
* http://www.amazon.com/gp/product/B000BM7UVO?ie=UTF8&tag=musidelmund-20&linkCode=xm2&camp=1789&creativeASIN=B000BM7UVO | The Essential Omara Portuondo (Manteca, 2006)
* Quiereme Mucho (2006)
* Together, with Celina Gonzalez (2006)
* Duetos (Malanga Films, 2007)
* Singles (Malanga Films, 2007)
* Omara Portuondo E Maria Bethania (Biscoito Fino, 2008)
* Gracias (World Village, 2008)
Omara & Chucho (Random Music, 2011)
Magia Negra: The Beginning (World Village, 2014)
Videos
* Buena Vista Social Club (Lions Gate, 1999)
* Omara Portuondo: Live in Montreal (L'Equipe Spectra, 2007)
* Maria Bethania & Omara Portuondo Ao Vivo (Biscoito Fino, 2008)
Bibliography
Omara Portuondo: La novia del Feeling. Editorial Letras Cubanas (1995), ISBN-10: 9586700305; ISBN-13: 978-9586700306
Author:
Angel Romero
Angel Romero y Ruiz has been writing about world music music for many years. He founded the websites worldmusiccentral.org and musicasdelmundo.com. Angel is also co-founder of the Transglobal World Music Chart.
Angel has also produced and remastered world music studio albums and compilations for labels such as Alula Records, Ellipsis Arts, and Music of the World.