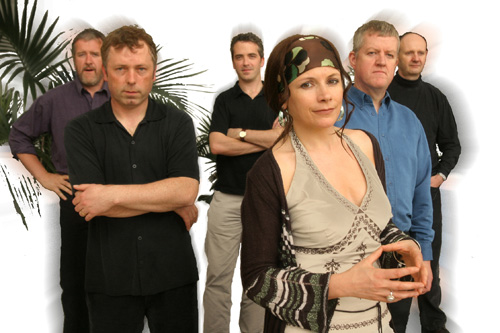 Widely hailed as the 1990s' successors to Irish traditional legends Planxty and the Bothy Band, Dervish unite passion with virtuosity. The members of Dervish met as most Irish musicians do: as strangers in a bar. "I'm a farmer's daughter," says singer Cathy Jordan, "and someone else in the band is an architect's son. Outside of music, we may have never met, but this is how Irish people have forged unlikely friendships for years, playing music together."
"In Irish music, there are three elements: goltra, so sad it brings tears; geantra, so lively it makes you want to dance; suantra, so soothing you want to sleep. At a Dervish concert, you experience all three and it leaves you exhilarated!" explains Jordan.
Dervish in their original form were five musicians from the Northwest of Ireland who came together in 1989 to record an album of music, primarily, by local players. The album was released under the title `The Boys of Sligo' after a reel from the recording. The five musicians involved -Liam Kelly, Shane Mitchell, Martin McGinley, Brian McDonagh and Michael Holmes- were inspired by the project and decided to develop the informal gathering into a working band.
Mandola-player Brian McDonagh saw a documentary about Whirling Dervishes and found the parallels between the devotional art form and Irish musicians similar. "Dervishes are usually a group of poor but spiritual people enraptured by music,"clarifies Jordan. "They spin around and become entranced by the music. As the spinning progresses, the dervishes reach a higher level of being. Similarly, in a traditional Irish session, people may meet for the first time through the common bond of music. As the night progresses, a euphoria builds and lifelong friendships ensue." The name Dervish was meant to be an album, but it stuck as the band's name.
The Sligo County band's sound is characterized by Jordan's distinctive voice combining with the compelling contrasts of the low-range bouzouki and high-range mandola and their powerful rhythmical backing of accordion and guitar. Fiddles, whistles, flute, bodhran, and harmonica round the band out for its full effect.
Over the following two years Dervish refined their craft as a formative band. The addition of Roscommon-born singer Cathy Jordan in 1991 and subsequent replacement of fiddle player Martin McGinley by Tyrone man and All Ireland Champion, Shane McAleer, gave the band a new dimension. Having found the right balance of creativity and dedication, Dervish released their legitimate first album Harmony Hill in 1992.
The effect of the recording was immediate. Its artistry, musicianship and maturity won outstanding praise from the media placing Dervish to the forefront of the bands working on traditional Irish music. Substantial TV and radio exposure for the band and the album began to open all kind of doors.
Dervish soon became one of the most sought after acts for live performances and have continued to remain over the years. The demand led to the band touring continuously in many European countries throughout 1993 and performing at all the major folk festivals.
The enormous work load and the constant touring made it difficult for the band to work in the studio, but in 1994 their keenly awaited second album Playing with Fire was released. The high expectations for the recording were not only met, but surpassed. Reviewers and critics alike lauded praise for Playing with Fire, confirming Dervish status as the pre-eminent Irish traditional band. The album reached number 1 in the Irish Folk Music Charts and stayed on top for several months.
With their reputation firmly established, Dervish set their sights on the American market, signing a deal with the New York-based company Kells Music. The release of their two albums in the USA saw the demand for the band take off in dramatic terms. Performances at enormous festivals like Wolf Trap and San Francisco led to worldwide tours. Recognition for the band's achievements followed with nominations and awards in a variety of Traditional/Folk polls including two in the IRMAs.
In August 1996 Dervish released their third album At the End of the Day, which won the Hot Press Trad/Folk Album of the Year award against mainstream legends like Christy Moore and Donald Lunny. In the same year the band performed a series of concerts in Hong Kong and Malaysia which opened the door to the Far Eastern market.
Dervish's concert performances are a wide-range of tones and moods, from high energy tunes, played with fluidity and intuitiveness, to beautifully measured songs, from charming lyrics of life and love, to inspiring melodies. All the elements are drawn together by Cathy Jordan's masterful stage-presence. Her stories to the songs, the interaction with the audience, draws people into the music in a way very few performers can achieve. All this can be found in their fourth album Live in Palma.
As the name implies, Live in Palma is a live recording of a scintillating performance in front of a captivated audience at Palma de Mallorca's Teatro Principal in April 1997. This double album has been hailed by critics as one of the finest live traditional Irish recordings of our time. It furnishes the listener with an opportunity to savor the atmosphere (music, melodies and witty banter) which only a live recording can provide and Dervish have done it both masterfully and effortlessly: the decision to record just made a few hours before going on stage and a performance such that a minimal amount of studio time was required to put the finishing touches to a virtually flawless concert. This brilliant album has, for sure, something to do with the decision of the readers of Irish Music magazine to award Dervish with the Best Overall Trad/Folk Band of the Year 1997.
1998 was another grueling year for the group. It started with a six weeks coast to coast sell out tour of the USA and a first ever Irish tour that enjoyed considerable success. That year also saw slight reshuffle of the group with Shane McAleer taking a career break. Luckily, formidable replacement was found in Sligo's own Séamus O'Dowd -a musician of high standing with a distinct Sligo style fiddle playing and incomparable guitar playing- further adding to the talents of the group. Just before the end of the year, the addition of fiddle player Tom Morrow -a native of Co. Leitrim and another All Ireland Champion- completed the line up of the band.
Their fifth album Midsummer's Night was released in the early summer of 1999. Dervish searches high and low for new material, old melodies, and lesser-known lyrics. "It comes to us in different ways/em>," explains Jordan. "Sometimes at a session an old man sings a tune we've never heard. We have a great rapport with the Irish Traditional Music Archive in Dublin, where there are vast collections of the old manuscripts and the earliest recordings of Irish music. Sometimes we find things on TV, on the radio, or on records." The search for material is simultaneously part of preserving history and making traditional music relevant to today.
When Jordan was asked to sing at Bob Dylan's fiftieth birthday party in Dublin, musicians paid tribute by performing his songs. As a result, her choice, 'Boots of Spanish Leather' was added to Dervish's repertoire and has become one of their most requested songs. In exploring other contemporary songs with folk sounds, the band discovered Cher's 'Gypsies, Tramps and Thieves' and Dire Strait's 'Brothers in Arms' which sound perfectly at home in a traditional Irish treatment, and alongside Dervish's modern arrangements of traditional tunes.
"It's a funny thing, but Irish music is one of the oldest forms of music, yet it is influenced an awful lot by other things," explains Jordan. "It evolves and evolves. Our sound is very recognizable because of the bouzouki and mandola. And though we have a modern style within the Irish context, you might not say it's really modern because it blends in so well. But in actual fact there are a lot of modern influences in there."
Discography
 
* Harmony Hill (Whirling Discs WHRL001, 1993)
* Playing with Fire (Whirling Discs WHRL002, 1995)
* At the End of the Day (Whirling Discs WHRL003, 1996)
* Live in Palma (Whirling Discs WHRL004, 1997)
* Midsummer's Night (Whirling Discs WHRL005, 1999/USA: Compass Records, 2001)
* Decade (Compass Records, 2001)
* Spirit (Compass Records, 2004)
* A healing heart (2005)
* Travelling Show (2007)
* The Thrush in the Storm (Whirling Discs , 2013)
Videos
* MidSummers Session (1999)
* Dervish – Live At Johnny Fox's (Video Music, 2005)
Author:
Angel Romero
Angel Romero y Ruiz has been writing about world music music for many years. He founded the websites worldmusiccentral.org and musicasdelmundo.com. Angel is also co-founder of the Transglobal World Music Chart.
Angel has also produced and remastered world music studio albums and compilations for labels such as Alula Records, Ellipsis Arts, and Music of the World.