Auditorium at University of Sheffield Student Union
26 February 2016
Where were the blues born? Were its rough-hewn riffs formed from the mud of the Mississippi delta, or do its origins lie in Africa, along the river Niger? Musicological conundrums aside, it is the people of the Niger basin who have a greater need for the blues' cathartic lament today. In the West African state of Mali In 2012, a separatist movement snowballed into a radical Islamist campaign that conquered two-thirds of the country. Music – which provides the heartbeat of Malian culture – was banned under an extreme interpretation of Sharia law.
The response of Mali's musicians is documented in the film They Will Have to Kill Us First, which provides the evening's first act, playing to a teeming auditorium within Sheffield University's Student Union. The film sets up Malian band Songhoy Blues to tell the story live, inspiring the audience to a studious engagement with Malian musical culture that gives way to dancing in the aisles.
They Will Have to Kill Us First opens with Songhoy Blues on scooters, cruising through the capital Bamako like Malian Mods. They carry their guitars with them, as if ready to unleash drive-by grooves on the occupants of the red dirt pavements. The film offers a music-as-unifying-force narrative amidst an exploration of the country's near total fracture. As a young band drawn from different parts of Mali, Songhoy Blues seem to offer the best hope of a modern Mali that transcends the disunity. By the end of the film the young quartet have been picked up by the Damon Albarn driven Africa Express project and wowed the European festival scene. They have shown no signs of stopping since, releasing their debut album Music in Exile last year to considerable acclaim.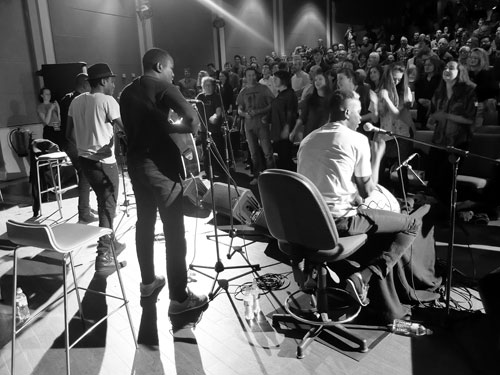 Songhoy Blues' meteoric rise and youthful swagger bears comparison to a band that has graced many of the Steel City's stages, the Arctic Monkeys. Where Alex Turner took inspiration from police riot vans, Songhoy Blues had machine-gun toting Toyota pickups to contend with. The band's matinee idol impression is reinforced by the boy-band bar stools they occupy for their acoustic set. Since this is a Talking Gig – which offers reflection as well as rock – the initial atmosphere suits the lecture theatre-like venue and student dominated audience. Journalist Andy Morgan takes on the role of professor, skilfully spinning tales of Mali's spirit world and medieval empire, which enrich the audience's understanding of the music.
If you have heard of one Malian musician it will surely be guitar giant Ali Farka Touré, who emerged like a Hendrix of the Sahara in the 1970s, his music both urgent and antique. The African continent is commonly represented as the body of a guitar, and the iconic instrument remains the king of Malian music.
There is a certain guitar timbre that unmistakably evokes West Africa, its bright sound still characteristic of the DIY twang of the proto-guitars assembled from petrol drums and brake cables on the streets of Timbuktu and Gao. Songhoy's guitarist Garba Touré – whose father was a percussionist in Ali Farka Touré's band – summons the timeless tone from his acoustic guitar. Garba's rippling riffs enter into dialogue with charismatic vocalist Aliou Touré, punctuating his vocal lines with short solos delivered in stuttering style.
Unexpected breaks and tempo changes enliven a blues template that can feel formulaic in its strictest western form. The band perform album track 'Al Hassidi Terei', which begins with a 'Stairway to Heaven' like arpeggio before igniting, like one of those well-worn moped engines, into a raucous gallop of a groove.
For the last three numbers Songhoy Blues rock out, kicking away their stools and summoning the audience to their feet. Nat Dembélé's percussion playing and Oumar Touré's bass then come into their own, their grooves bouncing across bar-lines to conduct the crowd's convulsions. Amidst the celebratory atmosphere we recall Mali's trauma, summed up by Aliou's vocals on 'Desert Melodie'; "Once upon a time Mali was a land of unity, now they want to divide us". If there is a force that will help bring the country back together, it is up there on stage, as Songhoy Blues rock Sheffield.
Songhoy Blues discography available:
In North America: Music In Exile, Re-Covered and Al Hassidi Terei
In Europe: Music In Exile