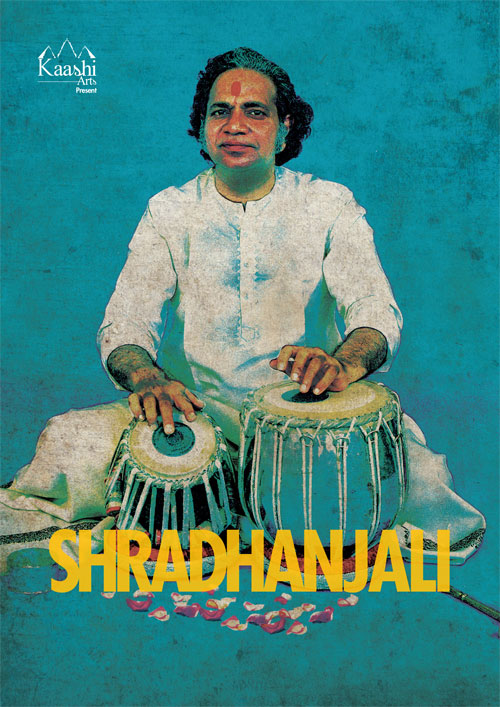 The Tabernacle, London, 6 December 2015
Ever thought of moving in with your music teacher? To attain mastery of their instrument, devoted tabla students often live with their guru, undertaking a life-long apprenticeship. Insights into the traditions of Indian classical music were in abundance at 'Shradhanjali', a concert dedicated to late tabla master Pandit Sharda Sahai ji, which was staged at The Tabernacle in the Notting Hill area of West London.
Those with their ears open to the world will have come across the tabla. The Indian drum has lent an exotic flavour to western music of many modes, from jazz guitarist John McLaughlin's path-breaking collaborations with Zakir Hussain in the 1970s, to art-pop queen Bjork's genre blurring material with Talvin Singh in the 1990s. Tabla masters can conjure a galaxy of timbres from a simple two drum set-up; a finger-print tap to the smaller 'dayan' drum elicits a high whip-crack, whilst a palm pump to the deeper 'bayan' drum yields a resonant bass tone, like air bubbling to the surface of a deep pool.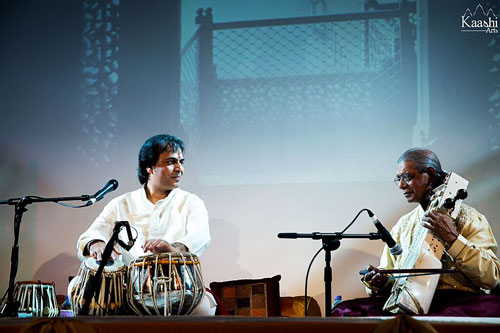 This concert provides a chance to see the tabla in its natural habitat, as the centrepiece in a night of Indian classical music programmed by Kaashi Arts. The evening's main event is a tabla solo performed by Pandit Sanju Sahai ji (known as Sanju ji) in tribute to his late father and guru Pandit Sharda Sahai ji (known as Pandit ji). Like his father, Sanju ji is a master of the Benares school of tabla, which is the youngest of six schools of tabla instruction, and the only Hindu tradition, with its origins lying in the mystical city of Benares (Varansai) in the early 19th century.
We begin with one of Pandit ji's students, performing as part of a small group. From the first phrases of Mehboob Nadeem's sitar, the ensemble follows the melody wherever it leads, without reliance on a defined groove. Upneet Singh Dhadyalla's tabla strikes up a rhythmic dialogue with Bala Chandra ji's mridangam, a larger double sided drum originating from southern India. This conversation develops into a telepathic series of complex rhythmic patterns that hint at the master-class to come.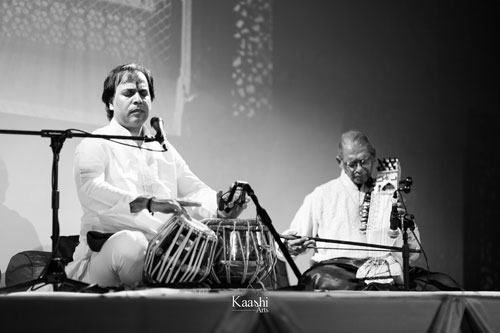 Taking to the stage after the interval, Sanju ji proves a playful guide to the intense world of tabla. His exuberance is complemented by the sage accompaniment of Pandit Ramesh Mishra ji on the sarangi, an intricate bowed string instrument. As if in scholarly debate with himself, Sanju ji reels off 'bols' – rhythmical lyrics that set the framework for his improvisations – before launching into astounding time-bending embellishments; his fingers tapping the tabla like a virtuosic Morse code operator. This is a learned audience, who pick up on Sanju ji's semaphore, joining him in the physical flourishes that bookend his poly-rhythmic passages. These collective gestures create a sense of shared experience, akin to a gospel church congregation who are stirred by references to hymns and sermons they are deeply familiar with.
Sanju ji celebrates the contemporary by performing a piece one of the Benares masters used to score a Bollywood chase scene; a blitz of tension-inducing tabla. Traditions are also respected in a rare performance of some of the original compositions that helped to inspire the Benares style. These pieces are drawn from the five hundred that were taught to Benares founder Pandit Ram Sahai ji by his guru's wife, compositions so precious they had formed part of her dowry.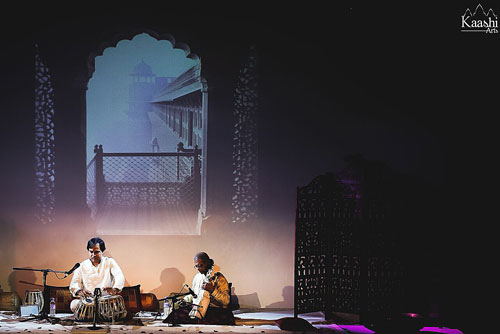 "We believe we can never be as good as our gurus", explains Sanju ji. This deference for what came before is perhaps one of the most striking differences to western musical culture. The venue for the night's event, The Tabernacle, was a regular haunt of punk hero Joe Strummer of The Clash during the 1970s and '80s. The 'rip it up and start again' philosophy of the Punk movement has a parallel in a western classical tendency to challenge and provoke the past, infamously demonstrated by the riots at the Paris premiere of Stravinsky's Rite of Spring. The Indian classical tradition offers the polar opposite to this impulse for the creative destruction of what went before, and this division could paradoxically explain why both traditions have found so much to learn from each other.
For the uninitiated, the evening's tabla master-class is a dazzling and at times disorientating experience. Recognisable rhythms float by – a shuffle here, a semi-swing groove there – but they prove unreliable anchors; soon reversed, embellished, or subdivided in Einstein-grade displays of metric modulation. Whilst adrift however, even the inexpert listener can sense deep currents of technique and tradition. It is up to us whether we choose to dive in, or simply to use the evening's insights to enrich our engagement with the fusion of tabla tearaways like Talvin Singh and Trilok Gurtu. One senses that Pandit Sharda Sahai ji, whose guiding philosophy was one of education and enlightenment, would approve either way.