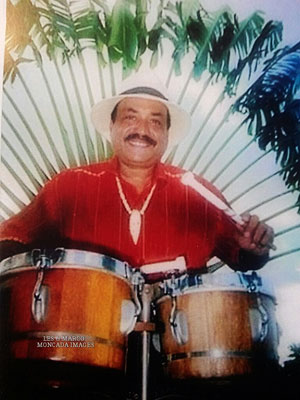 There are great percussionists in Latin Music. Some Latin percussionists styles can be copied, some cannot. Some musicians flocked to Cuba to see a new hot percussionist, Jose Luis Quintana aka Changuito, when his new style came out. Some today emulate Changuito's style and it is very obvious. When it comes to Pablo Rosario, his style varies so much that it is difficult to copy his style of playing since his art of drumming is close to perfection and very consistent.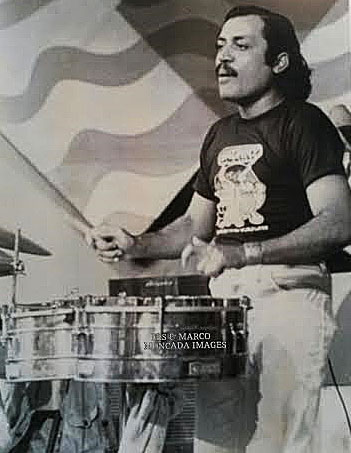 Pablito's Latin percussion style just seems to flow with the music that is being played, whether live on stage or on a recording. Pablito is a favorite to quite a few of the legendary Latin percussionists I know.
Also known under his birth name, Pablo Rosario Jr., Pablito has an incomparable record of historical dates with legendary conga master Ramón Mongo Santamaria. Pablito was Mongo's sideman, second Latin percussionist in Mongo's Orchestra.
Pablito's interview was in Spanish so I translated it to English, without losing the essence during the translation process.
When the creator made a true Latin percussionist he made it in Pablito Rosario and it shows in his playing, performance and his in demand status with the greats of Latin music. Whether it's mambo, salsa or folkloric, Pablito is right there with the beat!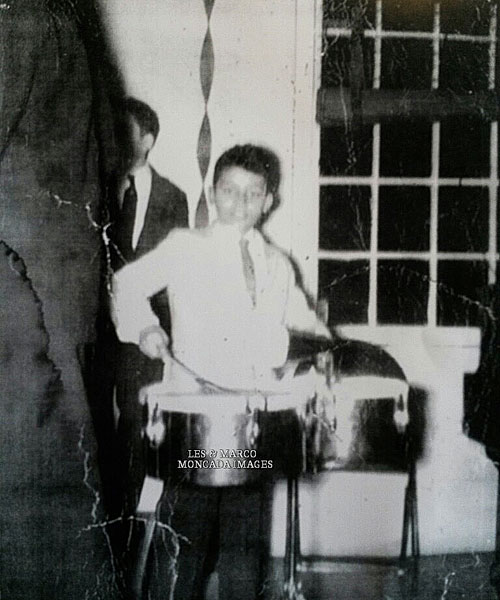 Pablito's resume is amazing! If I was hiring a Latin percussionist, I would have to do "somersaults. He has performed or recorded with:
Tito Puente, Chico O'Farrill, Mongo Santamaria, Carlos "Patato" Valdes, Jorge Millet, Charlie Palmieri, Eddie Palmieri, Marty Sheller Ochestra, Willie Colón, Mon Rivera, Héctor LaVoe, Rubén Blades, Cheo Feliciano, Hector Casanova, Ismael Quintana, Richie Ray, Joe Quijano, Markolino Diamond, Johnny Pacheco, Pete "El Conde" Rodriguez, Justo Betancourt, Celia Cruz, Tito Allen, Mario Román, Mario Ortiz Orchestra, Bobby Rodríguez & La Compañía, Joe Santiago (Saravanda Orchestra), Chivirco Davila, Bobby Valentín, Juancito Torres Orchestra, Johnny Conques, Andy Harlos, Larry Harlow, Belmonte & His Afro Latin 7, Ismael Miranda, Junior González, Roberto Roena y Su Apollo Sound, Dimensión Latina, Menque, Santtos Colon, Gilberto Santa Rosa, Victor Manuelle, Máximo Torres, Salsa Fever, Justito Rosario Orchestra, José Mangual Jr Orchestra, Cachete Maldonado & Los Majaderos, Tito Rodríguez Jr. Orchestra, Eguie Castrillo Palladium Traditon Orchestra, Maria Bauza, Camilo Azuqita, Fankie Dante, Orquesta Broadway, Ernie Agosto & La Conspiración, Kim De Los Santos, Viti Ruiz, Descarga Boricua, Louis Garcia, Batacumbele, Miguelito Valdés, Van Lester, Giovanni Hidalgo, David Bowie, Carlos Alomar & Robin Clark, Luther Vandross, Noel Pointer (jazz violinist), Nat Addaley Jr. (Jazz Pianist), Juanita Fleming (female jazz vocalist), Denisse De La Pena (Brazilian female jazz vocalist), Delmar Brown (Sting's pianist), Felz Cavaler (lead singer for The Young Rascals), the Gypsy Kings Family (2009), Puerto Rico Symphony Orchestra, Danny Rivera, Chucho Avellant, Juno Faria, Iris Chacón, Lucecita Benítez, José Nogueras, Nydia Caro, Lissette, Cuco Pena, Pedro Rivera Toledo, Quique Talavera, Carmita Jiménez, Gilberto Monroig, Daniel Santos, Ruth Fernández, Joe Valle, Wilkins, Blanca Rosa Gl, Antonio Caban Vale "El Topo", Pedro Guzmán & Jibaro Jazz, Roy Brown, Alberto Carron & Lucecita Benítez (Concierto Tributo a Julia De Burgos & Luis Pales Matos-University of Puerto Rico 1978) Elba Lugo &Paseo Taino and others.
Pablito has taught at Drummers Collective NYC 1982-1983; Johnny Colon School of Music 1975; Boy's Harbor School of Music 1985-1986; Art Music Corporation, Caguas, Puerto Rico 2005-present; Clinics throughout USA, Canada, countries in Central & South America, Europe, Japan & Mexico. Additionally, Pablito has been on Off Broadway plays, jingles, TV appearances, and movie appearances.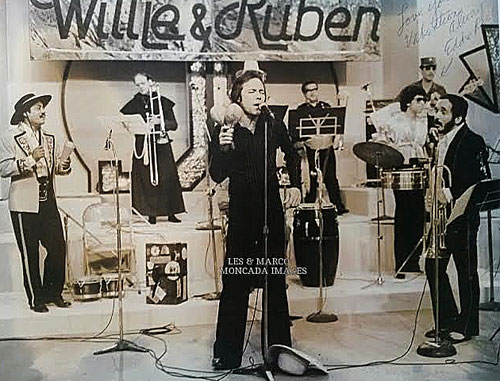 Les Moncada – Pablito, where were you born and where did you grow up?
Pablito Rosario – I was born in Brooklyn, New York on October 9th, 1948; I was raised in Brooklyn until July of 1966, when my family moved to Puerto Rico.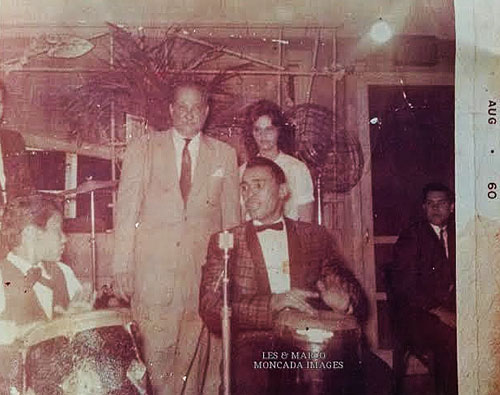 LM – Pablito, can you tell me when was the first time you heard a cowbell, bongo or timbales and what were your thoughts?
PR- My father, Pablo Rosario Ruiz (June 4th, 1928-June 6, 2009) played the guitar and was a vocalist. My oldest memory is of a rehearsal of a group where my father was the musical director. The rehearsal was in the home of a cousin of my father's, Manuela Chiclana at 139 Atlantic Ave. in Brooklyn. Her brother Gilberto Chiclana was the timbales player, Orlando "El Gordo" played congas, Kiro played bongo and cowbell, Julio Durán played trumpet, Daniel "El Ciego", the tres guitar and my father played the guitar and voice. I was around 4 years of age (at that time I did not think anything of my future, just enjoyed the rehearsal and to visit family.
We all have a purpose in life; some are doctors, lawyers, engineers etc. But someone has to play the percussion and God picked me to be for that. That's why I say that mine, the gift to play Latin Percussion, was a gift from God, Amen.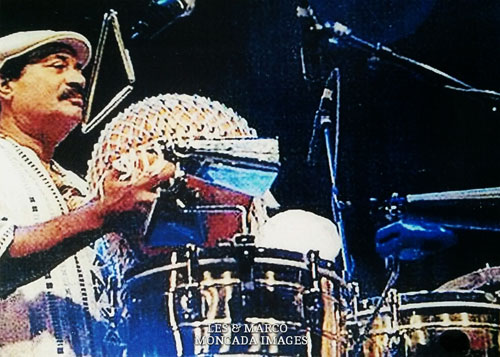 When did you make the decision to play Latin percussion and with which instrument did you start with?
PR- I started at 8 or 9 years of age with a student of my fathers, Julio Simón. He played the guitar and would perform the vocals at the "fiestas" (parties) of family members. We recorded a record at a Penny-Arcade booth for 35 cents in 1956 and at 6 or 7 years of age my father's youngest brother, Justito Rosario, arrived from Puerto Rico and became a part of my father's band. He played the conga. Uncle Justito showed me how to play the conga.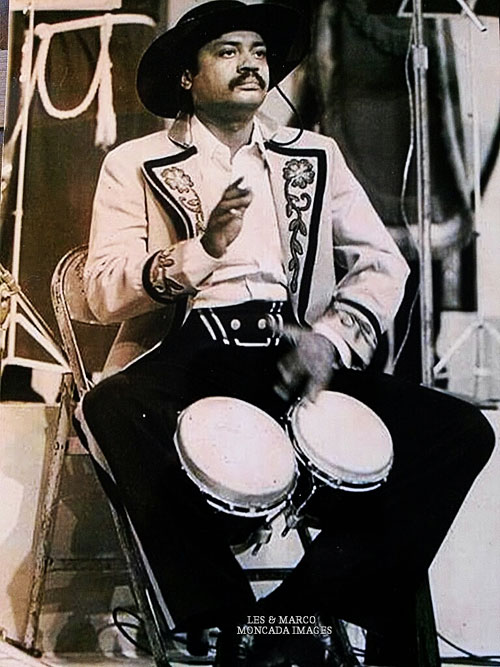 LM – If you look back, Pablito, to the first time that you started to play Latin Percussion and you look at yourself today, with all that you have accomplished, what do you think of your achievements to this date?
PR- Looking back at when I started and around the age of 12 or 13 years, I knew that I wanted to be a professional musician. I also was the lead vocalist in an a capella group, doo-whop, The Mellow Tones. Later I recorded a 45 rpm record with the titles "Judy My Love" & "Ain't That Ashame", I never thought that someday I would be recording with Wille Colon and Hector Lavoe, Mongo Santamaria, Larry Harlow, Chico O'Farrill NYC Latin Jazz Big Band, Batacumbele, David Bowie, Luther Vandross, Felix Cavaleri from The Young Rascals and many, many more. I consider myself blessed by God, Amen.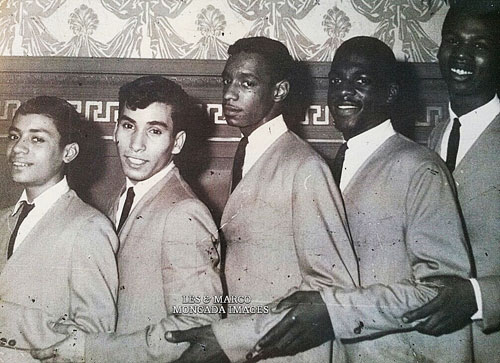 LM – Pablito, tell us about your Latin music performance history. Who have you played with?
PR- Justito Rosario y Su Combo, Charlie & Eddie Palmeri, Salsa Fever, Rie Akagi, a jazz fusion flute player from Japan, Justo Bettancourt, Chivirico Davila, Mark Diamond, Frankie Dante aka Belamonte and His Latin 7, Latin pianist Larry Harlow, and many more recordings. Also Ismael Miranda, Joe Quijano y su Conjunto "Cachana".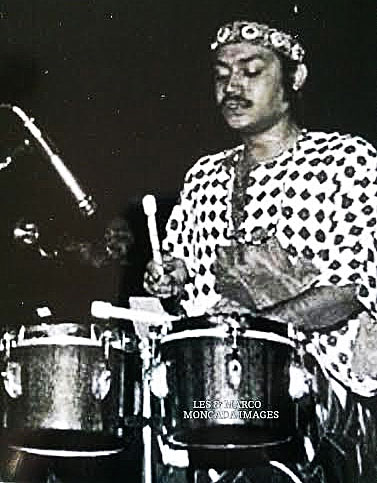 Pablo, can you tell me some of your favorite recordings and what are some of the favorite shows you have performed?
PR- Some of my favorite recordings and shows are: The Opera Hommy with Larry Harlow, live at Carnegie Hall NYC in 1p73, Mongo Live at Yankee Stadium in 1974, David Bowie Live at The Tower Theater 1974, "Con Un Poco De Songo" with Batacumbele in 1980 and several more.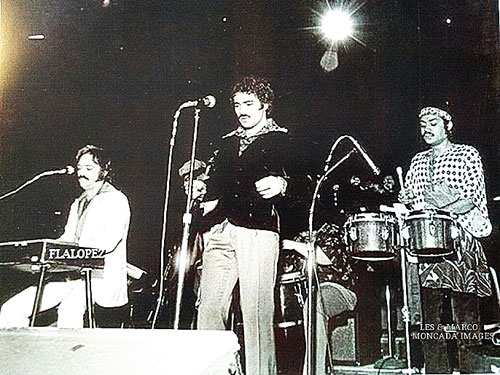 LM – Pablito, can you tell us who are your favorite timbaleros, conguero and bongoseros of all time. Whom do you admire?
PR- For timbal: Tito Puente; Willie Bobo; Mike Collazo was the first timbalero that I saw reading music charts with the Orchestra of Tito Rodriguez (Sr.); Orestes Vilato; and Nicky Marrero.
For congas: Mongo Santamaria; Tommy Lopez; Ray Barretto; and Cachete Maldonado.
For bongo: Lil Ray Romero; Armando Peraza; Johnny "Dandy" Rodriguez; Chucky Lopez; and Jack Costanzo.
LM – What have do done professionally recently with music and also with you daily life?
PR- Recently I have been doing freelance performing work. I have been performing with Batacumbele, performing with my own jazz group "Orinoco". I also give private classes in my home. I am also involved in Christianity, Amen.
LM – What are the future plans for Pablito Rosario?
PR- My plans are to return to the United States to El Paso, Texas. There I have residing one of my sons, Pablo Rosario III, with my grandchildren Sofia and Jose.
LM – And for your students, what is the advice that you give them for their future in the percussion field?
PR- Practice so that you can dominate your principal instrument, conga or timbal or bongo. You have to play with other musicians not just practicing alone in the house with records or videos. To know the other percussion instruments, such as drum set, vibraphone (vibes), piano, which is a stringed percussion instrument and absolutely the minor percussion, guiro, cowbell, maracas, claves. (Pablito remarked that the piano and claves were very important).
To study music in general, composition, arrangements, orchestration etc. And lastly now, you should learn to play other instruments apart from percussion. For example, bass, stringed instruments, wind instruments, reed instruments, voice. The voice is important for your tuning pitch when singing solo.
Well Les, I hope that I've been useful a little in assisting all the young musicians and your readers and audience.
LM – Thank you Pablito for your patience, great assistance and sharing you time and knowledge with us!
Author:
Les Moncada
Les Moncada is a Latin Jazz orchestra leader and conguero for over 40 years. He was born in Oakland, California and currently resides in Sacramento, California.
Les Moncada is a student of conga and batá master Francisco Aguabella, a friend of the late promoter Bill Graham, vibraphonist Cal Tjader, Latin Jazz band leader Pete Escovedo, conguero Mongo Santamaria and many, many more.
He has been writing for many years for World Music Central.
Les has several Facebook sites: Timbales and Congas Bongo Bata & bells; Conguero, Professional Conguero & their Instrument; Bongocero, Professional Bongocero their Instrument; Alambres Dulces, Tres, Cuatro & Laud