Music festival BoomTown will take place August 7th – 10th in Hampshire, England. Headliners include Irish-African fusion band Afro Celt Sound System; reggae legends, Jimmy Cliff, The Wailers; Tuareg desert blues masters Tinariwen; renowned folk band Bellowhead; French gypsy gyrators Babylon Circus; pioneering banging bass producer Eats Everything and American ska innovators, The Toasters and Voodoo Glow Skulls.
The festival is divided into districts. The eight districts will cover a diverse range of artists and genres from all over the world: Blues from Mali and Jamaica, dancehall from France and Bermuda, gypsy from Spain and Australia, electro-swing from Italy and Switzerland, big brass bands from Rajasthan and New Orleans, Afro-Funk from Wales and Colombia, Pirate bands from Holland and Texas, ska out of Sweden and Scotland and folk-punks from Canada and Ireland to name a few.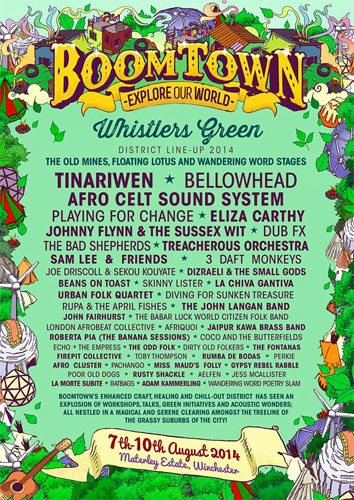 Whistlers Green will showcase the very best in folk, blues and world music, all within its very own main stage, The Old Mines. Along with headliners multi-award winning Afro Celt Sound System, Tinariwen, Bellowhead and Playing for Change there will be lesser known, but equally absorbing artists such as Beans on Toast, Treacherous Orchestra, Dizraeli & the Small Gods, Sam Lee & Friends and many more.
Wild West will focus on Hillbilly, Bluegrass, Cajun, Yehaa, Cowpunk, Dirty Blues and Scrumpy & Western. Heading up the bill is harmonica and beatboxing blues maestro, Son of Dave, festival regulars Pronghorn and some of the very best band names on the scene: Lumberjack Cowboy Heartbreak Trucking Company, Screamin' Miss Jackson and the Slap Ya Mama Big Band and Johnny Cage and the Voodoo Groove.
TrenchTown boasts the best in dub, reggae, dancehall and jungle, with three of the most notable stages that any one district alone has to offer, with The Lion's Den Aztec temple, Tangled Roots forest party and the Hidden Woods sun-drenched clearing. TrenchTown is where reggae legends Jimmy Cliff and The Wailers will be found alongside many up and coming gems including Bermudan dancehall MC Uzimon with his borderline parody lyrics that are as funny as they are clever and Brushy One String.
OldTown District will presdent Russkaja, WooHoo Revue, The Destroyers, Diving for Sunken Treasure and Tako Lako.
Mayfair Avenue will feature swanky electro-swing clubs and live swing bands, venues include; The Ballroom, The Gentlemen's Club and Bump (Roller Disco). Top acts include Klischée, The Sweet Life Society and Electric Swing Circus, Smokey Joe & The Kid.
DownTown will host some of the most popular venues for late night, including Arcadia, BoomBox, the Dance Off, The Bodyshop and ASBO Disco. This district is all about electronic dance music: breaks, break-core, drum'n'bass, garage, gabba, grime, jungle etc. Artists include Rockwell!, 2 Bad Mice, Altern8, Billy Bunter, Ray Keith and Aphrodite.
Barrio Loco's venues are Poco Loco & Circo Baile. This area will present bass-oriented electronic acts such as Eats Everything, Special Request, Stanton Warriors, Ms Dynamite and many more.
ChinaTown will be filled with various levels of punk: ska punk, rockin' punk, folk punk and polka punk. The venues include the ChinaTown Courtyard and Devil Kicks Dancehall, acts heading up the bill for the weekend comprise of ground-breaking American Ska band, Voodoo Glow Skulls, pioneering their blend of hard-core and ska these stalwarts have been striding it out since the mid-80s. Over on the ChinaTown Courtyard are Jaya the Cat, treating the ChinaTown folks to an uncompromising and original mix of reggae, punk rock and ska.
Tickets are available from the website at http://www.boomtownfair.co.uk/tickets
'Secrets of the City' Video:
Author:
World Music Central News Department
World music news from the editors at World Music Central