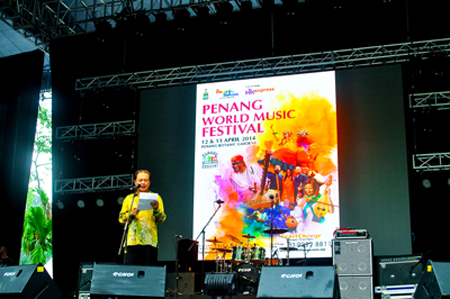 The Penang World Music Festival 2014 kicked off on a fine Malaysian summer weekend, at the Botanic Gardens' Quarry Park. It was an honour and delight for a music, nature and food lover like me to be covering this festival again!
The lineup blended international and local musicians, performing a fusion of traditional and contemporary music. The festival featured afternoon workshops and evening performances on both days, along with CD stores, local merchandise and the legendary Penang street food! The moon and cloudy skies above made for a perfect setting.
Day One of the festival featured bands from Malaysia, Uzbekistan, South Africa and West Africa. Local dance troupes from Penang kicked off the opening ceremony with a Malay dance, bhangra and traditional Chinese dance, followed by a Malaysian gamelan performance by the Tengku Abdul Rahman School.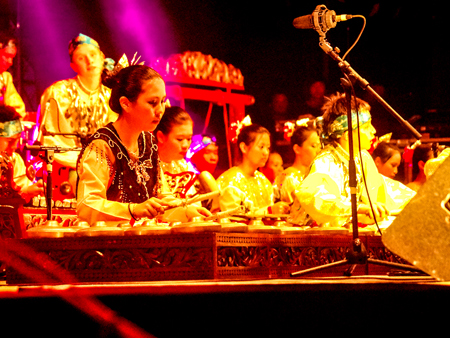 The bands alternated on two stages side-by-side, making it easy for the audience to not have to move around the venue to catch the different acts.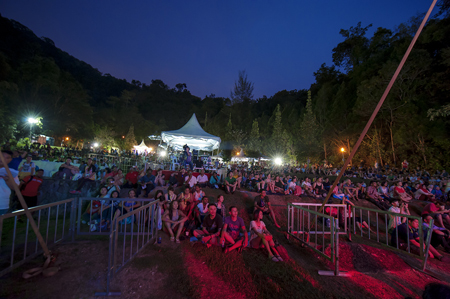 The minister of culture Danny Law proudly announced that Penang ranks among the top 10 food destinations in the world for tourists, and its capital Georgetown is a UNESCO heritage site and an award-winning street art haven. Newer initiatives also include a marathon race.
The four members of the Uzbek group Oxus showcased a range instruments such as the oud, ney, chang and castanets made of stone and steel. The haunting vocals also stood out, drawing on the maqom style. The origin of some of the tracks was from the ancient city of Samarkhand, while others were from Sergana and Sahfkayt.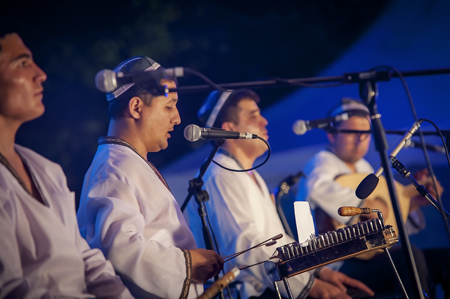 The band, consisting of four musicians, draws from the ancient names of Amu River in Central Asia. Genres performed included Bukharian Shashmaqom, Ferghana-Tashkent maqoms, Khorezm maqoms, and a number of national and folk pieces. Oxus has previously released an album called Samarkand & Beyond.
The action quickly switched to the next stage, with fusion group Nading Rhapsody from Sarawak. Playing on traditional sape and local drums, the members were in full local headgear, with some performers carrying decorated spears as well. Female vocalist Opa stood out with her soaring vocals; the group began with ambient tracks and then went on to songs appealing for an end to destruction, misery and suffering. One piece was dedicated to the ancestors of the land, and all performers sat down on the floor for the Song of Sorrow.
South African reggae band Carlos Dje Dje took over again on the first stage, with the powerful Mandela-inspired track "No Winnie Don't Cry," a re-interpretation of "No Woman Don't Cry." A local guitarist, Darren, also jammed in for one track. Carlos Djedje's music is largely influenced by the anti-apartheid and civil uprising movement in South Africa.
The next band, Mohram from Malaysia, featured instrumental music on a range of flutes, accompanied by Asian instruments such as rabana and erhu, and a Western rhythm section. The band drew rousing applause for dedicating a track in memory of the missing passengers of Malaysian Airlines flight MH 370. In a lighter vein, one of the musicians titled another track "No Water We Cry," jokingly referring to the drought in some parts of Malaysia.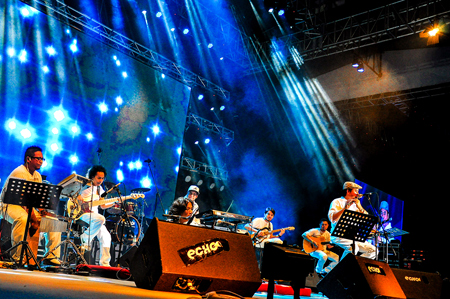 Mohram comprises of the talented duo, Muhardiman Ismail on seruling or bamboo flute and traditional percussionist Abdul Ramli on rabana. Other featured instruments were gambang, gamelan, koto and udu.
The headline act of the day took over next, with N'Faly Kouyate from Guinea and a high-energy troupe of musicians from Mozambique and Belgium. They came on to stage one by one, building up the energy and tempo, and N'Faly lived up to his reputation as the 'Jimi Hendrix of the kora' with scorching fuzz and funk effects.
He had a commanding stage presence, well complemented by Jacob Ghitula on drums, Aboubacar Kouyate on bass, Muriel on percussion and the unbelievable energy of dancer Gbessa Conde. They played a range of tracks from their recent albums, and also improvised a lot (the scat-jam on vocals, kora and bass was outstanding!).
N'Faly is a two-time World Music Grammy Nominee and cultural ambassador of West Africa. N'Faly has performed in many different festivals around the world and this was his first performance in Malaysia. He was previously with the Afro Celt Sound System, and now has a band called Dunyakan (Voice of the World) with his wife Muriel.
The performance wound down with a local lineup called Culture Shot, with Chinese, Indian and Malay acoustic instruments and percussion. The six members included Ang Eng Bok, Tan Yean Chang (erhu) , Kasiman (rebana), Clarence Ewe (Chinese percussions and small gong), Rebby Sim (auxiliary percussions and gong) and M.Sivasilan (gendang). The multi-ethnic group rendered their versions of old Hokkien Chinese songs.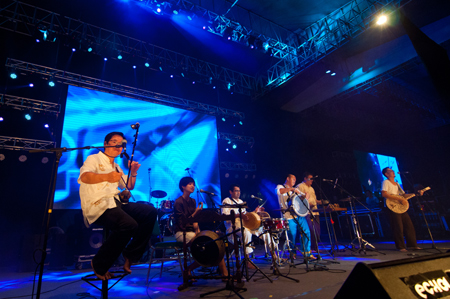 We look forward already to Day Two of the performances and workshops, with bands from Malaysia, China, India, Brazil, Bulgaria and Spain!
Author:
Madanmohan Rao
Madanmohan Rao is an author and media consultant from Bangalore, and global correspondent for world music and jazz for World Music Central and Jazzuality. He has written over 15 books on media, management and culture, and is research director for YourStory Media. Madan was formerly World Music Editor at Rave magazine and RJ at WorldSpace, and can be followed on Twitter at @MadanRao.