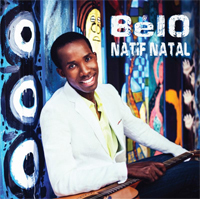 Celebrated Haitian artist BélO will release his new album titled Natif Natal (Native born) this week. He will also begin a worldwide tour, starting in the United States. Natif Natal, winner of Radio France International Discoveries, is a journey of emotional social struggles, love and the need to belong.
The social crusader is a lyricist as well as a music composer. The first track on the album, "Detripay" (Gutted) depicts the world being pulled apart from the inside out revealing prostitution, human trafficking and rape.
BélO's poetic vision is expressed in his colorful Kreyol proverbs. He sends a message of hope on 'Pa Lage,' holding on to love on 'Abondans,' and the dream of a world without borders on 'Citizen of World.'
Natif Natal is produced by Jean Belony Murat a.k.a BélO; arranged/final mixed by Andy Barrow. BélO refused to be shackled by the limitations of one genre and threw a wider net to capture various sounds for Natif Natal. "I am a native from Haiti, and I want to be part of the global musical movement" said BélO.
The album features a mix of traditional Haitian roots, rock, pop, old school reggae, vintage bossa nova and R&B.
The album showcases upcoming local Haitian vocalist like Mandela and Queen Bee, Haiti's rapper BIC and the celebrated Haitian roots artist Eddy Francois -former lead singer of Boukman Eksperyans.
From different parts of the world numerous artists have contributed to Natif Natal: Fabrice Rouzier, Clement Belizaire, Wesner St-Louis, Andy Barrow, Charleson Duverné, Hans Dominique (Bwagri), Harold St-Louis, Dony Felix, Johnson St Cyr, Kali, Carlomagno Araya, Ismael Vergara, Monica Frias, Alive for God (chorus group), and Alessandro Vivianni.
Natif Natal's tour will begin April 11 at Artisphere, in Virginia, where BélO e performed in 2012 in a sold out concert, followed by April 13th: Festival International Nuits d'Afrique de Montréal Canada, April 16-19: France, April 26-27: International Festival de Louisiana, May 1-15: National tour in Haiti, May 23-25: Guadeloupe, May 30: Jamaica. Additional tour dates in Boston, Miami, New York, and Europe.
Buy Natif Natal
Author:
World Music Central News Department
World music news from the editors at World Music Central